ALA Spectrum Scholars
The American Library Association Spectrum Scholarship Program recruits and provides scholarships to American Indian/Alaska Native, Asian, Black/African American, Hispanic/Latino, Middle Eastern and North African, and/or Native Hawaiian/Other Pacific Islander students to assist them with obtaining a graduate degree and leadership positions within the profession and ALA. The aim is to increase the number of racially and ethnically diverse professionals in the field of library and information science.
In recent years, the ALA has granted about 60 scholarships per year, most worth $5,000. The iSchool provides a 50 percent match — $2,500 for each recipient.
Recent ALA Spectrum Scholars at the iSchool
2021-22 cohort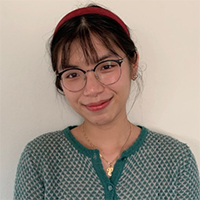 Truc Ho: A second-year residential MLIS student, Ho seeks to apply a social-justice lens to cataloging to make records more inclusive for marginalized communities. "As an information professional and a person of color in LIS, I believe in the importance of advocating for change in categorization and presentation of information," Ho said. Read more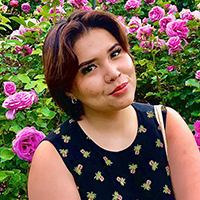 Kaitlin Srader: An incoming MLIS student, Srader's interests include digital collections, Indigenous knowledge and logistical skills of library and information science, such as metadata management. "I believe increasing accessibility through digital technology is essential to the expansion of learning of history that has been more difficult to access for historically deprived communities," she said. Read more
2020-21 cohort
Dillon Baker
Lex Barlowe
Jacqui Howell
Alice Pérez Ververa
Read about Baker here, and the other recipients here.
2019-20 cohort
Joanne Chern
Taylor Healey-Brooks
Joan Hua
Courtney Nomiyama
Tania-María Ríos Marrero
Conrrado Saldivar
Meneka Thiru
Karen Wang
Read about the 2019-20 scholarship recipients
2018-19 cohort
Jazmine Applin
Amanda Chin
Riko Fluchel
Karen Sánchez
Julie Varee
Kelli Akemi Yakabu
Nam Jin Yoon
Read about the 2018-19 scholarship recipients
2017-18 cohort
Cristal Fiel
Jasmine Gutierrez
Charlene Hien Quach
2016-17 cohort
Melody Leung
Erika Miller
Past Spectrum Scholars
Nicola Andrews, 2015-16
Erica Ervin, 2015-16
Sunny Kim, 2015-16
Sarah Reis, 2015-16
Karen Chen, 2014-15
Jessica Humphries, 2014-15
Xochitl Rocha, 2014-15
Katherine Van Arsdale, 2014-15
April Ybarra, 2014-15
Twanna Hodge, 2013-14
Melissa Kahili, 2013-14
Aiyanna Looney, 2013-14
Mario Macias, 2013-14
Kimberly R. Tate, 2013-14
Lisa L. Tyler, 2013-14
Andrea Barkley, 2012-13
Brandon Cal, 2012-13
Connie Thompson, 2012-13