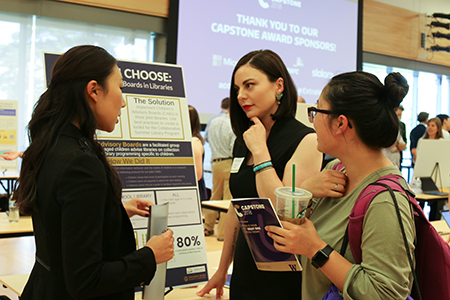 The iSchool's 2018 Capstone event, held May 30 at the University of Washington HUB, featured 123 poster presentations and 17 online ones from more than 300 graduating students. Projects were judged for awards in several categories, including social impact, commercial potential, research, service, innovation/design, and diversity. Additionally, students in each program awarded a Best in Class prize to their peers. (Many of the winners are pictured above.)
Held annually, Capstone showcases the breadth of skills and expertise students develop in the B.S. in Informatics, M.S. in Information Management and Master of Library and Information Science programs. Students create posters to demonstrate how they use technology, analysis and problem solving as tools to solve information problems for organizations and communities.
Capstone project collaborators include organizations from the public, private and nonprofit sectors, and each project represents a concrete example of what it means to design and build novel applications of technology that meet the needs of people.
A Tagboard of the social media activity surrounding Capstone captured the evening's excitement. You can also find more photos in our gallery on our Facebook page.
Award winners received gifts from the iSchool and sponsoring organizations at the event. This year's award sponsors included Accenture, BECU, ExtraHop, HERE Technologies, Microsoft, PwC, and Slalom.
Judges' award winners
Erin Kennedy, Huda Shaltry
Abstract: "We worked with the Idaho Library Association (ILA) and EveryLibrary to spearhead a grassroots advocacy campaign asking the Idaho Legislature to provide state funding for the Talking Book Service, which gives people with disabilities and vision impairments the opportunity to continue reading. We created an online petition and email campaign, secured the support of key stakeholders, and marketed the campaign via email, phone, and social media. Our efforts helped secure one-time state funding of $200,000 for the Talking Book Service and energized a community of civic-minded Idahoans who support the Talking Book Service and Idaho libraries."
Commercial Potential Award: COCINA
Leanne Hwa, Jenny Lee, Aayush Saxena, Alex Tan
Abstract: "Interaction, immersion, and motivation are key to language learning, but finding and maintaining native speaking experiences is difficult. COCINA, a Google Home assistant, seeks to solve this problem by allowing language learners to practice conversations in the comfort of their own kitchen. By providing recipe guidance in Spanish and a translated version in English, our users will be able to cook a cultural dish while practicing their listening, comprehension, and conversational skills in Spanish."
Lucy Eun, Ethan Anderson, Jesse Chamberlin, Evan Frawley
Abstract: "Fact-checking organizations have limited resources to keep up with misinformation in this viral age. Prioritization of information allows for more efficient and accurate topic selection. We discuss an implementation of an automated NLP topic-modeling system at Snopes.com, a data pipeline to crowdsource misinformation. Users submit reports through a website and HTML is scraped and parsed into clusters for the Snopes.com reporting staff to act on. Topic modeling provides metrics for prioritization and effective allocation of resources. Our data pipeline reduces the amount of manual curation required by editors at Snopes, which enables them to reallocate their resources to debunking rumors."
Alexis Koss, Lisa Koss, Kar Yin Ng, Sean Martin
Abstract: "Farmers markets often have produce at the end of the day that cannot be sold, either due to visual imperfections or overproduction, which contributes to food waste. Volunteers from nonprofit organizations rescue food from farmers markets, but this process is inconsistent due to ineffective communication between volunteers and vendors. NextBite is a mobile application that streamlines the donation process by allowing vendors to create donation listings to inform volunteers about the availability of surplus food. Volunteers can then rescue and redistribute these donations to nonprofit organizations in the Seattle area."
Ryan Magee, Yi Cheng, Saif Mustafa
Abstract: "The population of older adults in America is increasing faster than ever, and more than 90 percent of them are choosing to live alone. Getting older and living alone contribute to creating significant health and technical barriers. Mimo adds an ambient personal assistant to their lives that they can always talk to. Mimo creates an environment of companionship and empowers people to do more with their voice, like understanding their health, being informed about their schedule, and harnessing key skills to enrich their life. Created with love using a RaspberryPi, Amazon Alexa, and a display that enhances your voice first experience."
Diversity Award: myAsanka
Benneth Cenita, Henry Alms, Jake Therrien, Andy Johnson
Abstract: "High costs and unreliable infrastructure in Ghana make accessing the internet challenging for its citizens. Our team has redesigned the front-end user interface and information architecture for Asanka, an offline content management system (CMS) that allows educators to store and share information. To improve the user experience, our team has modified the existing architecture to build a teacher-centric CMS. Our redesigned interface allows teachers and administrators to better organize and access content for education. By placing the teacher at the center of Asanka, we hope to further inspire the use of technology in classrooms in Ghana."
Students' Best in Class awards
J. Benjamin Leeds, Tiffany Chen, Vincent van der Meulen, Jessica Basa
Abstract: "Elevate is a mission-critical, high-availability application for Airlift Northwest emergency flight nurses and pilots in Washington and Alaska. These professionals transport severely ill or injured patients by airplane and helicopter to reach lifesaving medical treatment. We bridge the communication gap between the dispatch center on the ground and flight crews in the air by displaying real-time mission status. Elevate ensures flight crews arrive at the right location with the equipment and information needed to immediately administer lifesaving patient care."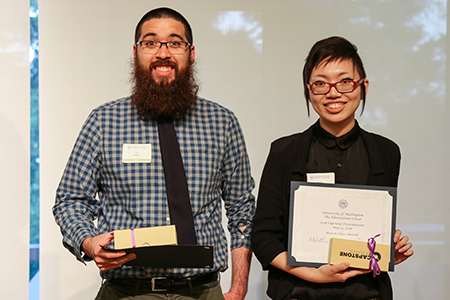 Aydin Kwan, Le Button
Abstract: "The Queer Comics Database is an online resource designed to assist librarians, comic retailers, and readers in finding and selecting comics with LGBTQIA representation. It was developed with support from Geeks OUT, a nonprofit committed to empowering the queer geek community. Input from target user populations was gathered via surveys and interviews in order to determine desired functionality. A metadata schema was constructed to promote consistency and accuracy of data entry. Additionally, a series of usability tests were conducted in order to ensure that the site meets the needs of potential users."
Emily Smalligan, Mike Stepanovic
Abstract: "On any given day, more than 11,000 people experience homelessness in Seattle. While this shocking statistic appeals for urgent action, we must also remember that there is a face, a human life, behind every number. Project Aloha is a yearlong systems integration with Facing Homelessness, a local nonprofit instilling empathy into Seattle's relationship with homelessness. We discovered widespread functional inefficiencies caused by 23 distinct software tools used for volunteer, donor, and project management. Project Aloha condensed these into four lean platforms, balancing ease-of-use with growth-oriented functionality. This empowers the organization to focus on realizing and scaling its vision for ending homelessness."
Jin Dong, Yunting Tan, Zhong Wang, Fan Yang
Abstract: "Your Voice, Your Choice (YVYC) is a participatory budgeting initiative of Seattle's Department of Neighborhoods that allows community members democratically decide how to spend a portion of the City's budget on small-scale park and street improvements. Our project provides YVYC management team a one-stop map-based dashboard to help them escalate from exclusively manual operation to a flexible combination of both online and offline operations. With dramatically reduced workload and accelerated decision-making process, they can concentrate more on inter-departmental corporation and quality assurance. Our project also encourages democratic participation by offering community members a much easier access to YVYC."
Award judges
Social Impact Panel: Stacie Barnier, Director of User Experience, Pitchbook Data; Cheryl Scott, Senior Director of Business Analytics, HERE Technologies; and Jaime Snyder, Assistant Professor, UW iSchool.
Commercial Potential Panel: Bob Boiko, Principal Lecturer, UW iSchool; Erik Johnson, Practice Director, Information Management & Analytics, Slalom Consulting; Ansel Santosa, Senior Software Engineer, Pioneer Square Labs.
Research Panel: Clarita Lefthand-Begay, Assistant Professor, UW iSchool; Carole Palmer, Professor, Associate Dean for Research, UW iSchool; Jevin West, Assistant Professor, UW iSchool.
Service Panel: Miranda Belarde-Lewis, Assistant Professor, UW iSchool; Kyle Welsh, Chief Information Security Officer, BECU; David Zager, Chief Design Officer, Pioneer Square Labs.
Innovation/Design Panel: Joe Davey, Director, Technology and Advanced Analytics, West Monroe Partners; Ana Pinto da Silva, Principal UX Designer, Amazon; Jason Yip, Assistant Professor, UW iSchool.
Diversity Panel: Hala Annabi, Associate Professor, UW iSchool; Araceli Lesko, Sr. Manager, Emerging Businesses, T-Mobile; Ravi Raghavan, Senior Director, Cyber Risk Advisory, Coalfire.