Preparing information leaders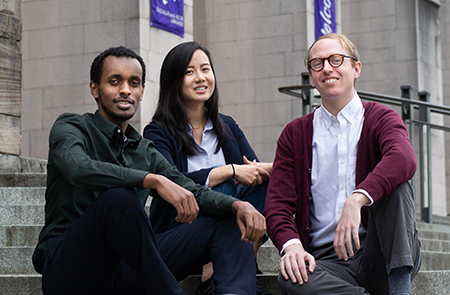 In the iSchool's MSIM program, you'll develop the skills to make information work. You'll learn how to organize and analyze information, recognize and solve information problems, transform large datasets into useful insights, and lead information projects to transform organizations.
The Case for Information Management
The ability to leverage information assets is crucial in the modern business world. Organizations that can't make the most of their information underperform and often fail. Information management draws on multiple fields, and is concerned with:
The systems used to collect, manage, preserve, store and deliver information.
The guiding principles that allow information to be available to the right people at the right time.
The view that all information, both digital and physical, is an asset that requires proper management.
The organizational and social contexts in which information exists.
The critical analysis of the impact of information management practices on diversity, equity and inclusion.
Organizations need people who have a deep understanding of how to leverage information to empower users at all levels. There's strong demand for managers who can use information both as a competitive tool and as a means to create positive organizational and societal change.
The MSIM Approach
The MSIM program features a highly interdisciplinary approach to the study of information management, with the aim of developing strong practitioners in the field. Students learn to use information to set organizational strategy and improve productivity, and to help individuals make better use and sense of the information they encounter in their everyday lives.
Early-Career or Mid-Career
The MSIM Early-Career and Early-Career Accelerated options complement a bachelor's degree in any academic discipline by opening new doors for career possibilities. For working professionals with five years or more of relevant professional experience, the Mid-Career option enables you to keep your current job while you pursue a master's degree to advance your career. You can complete the Early-Career Accelerated or Mid-Career MSIM in one year, or take more time if you wish.
Residential or Online
You can immerse yourself in the MSIM program on campus in Seattle, Washington, or pursue your studies online. Residential and online students take the same courses and earn the same Master of Science in Information Management degree. Learn more about these degree options.
6 In-Demand Specializations
Tailor your degree to your interests by choosing one or two specializations — Data Science, Business Intelligence, User Experience, Information Architecture, Program/Product Management & Consulting, or Information & Cyber Security. In whichever specialization you choose, your MSIM degree will put you in high demand when you graduate.