MSIM Careers
Preparing Information Leaders
In the iSchool's MSIM program, you'll develop the skills to make information work. You'll learn how to organize and analyze information, recognize and solve information problems, transform large datasets into useful insights, and leverage data to predict the future.
MSIM graduates have the critical analytical and management skills necessary to lead complex information-intensive projects. Students who complete the degree often see immediate professional benefits in the form of new positions, promotions or larger leadership roles in their organizations. 
Career options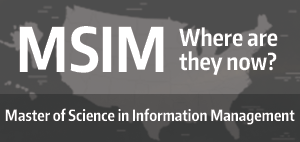 Typical roles for graduates immediately following degree completion include:
Analysts & Consultants
Senior Data Analyst
Business Intelligence Analyst
IT Advisory Risk Consultant
Senior Information Consultant
Metadata Analyst
Senior System Analyst
Senior Technical Consultant
Professional Services Consultant
Managers
Manager of Data Science/Analytics
Project Manager
Program Manager
Manager of Information Security & Risk Management
IT Service Manager
Manager of Business Systems
Information Technology Specialists
UX Designer
Information Architect
Interaction Designer
Taxonomist
Web Computing Specialist
Enterprise Data Warehouse Developer
Cybersecurity Analyst/Architect 
Strategic Oversight
The longer-term career trajectory of many of our graduates is toward Strategic Oversight roles such as:
Chief Technology Officer
Chief Information Officer
Director, Strategic Execution
Director, Strategic Technology Initiatives 
Learn more about our Career Resources.