MSIM Student Experience
Community is at the heart of the UW iSchool experience, and the community you develop as a student is the start of a professional network that will help you throughout your career. As a student in the MSIM program, you will work with forward-thinking faculty, forge a network of peers from around the globe and have opportunities to connect with industry leaders through experiences in and beyond the classroom.
Student community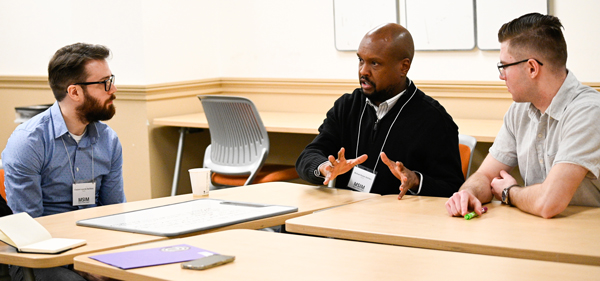 In the MSIM program you will learn from our fantastic student cohorts as much as you will learn from our innovative faculty. MSIM students contribute their diverse experiences to the community to create a learning environment that fosters mutual appreciation and active engagement. You will find yourself in situations where you are learning from your peers just as much as you are sharing your experiences and understandings with others.
The MSIM program and the iSchool at large has an active student body that contributes to our vibrant community. Many students participate in one or more iSchool student groups or UW student groups. There is a group for everyone.
Student & career support
All students are supported by the MSIM Academic Advising team. They will be there to walk you through course plans, registration and orientation to ensure your success in the program. The academic advising team supports students finding resources within the iSchool and the greater UW. They are our students' advocates, sounding boards, and guides through their academic journey.
Students are also offered one-on-one advising, help with general job search strategies, resume and cover letter workshops, interview advice and more. Have questions about courses or degree requirements? Want advice on how to start your job hunt or negotiate a job offer? The iSchool's Career Services team supports students in meeting their professional development goals and navigating the job search process. All MSIM students have access to career services for up to one year after they graduate.
Innovative faculty
MSIM students will gain access to the wide range of faculty, research scientists and practitioner-lecturers who comprise the iSchool's faculty community. Our expert faculty bring invaluable knowledge and expertise to the classroom. Get to know our iSchool faculty.
Research groups
The research centers and groups housed within the Information School are internationally recognized hubs for innovative scholarship and research. MSIM students have the opportunity to connect with the wide range of research centers and research groups housed at the iSchool. Additionally, the iSchool is connected to a network of research partnerships that span various UW departments and other R1 universities across the country.
Student profile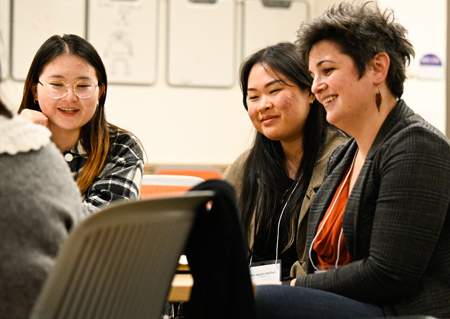 Learn about admissions rates, academic data and demographics on our most recently admitted MSIM cohort: Early-Career ("1 year Early-Career MSIM" refers to the Early-Career Accelerated track while "2 year Early-Career" is the traditional Early-Career track) and Mid-Career.
International classroom
Many of the largest information challenges in the world are global and can only be solved through global collaboration. That's why the iSchool fosters multicultural connections by recruiting a diverse student population. Over time, the program's appeal has become more global — reflecting the program's interdisciplinary focus within the information and technology fields and the greater incorporation of international perspectives and viewpoints.
Students in the MSIM program come from all parts of the world and through a shared learning experience develop an appreciation for the information profession as it is applied across cultures and organizations.
In the iSchool's international classroom, you will:
Build professional networks that could lead to careers outside of your native country.
Gain exposure to a variety of ways to creatively address information challenges.
Develop cultural understandings that will help you be more effective in any organization.