Job Resources
Seasonal Resources
Career Search Timeline
Many iSchool students seek technical or consulting opportunities such as software engineer, technology consultant, data analyst, security consultant, UX designer, project manager, and more. Recruitment for these types of roles begins very early in the academic year, with consulting firms coming on campus the first week of school. Reference our career search timeline to get an idea of the employer activity and suggested actions you should take for your own job or internship search.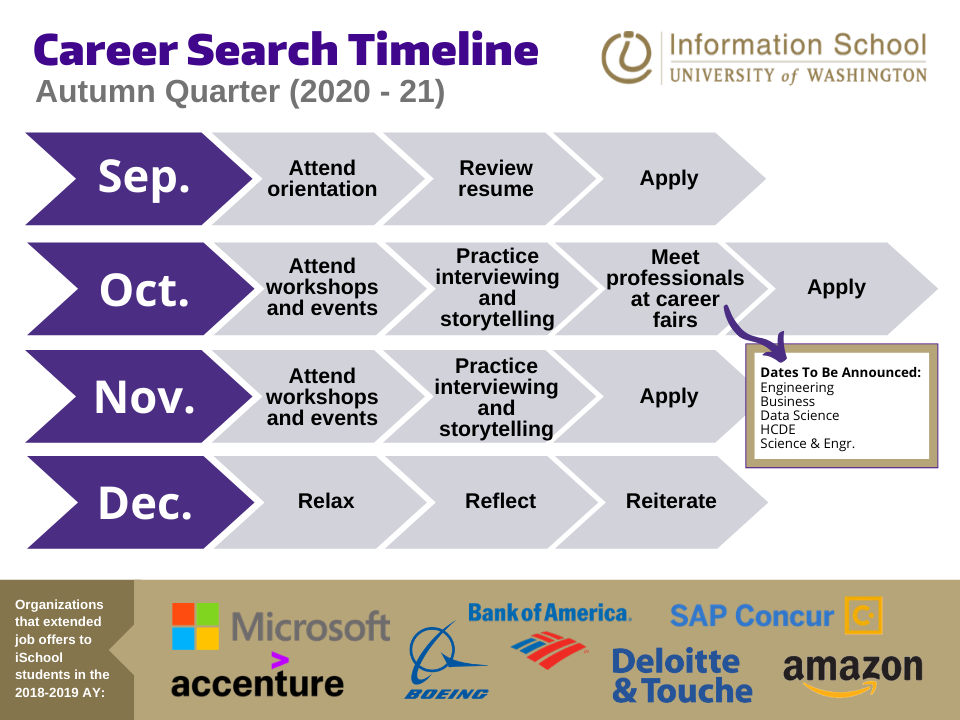 Job Boards
iCareers
The iSchool's site for jobs, internships, and other opportunities. Open only to our current and past students, with postings specific to our degree programs.
UW Handshake
UW-wide site for jobs, internships, on-campus student employment, and other opportunities. Open to current and past students.
UW Hires
The UW's job board for full-time and part-time jobs (not used for on-campus student employment). 
CareerBuilder
The above three are the world's most-visited job sites. Search by job title, keywords, company, and/or location.
Dice
Site focused on careers in the tech industry.
Library.Jobs
Free community resource for library professionals, with every job posting including specifics such as salary.
Library, information science, and technology jobs.
Tech jobs in libraries.
Site for current students and recent graduates, with postings for internship and entry-level opportunities.
WorkSource Washington
Statewide partnership of state, local, and nonprofit agencies that deliver a wide array of employment and training services for job seekers and employers.
Puget Sound Business Journal Seattle jobs listings
Lists of jobs in and around the Seattle area.
Women's Job List
Top job board for women.
Other Resources
Analytical Career Paths
Learn about analytical career paths and the industry outlook for positions such as business analyst, data engineer, data scientist and more.
Glassdoor
Search employee reviews, interview questions, and salary offerings by company.
Occupational Outlook Handbook
From the U.S. Department of Labor. Find career information on duties, education and training, pay, and outlook for hundreds of occupations.
UW Undergraduate Research Program
Find research opportunities at and beyond the UW.
80,000 Hours
Advice on job seeking and general career tips tailored for people who want to have a social impact.
The Muse
An online career source offering advice, job listings, company profiles, skills-building resources, and more.
Career Services Resources
Check out our page on networking as well as recordings of some past Career Services events related to job searching such as Jump-Starting Your Career Search, Finding Your First Job, Getting On-campus Jobs Mini Workshop, and Job Search Burnout.