The UW Information School honored 478 graduating students from its undergraduate and graduate programs at Convocation on June 8, 2019, at Hec Edmundson Pavilion.
The keynote speaker was Xiao Wang, co-founder and CEO of Boundless Immigration, which uses data to help people navigate the U.S. immigration system. Wang spoke about his parents' life in communist China and their lack of opportunity, and he urged graduates to set their own paths in their careers.
"In a world where technology can be so powerful, and yet is being used to solve such menial or privileged issues, you can all decide what problems you want to work on," Wang said. "Look around this room. All around you are your family, friends, supporters, people who have put endless hours to get you to where you are today so that you can have this choice to do something unexpected, do something meaningful, do it deliberately."
Two students, Hyerim Cho and Martez Mott, earned their Ph.D. in Information Science. They were honored at the ceremony along with 117 students graduating from the Master of Library and Information Science program, seven from the Law Librarianship program, 99 from the Master of Science in Information Management program, and 253 earning their Bachelor of Science degrees in Informatics. The numbers are subject to change as the academic year ends.
Among those students, 401 participated in Convocation. A photo gallery and video of the ceremony are available on Facebook.
In addition to the speeches and procession of graduates, faculty and students presented several awards:
Faculty awards for student excellence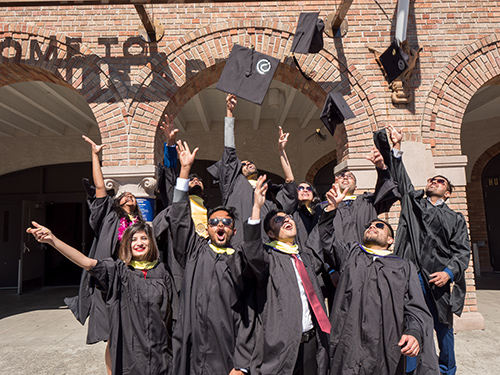 The Ruth Worden Award for Student Excellence in Library and Information Science went to Mandi Harris. Faculty hailed Harris's work as a teen services librarian and her passion for helping incarcerated youth, as well as her involvement in study-abroad programs. "As a citizen of the Cherokee Nation, Mandi is passionate about making libraries welcoming spaces for indigenous people and making libraries accessible for all," Professor Wanda Pratt said in presenting the award.
The Faculty Award for Student Excellence in Informatics went to Katie Goulding, who faculty said "epitomizes and embodies the values of the iSchool, and the utilization of technology for social good and to advance a just and equitable world." They hailed her quiet leadership and efforts to promote diversity in the iSchool. Goulding was selected among the UW's Husky 100 this year.
The Faculty Award for Student Excellence in Information Management was given to Liz Crooks, who faculty said "contributed to her colleagues' learning through her stellar participation and leadership in the classroom." Outside the classroom, Crooks focused on cybersecurity as the leader of the ISACA student group and on social impact as a graduate assistant with the ACCESS-IT research group.
Student awards
The 21st Century Award (MLIS) were given to online student Elisa Rodrigues and residential student Dovi Mae Patiño. The award honors graduating students who best embody the future of the library and information science field.
The Eisenberg Award (Informatics) went to Joseph Tsai, who fellow students said has shown a passion for information and technology and has made significant contributions to the iSchool community.
The Archer Awards (MSIM) were presented to full-time student Hye Kim and mid-career student Nick Hernandez. The award honors graduating students with an exemplary commitment to the information management field.
Teaching awards
The Pedagogical Recognition of Faculty Award honored Assistant Professor Megan Finn. The award recognizes outstanding contributions to teaching by a tenure-track faculty member.
The Teaching Excellence and Creative Honors Award went to Lecturer Annie Searle. The award honors outstanding contributions to teaching by a non-tenure-track faculty member.