The University of Washington Information School honored graduating students from its undergraduate and graduate programs at Convocation on June 4 at Hec Edmundson Pavilion. 
The ceremony began with remarks from Dean Anind Dey. He urged those in attendance to celebrate the dedicated group of students who persevered through a challenging few years. Before introducing the keynote speaker, Dey encouraged the graduating class to continue to be leaders beyond the iSchool.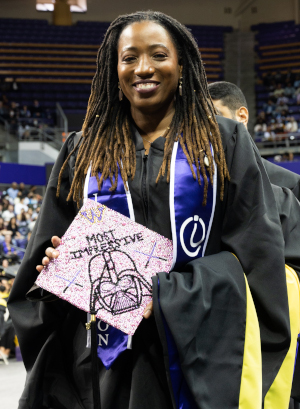 "As you move forward in your lives and careers, I encourage you to continue to foster and grow your community and continue to find ways to enable the success of those around you," Dey said. "Be a mentor, an advocate, and a source of encouragement. Most importantly, be an ally and speak up when you see injustices, inequities or areas for improvement."
The keynote speaker was Nancy Pearl, an award-winning librarian, best-selling author, speaker, and editor, as well as founder of the Seattle Reads project. Pearl spoke about how reading saved her life in the midst of a difficult childhood and her consequent desire to become a librarian at an early age. She shared the experiences her career has allowed her to have in witnessing the power of books and urged graduates to recognize reading and books as building blocks of communities. 
"I've found that the simple shared experience of reading and talking about the same book can begin to establish a connection where none existed before," Pearl said. "I do believe that an experience that allows strangers to connect across a crowded room can start the process of bridging the differences that separate us and help us begin to see that in the Venn diagram of our relationships with others. We are all part of the common tribe of humanity." 
Five students earned their Ph.D. in Information Science. They were honored at the ceremony along with nearly 125 students graduating from each the Master of Library and Information Science program and from the Master of Science in Information Management program, and more than 200 earning their Bachelor of Science degrees in Informatics. The numbers are subject to change as the academic year ends.
A photo gallery of the ceremony is available on Facebook, and the video is on YouTube.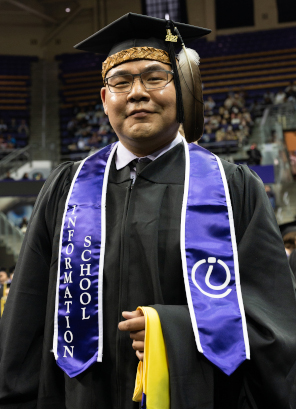 In addition to the speeches and procession of graduates, faculty and students presented several awards:
Student awards 
The 21st Century Award (MLIS) was given to online student Stephanie Leary and residential student Tracy Nishimoto. The award honors graduating students who best embody the future of the library and information science field. 
The Eisenberg Award (Informatics) went to Allison Geary and Brenda Obonyo, who have shown a passion for information and technology and have made significant contributions to the iSchool community.
The Archer Awards (MSIM) were presented to Early-Career Accelerated student Sheetal Thakkar, Early-Career residential student Shivang Dalal, and Early-Career Accelerated online student Peyush Soni. The award honors graduating students whom fellow peers have said embody the qualities of dedication, empowering others, and displaying vision. 
Faculty Awards for Student Excellence 
The Ruth Worden Award for Student Excellence in Library and Information Science went to David Frappier. Faculty praised Frappier for his outstanding leadership, community service and dedication to the MLIS program. "This student stepped into leadership with grace and a keen ear for listening to his peers, students, to faculty and staff. He never shied away from difficult conversations and from conveying the will of the students to faculty when change needed to happen," Professor Michelle Martin said in presenting the award. 
The Faculty Award for Student Excellence in Informatics went to Lauren Ng and Louis Ta, who faculty said, "demonstrated just such strong advocacy as student peers, incredible persistence in their work and outstanding leadership in supporting our teaching and mentorship missions across the school through limitless energy." They hailed their leadership and service to the iSchool and to their peers. 
The Faculty Award for Student Excellence in Information Management was given to Early-Career residential student Shruti Dixit, Early-Career Accelerated student Lee Polla and Mid-Career online student Marquisha Hicks. Faculty said the students were selected for their demonstrated leadership, social responsibility and academic excellence.