Law Librarianship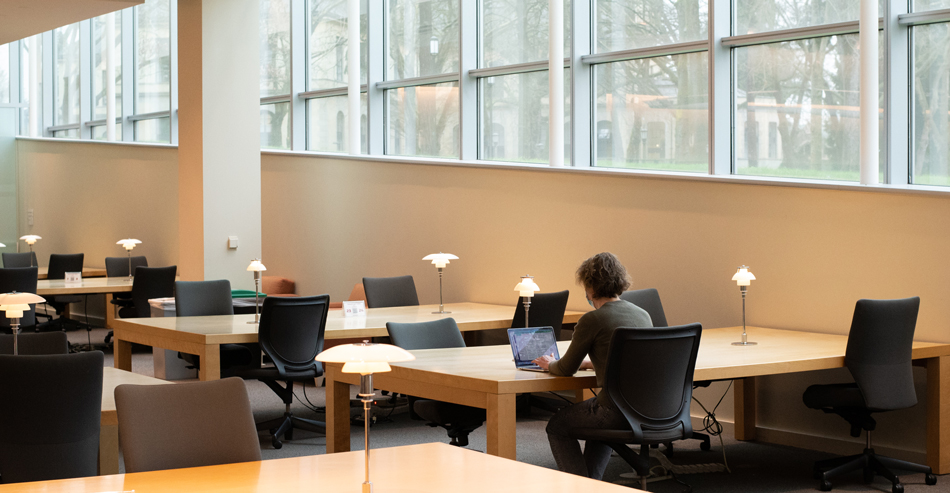 Combine your background in law with new skills in knowledge organization that will transform your career. As a law librarian and legal information professional, you will tap into the power of information to support the mission of courts, federal and state government, law schools, corporations and more.
The UW iSchool's law librarianship program provides the highest level of preparation for a career in law librarianship. The curriculum blends a strong theoretical foundation in the principles of information science with the specialized legal research and administration background you will need to thrive as a law librarian. An internship allows you to further build your portfolio.
Admission to the law librarianship program requires the completion of a JD, and classes are only offered in the residential mode over four consecutive academic quarters. MLIS residential students without a JD may take some of the specific law-oriented classes as electives.
Curricular & Experiential Program Components
Attorneys enrolled in the program will earn the MLIS degree with a specialization in Law Librarianship after successful completion of 41-43 quarter credit hours. 
The Law MLIS program delivers its curriculum in a traditional classroom setting and therefore is not available for students in online format. Likewise, the Law MLIS degree requirements differ from the Residential and Online MLIS programs.
The curricular component of the program is 10 months, beginning in Autumn Quarter and ending the following accelerated Summer Quarter (Summer A-term). The lockstep format of the Law MLIS curriculum requires students to remain through the full 4-quarter cycle (Autumn through Summer A-term). The program follows the UW Academic Calendar.
The experiential component of the program is a fellowship working in the Gallagher Law Library, which is part of the UW School of Law. The fellowship is 10 months, beginning in late August and ending in May. Before Autumn Quarter courses start, fellows will be trained in a variety of operational aspects and special projects in the law library and the law school to make transitioning to new academic and work environments easier. 
Degree Requirements
The average course load in the program is 12 credits per quarter. Ten credits per quarter is the minimum for students who need to meet certain financial aid requirements. Library and Information Science course descriptions are located in the UW course catalog, and the sequential Law MLIS curriculum is as follows:
1. Autumn Quarter (12 credits)
LIS 520 Information Resources, Services, and Collections (4 credits)
LIS 579 Instructional Strategies for Legal Information (3 credits)
LIS 592 Legal Research Methods (4 credits)
LIS 595 Research and Writing in Law Librarianship (1 credit)
2. Winter Quarter (12-14 credits)
LIS 547 Design Methods for Librarianship (4 credits)
LIS 530 Organization of Information and Resources (4 credits)
LIS 595 Research and Writing in Law Librarianship (2 credits)
LIS 598 Teaching Practicum* (2 credits) 
Elective

LIS 598 Teaching Practicum* (2 credits) OR 
LIS 545 Data Curation I: Fundamentals (4 credits)
3. Spring Quarter (12 credits)
LIS 549 Beginning Web Development (4 credits)
LIS 572 Introduction to Data Science (4 credits)
LIS 595 Research and Writing in Law Librarianship (1 credit)
Elective

LIS 598 Privacy, Technology, & Ethics* (3 credits) OR 
LIS 556 Information Ownership & Control: Copyright (3 credits)
4. Summer A-term (5 credits)
LIS 590 Directed Fieldwork (2)
LIS 594 Management Skills in Law Libraries (3)
*Final course numbers and title to be determined. 
More Information
Contact Us
For further information, contact the iSchool (iAsk@uw.edu) or the Law Librarianship program director, Carla Wale (cpwale@uw.edu).