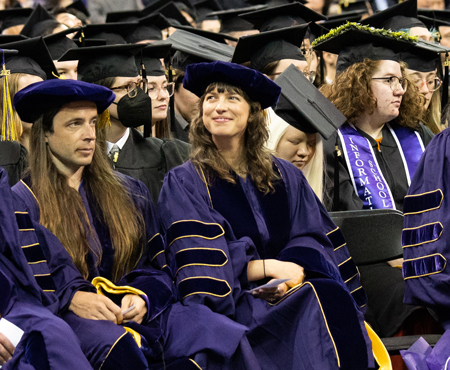 The University of Washington Information School honored graduating students from its undergraduate and graduate programs at Convocation on June 3 at Hec Edmundson Pavilion. 
The ceremony began with opening remarks from Dean Anind Dey. He welcomed all to celebrate the Information School Class of 2023 and to honor all the individuals and communities who helped support the students through their academic journeys. Before introducing the keynote speaker, Dey encouraged the graduating students to have a sense of the possibilities that lie ahead.  
"I hope today, on the cusp of your graduation, you all know in your innermost hearts and minds that you have agency in your careers, organizations and communities," said Dey. "That you can open doors previously closed to you. And can, in fact, throw them wide open for those coming after you. One of the reasons I'm so passionate about the work we do here in the Information School is our collective power to make change and improve the world around us."
The keynote speaker was Tom Fay, chief librarian and executive director of the Seattle Public Library with a distinguished 38-year career in libraries. Fay spoke about the exciting advances in information sciences but warned of the pressing issues that continue to threaten intellectual freedom. Fay encouraged students to use their skills and knowledge to revolutionize their field and change the world for the better.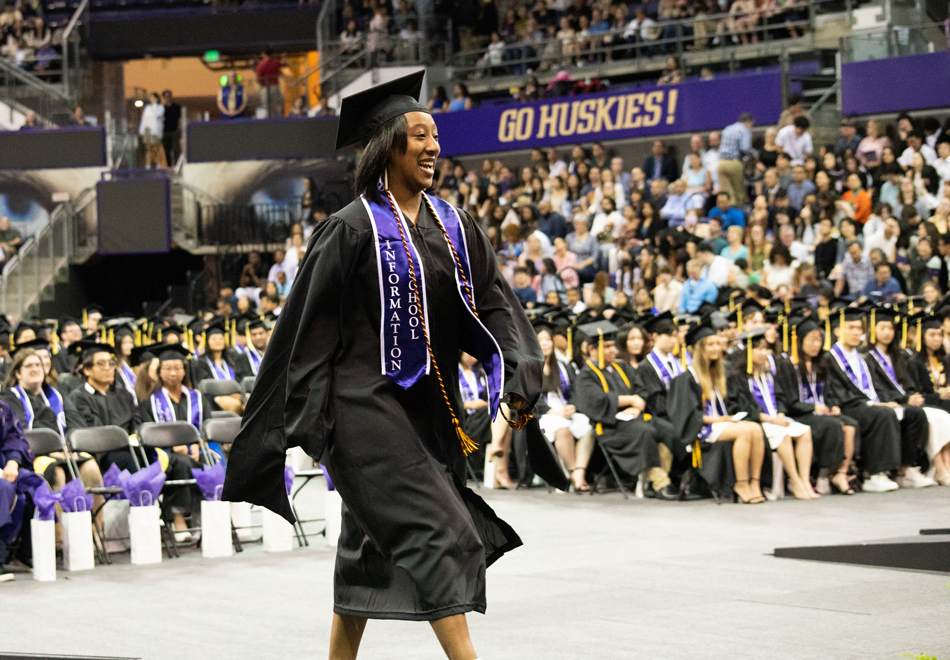 "With the education you have worked for, the connections you have made, your life experiences, and your bright young minds, you are more prepared than anyone to help address these tough issues," said Fay. "It is the principle of intellectual freedom that embraces the plurality of ideas and exposes us to new world views that serve as catalysts for social progress. So today, I ask each of you to consider how you — my new information colleagues — will work to protect the right to read, to think, and to speak your mind freely."
Eleven students graduating with a Ph.D. in Information Science participated in the ceremony, with 87 students graduating from the Master of Library and Information Science program, 142 from the Master of Science in Information Management program, and 267 earning their Bachelor of Science degrees in Informatics. 
A video of the ceremony is available on YouTube and the photo album is available here. 
In addition to the speeches and procession of graduates, faculty and students presented several awards:
Student awards 
The 21st Century Award (MLIS) was given to Phil Castillo and Riley Swortz. The award honors graduating students who best embody the future of the library and information science field. 
The Eisenberg Award (Informatics) went to Melina Perraut and Jax Morgan, who have shown a passion for information and technology and have made significant contributions to the iSchool community.
The Archer Awards (MSIM) were presented to residential Early-Career Accelerated students Tommy Tran and Harshavardhini Ranganathan, Mid-Career residential student Chris MacGeorge, Mid-Career online student Tom Rico, and online Early-Career student Byung Min. The award honors graduating students whom peers have said embody the qualities of dedication, empowering others, and displaying vision. 
Faculty Awards for Student Excellence 
The Ruth Worden Award for Student Excellence in Library and Information Science went to online student Dev Wilder for her outstanding leadership, community service and dedication to the MLIS program. 
The Faculty Award for Student Excellence in Informatics went to Rachel Kinkley, Jasper Maynard-Zhang and Rishi Kavikondala, who faculty said "demonstrated above-and-beyond excellence through their scholarship, their leadership, and their service to the Information School and their peers." They celebrated their leadership and engagement in the community.
The Faculty Award for Student Excellence in Information Management was given to Early-Career student Jennifer Thao, Early-Career Accelerated student Sai Akshaya, and Mid-Career student Riley Fierro. Faculty said the students were selected for their demonstrated leadership, social responsibility, and academic excellence. 
Visit the photo gallery to view and/or download photos from Convocation 2023.