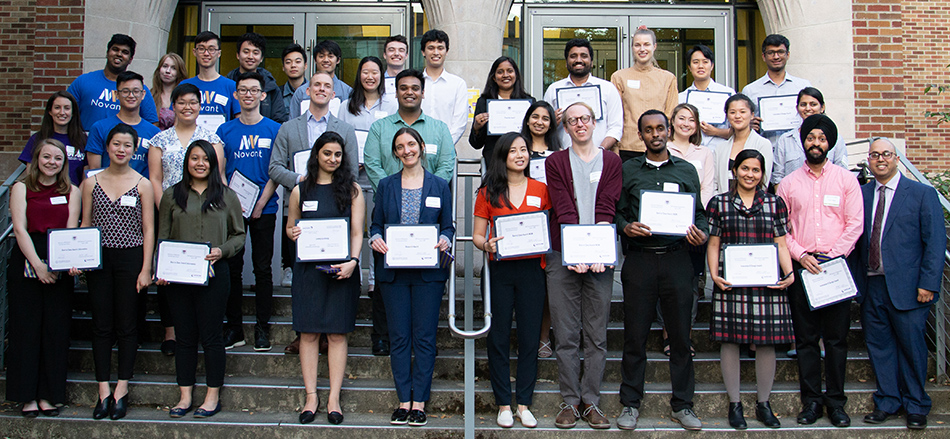 The iSchool's 2019 Capstone event, held June 4 at the University of Washington HUB, featured 129 poster presentations and 39 online ones from more than 400 students. Projects were judged for awards in several categories, including social impact, commercial potential, research, service, innovation/design, and diversity. Additionally, students in each program awarded a Best in Class prize to their peers. 
Held annually, Capstone showcases the breadth of skills and expertise students develop in the B.S. in Informatics, M.S. in Information Management and Master of Library and Information Science programs. Students create posters to demonstrate how they use technology, analysis and creativity as tools to solve information problems for organizations and communities.
Capstone project collaborators include organizations from the public, private and nonprofit sectors, and each project represents a concrete example of what it means to design and build novel applications of technology that meet the needs of people.
A Tagboard of the social media activity surrounding Capstone captured the evening's excitement. You can find more photos from the event in a gallery on our Facebook page, as well as a video of the awards ceremony below.
Award winners received gifts from the iSchool and sponsoring organizations at the event. This year's award sponsors included Accenture, BECU, ExtraHop, Liberty Mutual Insurance, Microsoft, Pitchbook and Slalom.
Judges' award winners
Commercial Potential Award: Novant: The Future of Employment
Bao Dinh (INFO), Wynston Hsu (INFO), Aaron Nguyen (INFO), Anirudh Subramanyam (INFO)
Novant is a platform that facilitates a dynamic shift-based ecosystem for businesses and hourly paid employees. High turnover rates, scheduling conflicts, and limited opportunities impair the current system of employment. Novant benefits businesses by eliminating their turnover risks and consequences by redefining an employee's work arrangement to a single shift. Employees with skills that are transferable across stores, brands and industries will now have opportunities to work shifts at any business on the platform in order to maximize their earnings and have ultimate control of their schedule.
Diversity Award: Equitable Transit
Himanshu Arora (MSIM), Sindhuja Dutta (MSIM),
Sneha Kamath (MSIM), Devin Konick-Seese (MPA), Neelam Purswani (MSIM)    
Sponsors: King County Metro, Sound Transit, UW Mobility Innovation Center
King County Metro and Sound Transit look toward a future of cashless fare collection through the Transit GO Ticket mobile app. To ensure that technological advances are designed to meet the needs of all King County residents, our team studied barriers preventing marginalized riders (low-income, limited English proficiency and unbanked) from adopting the app. Our results revealed these riders recognize the app but never use it and would need some benefits to motivate adoption. Public transport designed with an inclusive approach will benefit all parties involved, ensure equitable access, increase usage/outreach and boost the economy toward a sustainable future.
Innovation and Design Award: The Bandit Problem: Are you winning enough?
Sayali Chakradeo (MSIM), Harkar Talwar (MSIM), Prateek Tripathi (MSIM), Manisha Vyas (MSIM)
Sponsor: Smartsheet
With the use of A/B testing, two major challenges are faced by the online subscription industry today: to maximize conversions of trial users while testing product variants, and to address ever-changing user preferences. This project involves performance evaluation of multi-armed bandit algorithms as alternatives to conventional A/B testing, in order to balance exploration and exploitation during the learning process and quickly identify the overall winning feature variant. Contextual bandit algorithms are also explored to predict what works best for a given user, based on their attributes. This approach helps optimize the conversion rate and support personalization at the user level.
Research Award: Data-Driven Parking in Seattle's Belltown Neighborhood
Sahil Aggarwal (MSIM), Allison Chapman (MSIM), Nathan Cunningham (MSIM), Shreya Sabharwal (MSIM)
Sponsor: City of Seattle
An average driver in Seattle spends 58 hours a year looking for parking. To reduce this burden, city officials must first understand on-street parking occupancy and parking behaviors. The challenge is that pay station transaction data doesn't reflect actual parking occupancy throughout the year. To reconcile this problem, we leveraged publicly available information assets to build statistical models to predict paid parking occupancy in Belltown North. Our machine learning model, analysis of factors related to occupancy, and documented process is moving the needle toward a citywide system of policies and driver tools that streamline the parking experience.
Service Award: Sharespace
Stephanie Burd (INFO), Abby Huang (INFO), Mary Huibregtse (INFO), Min Yang (INFO)
Survivors fleeing domestic violence do not have immediate access to housing, trapping them between homelessness and returning to abuse. Many emergency shelters and transitional houses are hard to access, have rigorous screening processes, and are simply at full capacity. Sharespace was developed in close consultation with advocates and social workers who currently struggle to help survivors find appropriate transitional housing. Our tool builds a community of support to provide immediate, flexible housing to survivors in urgent need.
Social Impact Award: RARET Web Platform
Christian Hahn (INFO), Kelsie Johnson (INFO), John Lim (INFO), Robin Yang (INFO)
Sponsor: Hopelink
When road conditions get bad for everyone, they create even more extreme challenges for people with limited mobility who rely on public infrastructure to access much-needed medical services. Our platform, built for emergency managers in the various counties of the Puget Sound region, directly addresses this issue by creating a centralized information platform that helps facilitate decision-making about which health center and transportation service to use. All the information needed for an emergency manager to guide a patient to a medical facility during emergency situations is available in one easy-to-use location, saving time when lives are potentially at stake.
Students' Best in Class awards
Informatics (tie): But You Seem Fine
Kyra Monique Bautista, Alaina Kwan, Joy Phillips, Madeleine Stevenson
Abstract: Our project focuses on the social side effects of having an invisible illness, specifically targeting adolescents. Currently, there is a lack of understanding and empathy between those with and without an invisible illness. Our solution is an interactive visual novel where the player assumes the role of a young girl as she falls ill and follows her relationships through the ups and downs of the diagnosis process. Based on the user experience testing we have conducted, the game is well-received and has proven effective in providing a platform to relate to the widely shared experiences.
Informatics (tie): My Visual Piano
Parker Ciambrone, Cole French, Wesley Wei, Emily Ye
Sponsor: Microsoft Research
According to the ALS Association, an average of 15 people are diagnosed with ALS every day. ALS is just one disabling condition that can impair someone's creative abilities. My Visual Piano is a real-time, live instrument that provides a way for people in this community to express their creativity exclusively using their eyes. It is accessible to musicians hoping to continue their passion or novices wishing to learn piano in a different way. People who have limited mobility or have completely lost the ability to use their arms, hands or fingers can play piano live — hands- and hassle-free.
MLIS: MisinfoDay
Liz Crouse
Sponsor: UW iSchool DataLab
Abstract: MisinfoDay brought 150+ high school students, teachers and librarians to the UW to spend a day learning about misinformation topics and how they can improve their ability to spot and verify questionable information. After participating in a day of workshops and presentations run by UW librarians, iSchool faculty, and guest speakers from Snopes and KQED Education, the majority of students had increased confidence in their fact-checking skills and saw misinformation as a larger problem than they had before the event. This inaugural event is meant to inspire future MisinfoDays at the UW and at other campuses across the country.
MSIM: IAC Homelessness Data Model 
Amir Ali, Tiffany Ku, Kevin McCraney
Sponsor: City of Seattle Human Services Department
The City of Seattle Human Services Department (HSD) contracts with community organizations to provide housing and health services to people experiencing homelessness. Previously, HSD staff pieced together program and contract data from many sources. This is a time-consuming and frustrating process, but this information is critical for informing policy and providing timely data on this issue to the public. To meet their needs, we produced a data warehouse and reporting system that captures institutional knowledge, automates data ingest, and makes data analysis more streamlined and trustworthy. We hope to help HSD tell a more complete story about Seattle's services to its most vulnerable population.
Pictured at top: From left, Amanda Chin, Fatima Machado, Annabella Abrao and J. Clare Morrison show their project, "Intentionality & Access: Designing a User-Centered Library for Literacy Source."