Resumes & Cover Letters
No matter the job or internship, you'll be asked to submit a resume when applying. A resume often acts as your first impression to employers, and providing an updated and relevant document is vital to your success.
The goal of your resume and cover letter is to get you an interview.
Market yourself concisely; this is not a personal history. Limit your resume to one page if you have less than three years of work experience, two pages if you have three or more years of work experience.
Target your documents to the specific job to which you're applying; be sure to read the job description and qualifications carefully.
Proofread! Attention to detail, capitalization and punctuation are critical.
Writing a concise yet powerful document is not easy — expect multiple iterations.
DO

Write clearly and precisely
Magnify your experience by quantifying and focusing on outcomes more than job duties.

Before: Increased communication skills through leadership position.
After: Brainstormed with team of five to create outreach program, which increased membership 50 percent within one academic year.

Use font size of 10-11 pt. Be consistent with font size across headings, body text.
Submit files saved as PDF. Other document formats may not display as intended.

DON'T

Exaggerate or lie.
Write large paragraphs/sentences or blocks of text.
Include personal statistics (i.e. ethnicity, age, date of birth, etc.).
Include photos or logos.
Include salary information.
In addition to a resume, most open positions will require you to write a cover letter. The letter offers a chance to expound on your resume, allowing you to detail why your specific skills and experience make you the best candidate for the job.
The UW Career Guide (pages 23-26) offers a great overview of the expected format and key steps to writing your application materials so they stand out from the rest of the stack. You may also find the specific examples on pages 34-47 to be particularly helpful.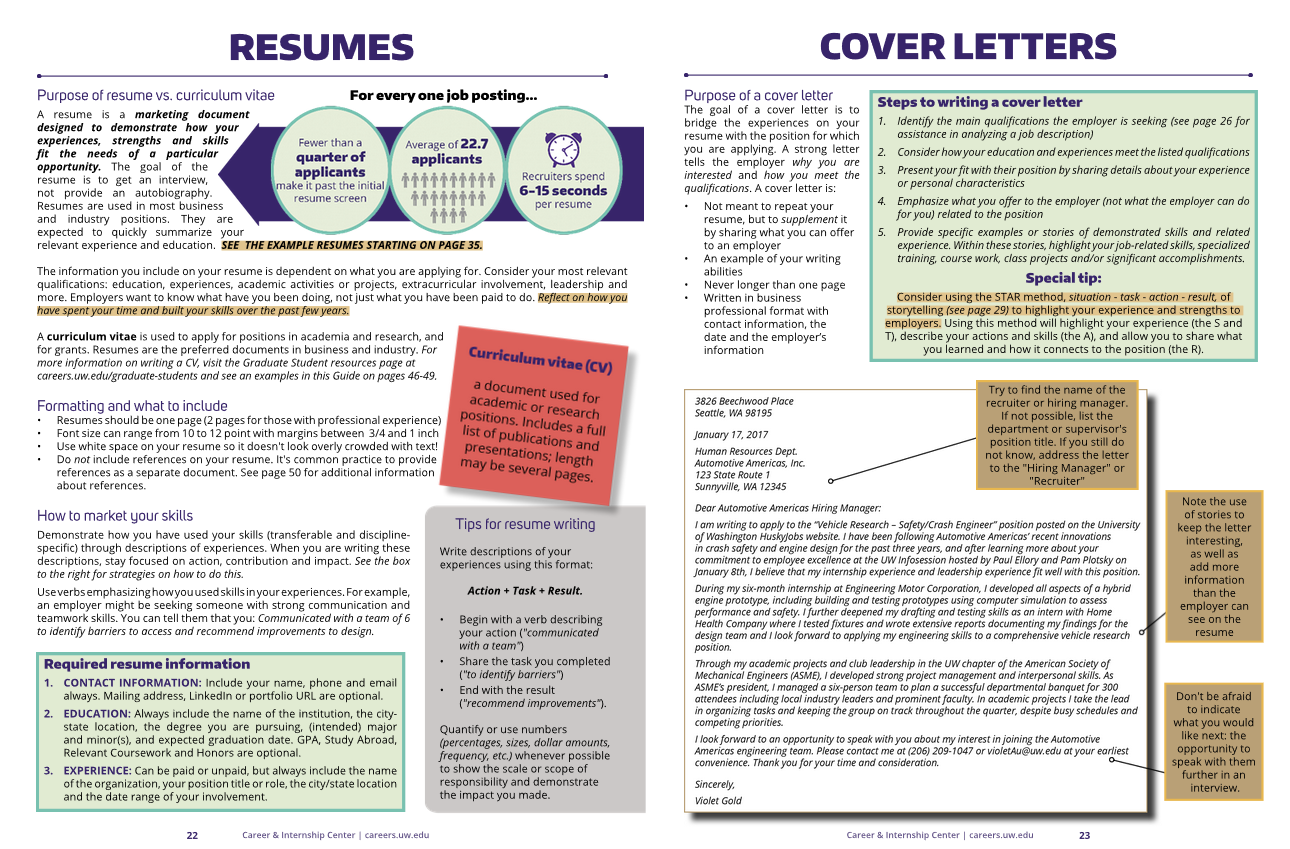 Sample documents
Additional resources
Check out our recordings of some past Career Services events related to resumes and cover letters such as Writing Killer Resumes, Writing Killer Cover Letters, Getting On-campus Jobs Mini Workshop, and Resume Tips for iSchool Students.
Note: While the resources on this page are good starting points, always ensure that the tips you follow apply to your specific situation. Content and format requirements can vary between continents and countries, so be sure to research the specific organization and location to glean what would be the best approach.