This page contains information for students on the iSchool Career Fair. MLIS students can also find iSchool Library Events here.
Employers can find iSchool Career Fair information here.
iSchool Career Fair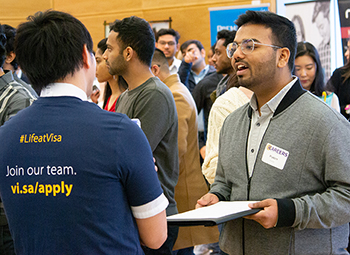 Monday, Feb. 6, 2023, 1-4 p.m. PST
iSchool student-only sign-up: Jan. 9 at 8 a.m. to Feb. 6 at 3:30 p.m. 
All UW students and alumni sign-up: Jan. 30 at 8 a.m. to Feb. 6 at 3:30 p.m. 
RSVP is mandatory and can be done the day of the fair.
To participate, there are 3 required steps!
Your Campus Profile on Handshake must be set to "Community" to register and participate fully in this event.
Register for the fair in Handshake.
Attend and enjoy!
Questions? Email iCareers@uw.edu.
The University of Washington is committed to providing access and reasonable accommodation in its services, programs, and activities. Accommodation requests related to a disability should be made 10 days in advance to iCareers@uw.edu.