Digital Youth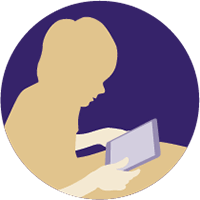 iSchool researchers focusing on digital youth explore the transformative potential of new and future technologies in young people's lives. Drawing on a variety of methods and disciplinary perspectives, our work encompasses topics such as co-designing new technologies, youth well-being, computing education, developing literacies, and learning across contexts. Spanning global contexts, our research addresses the role of digital media and information technologies in relation to access and equity for youth and their communities. 
Visit the Digital Youth website for more information. 
Researchers
Current Projects and Grants
Designing Digital Assistants for Prosocial Communication
PI: Alexis Hiniker
Funding: Jacobs Foundation, $165,000
Dates: 2021-2023
CAREER: Designing for Youth Invisible Work in Families
PI: Jason Yip
Funding: National Science Foundation, $112,325
Dates: 2020-2025
Connecting Rural and Small Libraries to Connected Learning
PIs: Katie Davis, Chris Coward, Mega Subramanium, Stacey Wedlake
Funding: Institute of Museum and Library Services, $427,062
Dates: 2020-2023
Co-designing and Investigating New Technologies for Artificial Intelligence Literacy for Children and Families
PI: Jason Yip
Funding: Jacobs Foundation, $169,616
Dates: 2020-2022
Education, Work, and Life during COVID-19: Supporting Families at Home with Technology
Researchers: Jason Yip, Alexis Hiniker
Funding: National Science Foundation, $124,548
Dates: 2020-2021
STEM Education for Developing Inclusive Gender Data Methodologies in Ghana
PIs: Maria Garrido, Araba Sey 
Funding: UW iSchool Strategic Research Fund
Dates: 2020-2021
Reimagining Digital Well-Being with and for Youth
Researcher: Katie Davis
Funding: Susan Crown Exchange award, via Harvard University
Dates: 2020
eSports and Wellness
PIs: Jin Ha Lee, Jason Yip
Funding: Connected Camps, via Pivotal Ventures, in collaboration with UC Irvine; $116,205
Dates: 2020
Empowering Syrian Girls through Culturally Sensitive Mobile Technology and Media Literacy
PI: Karen Fisher
Funding: Google, $60,000
Dates: 2020
Pilot Mobile-Wearable Just-in-Time Adaptive Intervention (JITAI) for Sun Safety Among Children
PI: Jason Yip
Funding: National Institutes of Health, University of Southern California, $34,925
Dates: 2019-2021
NatureCollections: Can a mobile app connect kids with nature?
PI: Katie Davis
Funding: University of Washington CoMotion & Population Health Initiative, $50,000; University of Washington Innovation Fund, $400,000
Dates: Ongoing
KidsTeam UW
PI: Jason Yip
Funding: Various
Dates: Ongoing
Co-Creating Concept Art and Stories for Virtual Reality (VR): Libraries and Museums as Assets for Juvenile Rehabilitation
PI: Jessica Luke
Funding: Institute of Museum and Library Services (IMLS), $89,109
Dates: 2018-2019
Connected learning at the library: Developing librarians' capacity to support today's digital youth
PI: Katie Davis
Funding: Institute of Museum and Library Services (IMLS), $384,587
Dates: 2015-2019
CAREER: Digital Badges for STEM Education: Designing Networked Learning Environments That Promote High School Students' STEM Identities and Learning Trajectories
PI: Katie Davis
Funding: National Science Foundation (NSF), $740,184
Dates: 2015-2021