Hundreds of students, faculty, partners and friends attended the University of Washington Information School's annual Capstone gala event on May 24 and 25. 
The two-night event featured nearly 200 Capstone projects from the iSchool's Bachelor of Science in Informatics, Master of Library and Information Science (MLIS) and Master of Science in Information Management (MSIM) programs. Most projects were sponsored by a faculty researcher or an outside organization, offering students the opportunity to contribute to a solution for a research problem or real-world challenge. Informatics students who wished to be entrepreneurial also had the option to develop a project based on their interests.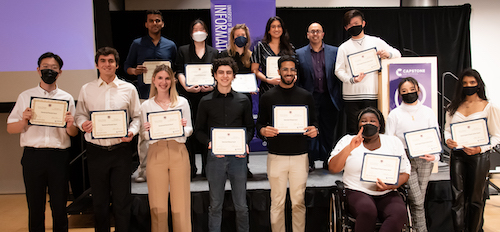 Sponsor or no, Capstone projects tackle information challenges, many of which are addressing significant issues facing organizations and society, including empowering young people through creativity and creation, building trust and collaboration among coworkers, and helping bring high-speed internet connectivity to people with disabilities.
For the first time, the annual Capstone gala event was formatted as a two-day, hybrid conference-style showcase, and students were able to choose whether they presented virtually or in person. 
"Allowing students to participate in their Capstone experience virtually helps the iSchool increase access, equity and inclusion for all our students, their families, and our professional communities," said Matthew Saxton, associate dean for academics. Saxton leads a team of faculty and staff who oversee the iSchool's Capstone program. 
"For students who are working, parenting, or earning their degree online, having a virtual option allows them to participate in an activity where they can connect with the iSchool community and showcase their skills to prospective employers and a wide audience."
Saxton was also quick to highlight that the virtual option expands access for event attendees. For example, not all Capstone project sponsors are from Seattle, and many students complete their projects remotely, without ever visiting a sponsoring organization onsite. 
On both nights, the reimagined Capstone gala event allowed attendees to navigate between multiple spaces to watch live presentations, participate in project Q&As with student teams, and engage with others at the event.
The gala event culminated with attendees coming together in the HUB or via a livestream to celebrate this year's award recipients. 
Capstone Awards
Yilin Chen, Jossie Choi, Samantha Rondini, Stephan Rubalcava 
Team's project description: Packaging and containers currently account for roughly 28% of all solid waste in the United States. Businesses are not incentivized to transition to sustainable packaging when plastic packaging is cheaper and easier to access. SustainaBUILD analyzes the current packaging consumption of small foodservice businesses and recommends sustainable alternatives, informed by current city regulations so businesses can reduce their waste and save time. With the entire process taking less than five minutes, SustainaBUILD dramatically increases the efficiency of sourcing sustainable packaging and allows business owners to dedicate more time to serving their customers and benefiting their communities.
Commercial Potential Award Semifinalists:
Inclusion, Diversity, Equity, Access & Sovereignty (IDEAS) Award Winner: Mejorando la Colección
Dana Graves, Lucy Gutierrez, Alison Kubeny, Courtney Tiffany
Sponsor: Greater Albany Public Schools, Oregon
Team's project description: Our team partnered with a school librarian, from a K-12 public school district that has a significant percentage of Spanish-speaking students, to find titles in Spanish that could be added to the already existing collection. The team used our Spanish-speaking skills to search for titles spanning kindergarten through young adult reading levels. We vetted our selections with book reviews and recommended the resulting 200 titles for purchase. Some of the suggested titles have already been reviewed by the school librarian for potential selection. We hope every student can see their language and/or culture represented on their library's shelves.
Inclusion, Diversity, Equity, Accessibility, & Sovereignty (IDEAS) Award Semifinalists:
Ari Madian, Vishank Rughwani, Saurav Sawansukha, Janvi Wadhawan
Team's project description: 8.6% of the American population are not proficient in English and find it difficult to access healthcare that is predominately provided in English. Communication issues caused by language barriers make Limited English Proficiency (LEP) individuals vulnerable to poor health outcomes. To help tackle this information problem, we created Aida. Aida is an app that allows users to input their symptoms in their preferred language, using our visual process. We generate an easy-to-read symptom card to show their doctor. Our solution reduces the stress and difficulty of communicating symptoms and supports LEP users in receiving the effective healthcare they deserve.
Innovation & Design Award Semifinalists:
Lindsey Schwartz
Sponsor: Nic Weber, Assistant Professor, UW Information School
Student's project description: Previous research has established a clear need for labor protections for app-based workers. And, prominent legislative debates have focused on reclassification - attempting to recognize on-demand platform work as outside the purview of traditional independent contracts. However, there has been relatively little research to understand how policies outside of reclassification impact on-demand workers. Drawing on focus groups and recurring interviews with a cohort of 50 participants in the Seattle area, we assess workers' experiences over a two-year period in order to evaluate the role of hazard pay and sick time established by the City of Seattle during the Covid-19 pandemic.
Research Award Semifinalists:
Moniyat Chowdhury, ​​Marco Jim, Fanny Mai, Brenda Obonyo
Sponsor: Last Myle LLC
Team's project description: Viscera is a platform that allows black women to write and read reviews about their potential doctors. The reviews are written by black women for black women. This can help to encourage and help black women to find suitable doctors so they can feel safe and cared for. Research shows that Black women's basic health needs are not being met and are constantly overlooked. They are disproportionately burdened by chronic conditions, such as anemia and cardiovascular disease. The history of anti-Blackness and bias in the healthcare system has led many women to distrust the system entirely.
Social Impact & Social Justice Award Semifinalists:
Anna Ruth Leith Award for Excellence
New in 2022, the Anna Ruth Leith Award for Excellence Award is granted to an MLIS Capstone project that demonstrates the potential for greatest impact to the field of Library and Information Science. This award is provided by the Anna Ruth Leith Endowment.
Taylor Agajanian, Kris Fortmann
Sponsor: UW Center for an Informed Public
Student's project description: This project developed a coding schema for analysis of incidents of mis- and disinformation present on social media within a rapid response framework. The goal was to support responses that both inform near-term detection and response to mis- and disinformation and that support long-term mixed-methods academic research at various levels. The project specifically focused on problematic information with the potential to negatively impact trust in elections through voter disenfranchisement with respect to the US 2022 midterm elections.
---
The iSchool thanks all Capstone sponsors and iAffiliate partners; alumni, family and friends who attended the event in support of our students; the event planning and support team, and; this year's panel of judges: Commercial Potential: Parker Ciambrone, Software Engineer at Microsoft Commerce + Ecosystems; Michael Mott, Group Product Manager at PitchBook; Sean Pettersen, Assistant Teaching Professor; Inclusion, Diversity, Equity, Access & Sovereignty (IDEAS): Javier Salido, Senior Privacy Manager at Airbnb; Carla Wale, Director, MLIS Law Librarianship Specialization and Associate Teaching Professor; Emily Witt, Senior Manager, Ethical & Inclusive Product Research at Salesforce Research & Insights; Innovation & Design: Mike Doane, Associate Teaching Professor; Kyle James, Senior Product Engineer at The Walt Disney Company; Ed Lim, Senior Manager, Engineering at Smartsheet; Research: Lindah Kotut, Assistant Professor; Carole Palmer, Associate Dean for Research; Emma Spiro, Associate Professor; Social Impact & Social Justice: Cindy Aden, Distinguished Practitioner in Residence and Professor of Practice; Karen Potts, Senior Vice President – Engineering and Technical Operations at BECU; Melanie Walsh, Assistant Teaching Professor; Anna Ruth Leith Award: Trent Hill, Associate Teaching Professor; Sandy Littletree, Assistant Teaching Professor; Temi Odumosu, Assistant Professor.