Public libraries must do more to serve the growing number of patrons struggling with poverty and homelessness, says Jamie Poirier, supervising librarian at the San Rafael Public Library in California and soon-to-be UW iSchool graduate. "For a lot of us working in libraries, this is an unseen part of our community. And a lot of us don't know what we don't know."
To heighten awareness, Poirier and fellow Master of Library and Information Science students Nancy Nightingale and Kelly Tooker launched a Capstone project exploring ways public libraries are and are not serving this burgeoning population. "There cannot be enough resources for library staffs on this problem," says Tooker, a library assistant at Seattle Public Library. "The need is so great, particularly with the pandemic."
The Capstone team — working virtually from separate locations — contacted Rivkah Sass, director of the Sacramento Public Library system, and asked if she would sponsor the project. The iSchool alumna, who graduated in 1978 and was the school's Distinguished Alumni Award recipient in 2018, did not hesitate. "I am forever and always a huge fan of iSchool and the people they produce. So the team had me at 'I'm a student from the UW iSchool.'"
Homelessness is a complicated issue for public libraries. Some libraries, acting on demands of patrons complaining the homeless are taking over "their" library, have tried developing offensive body odor policies, banning the presence of bulky bags and bedrolls, and establishing camping bans in library parking lots.
But a growing number are responding to the national call of the American Library Association, which describes the increasing homeless population in libraries as "an important opportunity to change lives."
The Sacramento Public Library system is one of them. It's the fourth largest library system in California, which has one of the nation's highest rates of homelessness. Many of the unhoused have been teetering on a financial edge and fallen over, suddenly jobless, facing eviction, unable to afford the area's exorbitant rents. Many are trying to stay off the streets: couch-surfing with friends, living in cars, moving in with relatives, turning storage units into temporary homes.
"More people are in need and are having a harder time now," says Sass. "Still, they may be just getting by, so they're not necessarily visible when they come into the library."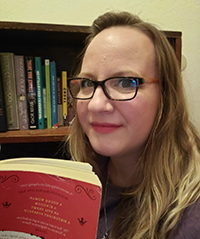 She and her team are partnering with social service agencies, bringing library services to homeless shelters and handing out a "Street Sheet" that links to places offering showers, clothing, cooked meals, food boxes, shelters, counseling centers, veterans' and other services.
This past winter, when a storm ripped through Sacramento and left four homeless people dead and countless others clinging to life in hospitals, the Central Library's Tsakopoulos Galleria was transformed into an overnight warming shelter. The shelter stayed open for months, serving more than 50 people (some with dogs) each night.
"Those deaths in Sacramento are something that have been on all our minds," says Jamie Poirier.
Poirier, Tooker and Nightingale are building on Sacramento Public Library's efforts by expanding resource lists, making recommendations for additional service partners and providing up-to-date demographic data on unsheltered populations in varied communities served by different branches. A literature review Tooker is preparing looks at best practices of libraries serving the homeless nationwide. It will include everything from podcasts on helping homeless youth to articles on humanizing homeless patrons — seeing the "unseen."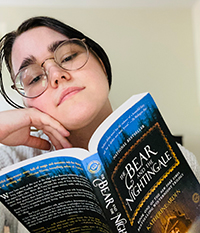 "We want homeless communities to know the public library is a place they can go and get the support they need and not be turned away or feel othered," says Nightingale, who is moving into a new job as youth services librarian in Montrose, Colorado.
iSchool alum Nate Halsan, MLIS '14, an early learning specialist for the library system, works closely with team members. He admires their enthusiasm and drive. "Each of these Capstone students are delving into things that are not necessarily in their wheelhouse. They're doing that thing iSchool students are asked to do: be very broad in your understanding of the fields and gain expertise in all aspects."
His colleague Donna Zick, early learning and development manager, says the iSchool project promises to get Sacramento's staff up to speed on homelessness. "The team is trying to really examine where we're not doing our job well, what we can do differently and what we can do better," says Zick, a UW graduate with an MLIS from San Jose State University.
The Capstone team is already providing new perspectives, say staffers. "This is an opportunity to have some really smart people look at the big picture and explore some important options for us," says Zick. 
View the team's project poster and video on their Capstone project page. To learn more about student projects, register now to attend Capstone 2021 online.