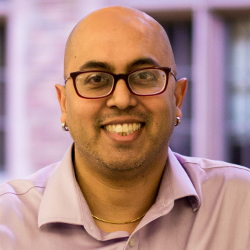 It's been an incredible year at the iSchool, so permit me to do a little bragging about some recent "wins."
The Husky 100: Each year, the University of Washington recognizes 100 students who have demonstrated their ability to take what they've learned in the classroom and apply it on campus and in our communities. I'm very proud to say that this year, nine of the 100 are iSchool students. For a school our size to have such a large proportion of the Husky 100 is truly remarkable, but perhaps it shouldn't be that big of a surprise given that the iSchool's programs all emphasize using the power of information to make a positive impact. Congratulations to all nine: Informatics students Andrea Chen, Oorja Chowdhary, Katie Goulding, Leanne Hwa, Shaarika Kaul, Nicole Kuhn and Chris Sofian; online Master of Library and Information Science student Shannon Smith; and Master of Science in Information Management student Prithvi Shetty.
Dominance at CHI: To say we had another strong showing at the world's leading conference on human-computer interaction (HCI) would be an understatement. iSchool faculty, students and research staff were the lead authors on 17 papers accepted to CHI 2019, including a Best Paper Award winner from Assistant Professor Alexis Hiniker, and collaborated on many more. Overall, the UW "DUB" (Design + Use + Build) community blanketed the conference with UW authors contributing to 63 accepted papers, more than double the output of the next most prolific institution. Led by the iSchool, Human-Centered Design & Engineering, and the Allen School of Computer Science & Engineering, the UW has become the world's leading institution for HCI scholarship, and it's not even close.
At the iSchool, our work in HCI focuses on making a positive social impact, and so do our contributions at CHI. iSchool papers advance our understanding of topics such as how to prevent compulsive smartphone use; how rumors spread through social media; how families and children interact with voice-activated devices; and which technologies children find to be "creepy."
One thing about our showing at CHI that gives me pride is the collaboration across the UW campus that went into it. Researchers from the School of Art + Art History + Design, Mechanical Engineering, Bioengineering and other schools and departments collaborated on papers, and many of the authors were students – both graduate and undergrad. The energy behind HCI at the UW is unparalleled, and it acts as a magnet both within the university and from elsewhere. When you're the leader in your field, you attract other great scholars who want to work with the best.
Among the very best are two iSchool professors who were named to the CHI Academy, the "hall of fame" for HCI researchers. Batya Friedman is widely recognized as a pioneer in value-sensitive design, an approach that accounts for human values in the design of technology. Friedman's influence is evident in the countless educational institutions that have adopted value-sensitive design principles. Meanwhile, Jacob O. Wobbrock was recognized for his influential research on assistive technology and interactive computing. Through his work seeking to understand how people — particularly those with disabilities — interact with computers and information, he has helped improve how technology works for everyone.
Faculty promotions: I'm happy to report that Jevin West was promoted to associate professor; Helene Williams to principal lecturer; and Mike Doane and Annie Searle to senior lecturer. In addition, West and Bill Howe were awarded tenure. Tenure brings you more than job security; it's an acknowledgement that a scholar is a significant contributor to an academic field. For many, it means the freedom to take chances and follow their passions in their scholarship. I'm excited to see what they accomplish next.
New faces: I am proud to announce that we will have at least seven new faculty joining us this fall – one tenure track professor and six lecturers. They bring expertise in library and information science, business analytics, digital archives, cybersecurity, indigenous systems of knowledge, community engagement and access to technology, library management, user-experience, data structures and coding. You'll be learning more soon about all of these outstanding additions to our school.
Research milestones: The accomplishments of our researchers this year are too many to count, but I just want to highlight a few recent ones. Assistant Professor Jaime Snyder won a National Science Foundation CAREER Award worth nearly $550,000 over four years to study how to make data visualizations that better reflect the experiences of individuals, particularly those who are part of marginalized populations. Meanwhile, Associate Professor Ricardo Gomez's research paper on privacy and security guidelines for undocumented migrants was a finalist for the Lee Dirks Award, given to the best paper at the iConference; Senior Lecturers Michael Freeman and Joel Ross published a textbook for Informatics classes, "Programming Skills for Data Science;" and Associate Professor Hala Annabi published the "Autism @ Work Playbook," a guide to help companies institute inclusive hiring programs.
MisinfoDay: Through "Calling BS," Jevin West has been giving students the tools to identify misinformation and stop it from spreading. "MisinfoDay" in March was a chance to spread the message of information literacy to about 200 students from high schools in Seattle, Bellevue and Toledo, Washington. Thanks to West and MLIS student Liz Crouse, along with several MLIS and Ph.D. student volunteers, the event was a huge success, drawing the attention of local media as well as educators across the country who have reached out about hosting their own events centered around misinformation. I know this was the first of many MisinfoDays for us, and I expect that they will get even bigger.
It's been a terrific academic year, and it's not over yet. Capstone and Convocation, both coming in early June, will give us a chance to celebrate the achievements of hundreds of students. I hope you will join us as we end the year on yet another high note.
Anind Dey, Professor and Dean
Spring 2019