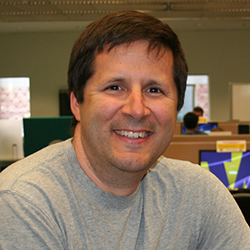 A paper co-authored by iSchool Associate Professor Ricardo Gomez is among the five finalists for the 2019 Lee Dirks Award, given to the best research paper at the iConference, the annual gathering of iSchools worldwide.
The paper, "Documenting the Undocumented: Privacy and Security Guidelines for Humanitarian Work with Irregular Migrants," examines how data about vulnerable populations are collected and stored by the organizations that work with them, including higher-education institutions, non-profits and humanitarian groups. It suggests a set of guidelines to strengthen privacy protections for these populations.
Gomez set forth these guidelines, dubbed "Mind the Five," on his faculty website and on a flier to be distributed to organizations dealing with undocumented migrants. The authors' recommendations for them include:
Prudence. Collect as little information as possible.
Protection. Secure the information you do need to collect and share.
Training. Make sure volunteers and staff are aware and trained on privacy protection; help your users be more privacy-aware.
Share alike. Work with collaborators and partners who share your concern.
Non-discrimination. Offer services to all, including those who do not want to share their personal information.
Gomez, who will present the work along with lead author Sara Vannini and co-author Bryce Clayton Newell at the upcoming iConference in Washington, D.C., was thrilled with the nomination.
"I feel this nomination is an extraordinary recognition not only of our work, but also of the importance of protecting the privacy rights of undocumented migrants and asylum seekers," he said. "We need to be savvy users of information technologies in ways that really meet the needs of vulnerable populations."
Vannini is a frequent collaborator of Gomez's who was a visiting researcher at the iSchool before becoming a lecturer at the UW's Integrated Social Science Program and Department of Communication. Newell, an iSchool Ph.D. alumnus, is an assistant professor at the University of Kentucky's School of Information Science.
The best-paper award honors the memory of Lee Dirks of Microsoft Research. Dirks was a supporter of the iConference and a distinguished graduate of the UW iSchool. The winner will be announced at the opening plenary session of the conference on Monday, April 1.