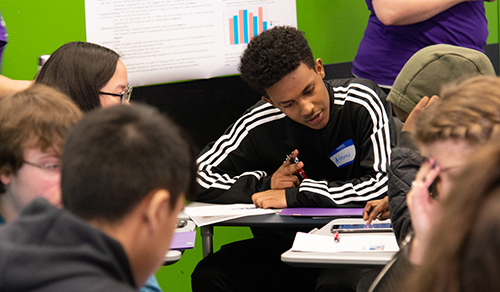 Is Instagram a reliable news source? How about Snapchat? And when you see a shocking headline, how can you verify that the story is factual? High school students took on questions like these at the Information School's inaugural "MisinfoDay."
The iSchool welcomed about 200 students to the University of Washington campus on March 19 for the event from four high schools – Seattle's Franklin and Nathan Hale, Bellevue's Big Picture, and Toledo High School in southwest Washington. They spent the day learning about what makes misinformation so appealing and picked up some tactics to help them find the truth.
Assistant Professor Jevin West (pictured at top) and Master of Library and Information Science student Liz Crouse organized the event, which included opening and closing presentations by UW faculty and students, along with guests from Snopes and the Seattle Public Library. In between, the students attended a pair of workshops – "Fact Checking Tips & Tricks" and "Why Your Brain Loves Fake News."
In the workshops, students were quizzed about their primary sources for news, and many named social media tools such as Snapchat, Instagram and Twitter. Session leaders showed them some ways to find original sources and verify facts before they decide to share online content with their friends.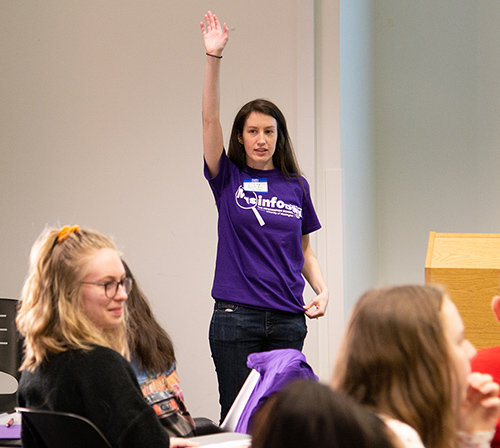 West had some words of encouragement at one of his breakout sessions: "Know that there is truth out there. Today, you might think, 'Everything I'm hearing is about the ways we're tricked.' There is truth – it just takes some more work."
The Information School has taken a leading role in combating misinformation by training people in how to identify it and act to stop it from spreading. West and colleague Carl Bergstrom, a professor in the UW Biology department, collaborated to create a class and website on the subject, dubbed "Calling Bullshit." The course served as a model for similar classes that educators have launched at colleges and high schools across the United States. Their most recent collaboration is WhichFaceIsReal.com, a website that helps users learn to tell whether images are real or fake.
Along with West and Bergstrom, other UW staff and faculty involved in MisinfoDay included Emma Spiro, an iSchool assistant professor; Kate Starbird, an assistant professor in the Human Centered Design & Engineering department; Franziska Roesner, an assistant professor in the Allen School of Computer Science & Engineering; and Alyssa Deutschler, a UW librarian who manages the information science collection. HCDE Ph.D. candidate Ahmer Arif gave one of the opening presentations, and several iSchool MLIS students served as volunteers and session leaders.
View more photos from MisinfoDay on our Facebook page.