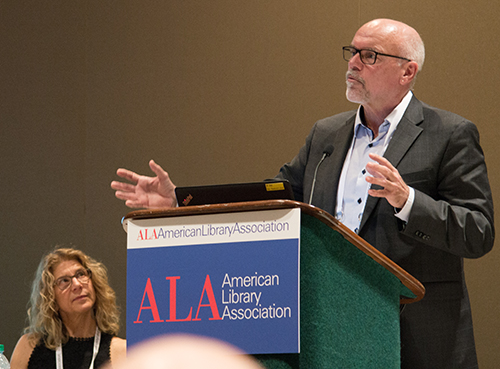 University of Washington Information School faculty, students and alumni were in action throughout the American Library Association Midwinter conference Jan. 25-29 in Seattle.
Information School Dean Emeritus Harry Bruce (pictured at top) moderated a well-attended Saturday panel on leadership for the future of libraries. "I've asked each of our panelists to be bold and audacious and edgy and controversial because the future of libraries is all of that," Bruce said while introducing the discussion.
Among those on the panel was Susan Hildreth, a past professor of practice at the iSchool and former director of the Institute of Museum and Library Services. Hildreth urged the audience to be willing to try things and make mistakes. "It is absolutely critical to be authentic in your community and with your staff and your board and everybody you deal with," she said.
Others on the panel included Cindy Aden, a 1987 iSchool alumna and current Washington State Librarian; Lisa Rosenblum, director of the King County Library System; Marcellus Turner, executive director and chief librarian at the Seattle Public Library; Brian Bannon, a 1999 iSchool alumnus and now commissioner of the Chicago Public Library; and Rolf Hapel, the iSchool's current Distinguished Practitioner in Residence and former director of citizens' services and libraries at Dokk1 in Aarhus, Denmark. Each told stories from their experience in leadership roles and talked about what leadership means to them in a library setting.
Hapel discussed his experience in Denmark, where the number of physical library locations has declined over the years as people have moved to cities. He urged present and future library leaders to take advantage of libraries' ability to adapt and provide new services that meet the needs of communities.
"We are agile and adaptable, so we are able to react swiftly in using a broad range of programs," Hapel said. "The capacity to react is very much in the DNA of libraries."
iSchool Ph.D. alumna Rachel Ivy Clarke, now an assistant professor at Syracuse University, led a Sunday session focusing on another aspect of library leadership: incorporating design thinking – a user-centered approach to problem-solving. Clarke discussed the skills and attributes expected of 21st century librarians, and whether academic programs are meeting the demand. She noted that few academic programs offer courses on design thinking despite strong interest in design education for librarians.
Panelists, including iSchool Senior Lecturer Helene Williams and Ph.D. candidate J. Elizabeth Mills, discussed how design thinking has influenced coursework at the iSchool. Williams told the audience about the real-world problem-solving exercises she has added to her courses in the iSchool's Master of Library and Information Science program.
"I am now throwing 'wrenches' into the students' work," she said, such as having students make plans for library collections, then telling them, "Your budget has just been cut by 50 percent. How do you make those decisions of what you're going to cut and how do you justify that to your users?"
Mills noted that design methods are intended to be tailored to individual situations: "We're asking students to try out different techniques, but to identify very particular ways in which they're going to apply these techniques to come up with a design solution for a particular problem."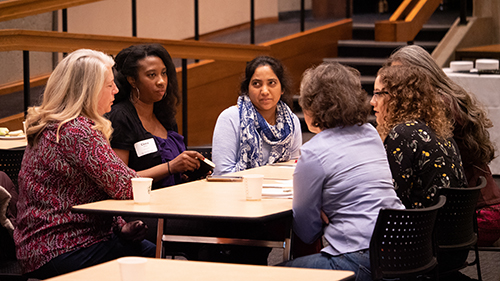 Elsewhere at ALA Midwinter, iSchool faculty members Emma Spiro, Jevin West and Chris Coward spoke at a session on how libraries can fight misinformation; faculty members Jin Ha Lee and Negin Dahya took part in a panel discussion on integrating augmented-reality tools at libraries; Associate Professor Joe Janes took part in a podcaster panel; Lecturer Annie Searle took part in an ALA policy office retreat on cybersecurity; Mills presented on a survey about children's use of technology; and doctoral student Milly Romeijn-Stout spoke at a session on ConnectedLib, a project led by Associate Professor Katie Davis.
The iSchool also hosted a Sunday afternoon networking event on the UW campus, timed to coincide with ALA Midwinter. MLIS alumni reconnected with the iSchool at the event and gave their time to provide career advice to current students. An alumni reception followed at the Seattle Public Library central branch. See our Facebook page for photos from the reception.