Capstone Project Proposal Guide
* This guide is meant as an aid in gathering the information needed to describe a Capstone project. Please submit your project through iCareers when ready (see section below for instructions). For examples of past Capstone projects and a recap of last year's event, please visit our Capstone portal.
Step 1: Outline your project
Students want to know about your project goals and objectives so they can determine if it's a good fit for their team. 
Before posting your project to iCareers, think about the following.
Project goals and outcomes. What are the goals and desired outcomes of your project? What are the challenges you and your organization are looking to tackle?  
Deliverables. What are the deliverables you need from your project (e.g. user research reports, written recommendations, system development, application development, or a data visualization)? 
Special considerations. Are there any conditions or restrictions that may be applicable, such as team size, restrictions on public display of company or project information, work authorization restrictions, or intellectual property?
Other questions to consider: 
How would you like to receive applications (email, accumulate via iCareers, or other means such as an internal hiring website)?
Will you require additional documents for an application (cover letter, writing sample, unofficial transcript, references, etc.)?
Step 2: Post your Capstone project on iCareers
iCareers is our database of jobs, internships and Capstone projects. If this is your first time interacting with iCareers you will first need to create an account.
Create an account / sign into iCareers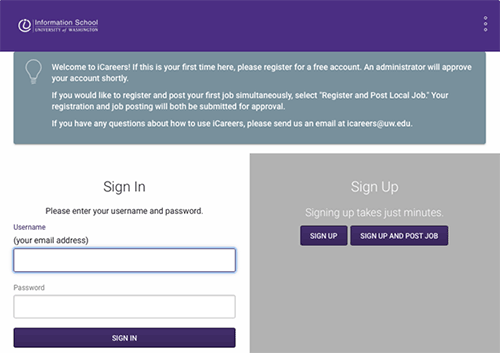 Click "Sign Up and Post Job." Your request for an account and Capstone posting will be approved at the same time. If you already have an iCareers account, you can log in at the same link.
Enter your organization/company's information to register for iCareers. Click "Next."
Enter Capstone proposal details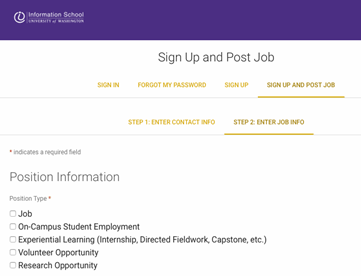 After entering your company's iCareers account information, you will "Sign Up and Post Job."
Fill in required and optional position information – if you need additional guidance on required fields, see below:
Select Position Type: Experiential Learning (Internship, Directed Fieldwork, Capstone).
Work Term: Select the appropriate work term. You won't see this option until you select Experiential Learning above.
Experiential Learning Type: Select "Capstone." You won't see this option until you select Experiential Learning above.
Title: Fill in title of project.
Job or Project Description: Fill in from the Project Description above.
Qualifications and Skills: Fill in all applicable skills from the Skills / Requirements section above.
Special Considerations: Fill in all applicable considerations from the section above.
Number of Openings: Students working with a sponsoring organization generally work in groups of 2-4, and may choose their teams. If no preference for team size, choose 4.
Compensation Information: Choose all options that apply. Capstones are eligible for credit.
Location: Fill in the address of the sponsoring organization.
Resume Receipt: Choose how you would like to receive student resumes for the posted Capstone project (email, accumulate online via iCareers, or other option).
Posting/Expiration Date: You may post the Capstone project immediately or select September 30, 2020 (first day of fall quarter). For expiration, select December 18, 2020, as default (students are required to select their Capstone projects by mid-December).
Class Level: You can indicate your preference for applications from specific class levels. If you prefer applications from Informatics students, choose Undergraduate-Junior and Undergraduate-Senior. For MSIM or MLIS students, choose Masters–Second/Final Year. Please note that Ph.D. students are not able to work on Capstone projects.
Restrict Applications: If you want to restrict your project to only particular class levels, select "Yes." Please note that students in other class levels will not be able to apply if you make this selection. Choosing "No" will allow students in other class levels to apply to your posting.
Adding a new Capstone proposal to an existing iCareers account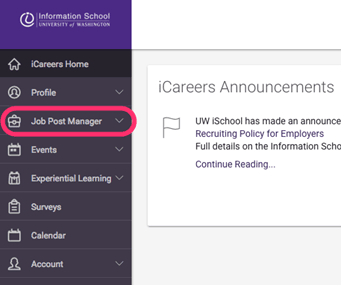 To post a Capstone project, select "Job Post Manager" from the menu. Then select "Job Postings."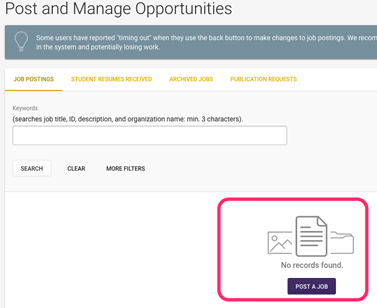 Then click the "Post a Job" button. Select "Post to This School Only" and then follow the steps listed above to complete your Capstone proposal posting.