iCareers is the Information School's main online platform for iSchool students and alumni to find current internship and job positions, schedule advising appointments, and sign up for Career Services workshops and events. All newly admitted iSchool students will be enrolled and gain access to iCareers in early September, or by the first week of your starting quarter.
Make an appointment with Career Services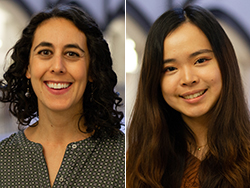 Scheduled appointments take place online through Zoom, though you may also request a phone appointment. You can schedule a 1:1 appointment with the Career Services team via iCareers.
Click "Calendar" on the left-hand side of the page and then click "Counseling Appt." 
Select "Request New Appointment," which shows in a purple box at the bottom of the page
Select the type of advising you are looking for, as well as a date range and time, and then click "Check Availability"
Find an available time slot and click on the advisor's name next to that time
Complete the final page that pops up and click "Submit Request"
PLEASE NOTE: Evening hour slots are reserved for online, part-time, or mid-career students.
Drop-in hours
Spring 2021: Drop-ins are not currently being offered. Please make an appointment via iCareers.
Drop-in hours take place online via Zoom. Log in to iCareers to access Zoom links. Students are invited to bring any questions or topics you would like to cover with an advisor!
Drop-in conversations generally range from 5 to 15 minutes. Depending on your needs, you may be encouraged to schedule a follow-up appointment. The Zoom waiting room feature is enabled to ensure individual privacy.
Contact us
Have a quick question, trouble accessing iCareers, or want your resume reviewed? Email us at iCareers@uw.edu. Common questions may be answered in the FAQ or student recruitment policy.
This page contains iCareers information for students. View iCareers information for employers here.