Career Pathways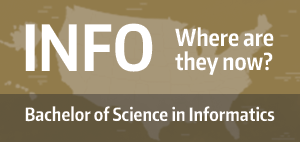 Informatics is a degree that opens a wide range of career opportunities, including jobs at technology companies, jobs at nonprofits developing technology for services and development, and even careers in academic and industry research on information technology. Our graduates' common job titles include software engineer, web developer, user experience designer, usability engineer, project manager, cybersecurity professional, and product manager. Many students also go on to graduate school, getting advanced degrees in data science, human-computer interaction, business, and computer science.
To help you navigate your way through our curriculum to these opportunities, below are several examples of career pathways and the courses that can help you enter these careers. Note: These are suggested pathways, but a particular set of courses doesn't lock you in to a career, nor does it guarantee one. The Informatics degree opens many possibilities.
Software Developers
Informatics is excellent preparation for a career as a software developer. Our core requirements provide significant exposure to foundations in programming, databases, web development and design, and we offer extensive software engineering electives, including:
In addition to our own courses, Computer Science & Engineering also offers many additional electives in operating systems, machine learning, programming languages, software engineering, and other core areas of computer science.
This pathway has led many of our graduates to excellent entry-level software engineering positions at companies such as Google, Microsoft, Amazon, and numerous other software firms around the world.
Data Scientists
The rapidly evolving profession of data science is bringing many of the ideas from scientific data analysis and large-scale data mining to businesses, to help them answer strategic questions with data. It combines fields such as information science, computer science, statistics, design and social science.
The Informatics degree has an option that can prepare you for entry-level data science careers, or a graduate degree in data science, such as the UW's Master's in Data Science. The option requires 16-20 additional credits beyond the Informatics core courses:
Students may petition for additional courses to count toward this option, including many courses in computer science, statistics, and social science.
User Experience Designers and Researchers
User experience (UX) designers envision user interfaces and customer experiences and often do foundational applied research to discover new product opportunities. Building off the academic field of human-computer interaction and design, Informatics students learn to critique, prototype, and envision designs and learn a wide range of research methods that can be used to discover problems that information technology can solve.
The Informatics degree has a Human-Computer Interaction option, which is a great way to prepare for entry-level UX design jobs or a graduate degree in human-computer interaction, such as the UW's Master's in HCI+Design or Master's in Human-Centered Design and Engineering. The option includes 16-20 credits from the approved list of courses below:
Students may petition for additional courses to count toward this option, including many undergraduate design courses in the School of Art + Art History + Design, Computer Science, Human-Centered Design and Engineering, or other units with design-related courses
Product Managers
Product managers integrate perspectives on design, technology, marketing and sales to decide what to make to meet a market need. Most product managers first get several years of experience in a domain, or get advanced training like the UW's Technology Management MBA or Carnegie Mellon's Master's in Product Management. However, Informatics can be a great way of getting a holistic technical education that makes you competitive for these advanced degrees.
We offer several courses relevant to product management:
Students can also take courses from our Master's in Information Management program, which includes courses on management.
Cybersecurity Professionals
Informatics is excellent preparation to become a cybersecurity professional, learning to create, deploy, use and manage systems that preserve individual and organizational privacy and security. Many of the core courses in software development cover security foundations, while many of our courses on ethics cover privacy foundations.
For students who want to pursue a career in cybersecurity, we offer an option shared across the UW's Seattle, Bothell and Tacoma campuses. INFO 310 is the foundational course for the IAC option, plus another 11-15 credits of IAC electives. Only one basic networking elective (INFO 341, CSS 432, or T INFO 250) may count toward the IAC option.
UW Seattle electives:
UW Bothell electives:
UW Tacoma electives:
Careers in biology, medicine and health
Informatics is a great way to prepare for information technology careers in biology, medicine and health. People in these industries advance the science of DNA sequencing; genomics; individual, community and population health; and personal technologies for health wellness.
We teach many relevant courses in this space, and count many other electives on campus for elective credit:
Students may petition for additional courses in other programs, such as Human-Centered Design and Engineering and the School of Public Health, to count as electives.
Information Architects
Whereas user experience design focuses on people's interactions with technology, the profession of information architecture focuses on the content that people encounter with technology. Thinking about what content should exist, how it should be organized, how people can search and browse it, where content comes from, and how content can be used strategically are central challenges in information architecture. It is a crucial component in the development of successful websites, software, intranets, and online communities. Architects structure the underlying information and its presentation in a logical and intuitive way so that people can put information to use.
For those who want to pursue a career as an information architect, or pursue advanced studies in information such as our Master's in Library and Information Science, we offer an option with 16-20 additional credits of the following courses:
Students may petition for additional courses to count toward this option.
Researchers
While Informatics provides substantial preparation for careers in technology, it is also excellent preparation for pursuing doctoral studies in computer science, information science and related social sciences. Our core courses provide foundations in theory, research methods, ethics and policy, and we offer many electives in advanced areas of our faculty's expertise, spanning human-computer interaction, data science, and matters of diversity and social justice in information technology:
In addition to courses, Informatics students also have numerous opportunities to participate in research with iSchool faculty, helping on summer research projects, supporting doctoral student research, and even doing independent research Capstone instead of the typical Informatics Capstone. Faculty prepare students to apply to Ph.D. programs, help them gain research experience, and write letters of recommendation.