Informatics Careers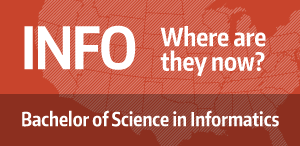 Informatics opens doors to professional opportunities. As an Informatics major at the iSchool, you will turn your love of technology into a rewarding career that prepares you to lead and innovate in the information science field.
Typical starting salaries for Informatics graduates range from $50,000 to $85,000 per year. Throughout the major, you will develop the depth of skills and expertise needed to obtain your first job after graduation and thrive in it. Typical professional roles include:
Business/System Analyst  
Program Manager
Product Manager
Project Manager
User Experience Designer
Usability Engineer
Information Architect
Web Developer
Web Designer
Information Assurance and Cybersecurity Professional
The program also provides strong preparation for graduate studies. Students who elect to continue their education have been successfully placed in prestigious graduate schools in a wide variety of programs of study. Many have gone on to earn master's degrees in information science, human-computer interaction, data science and information management, as well as doctorate degrees in information science, computer science and social sciences.
For more information about careers and career resources, please visit our Career Services pages.