Career Pathways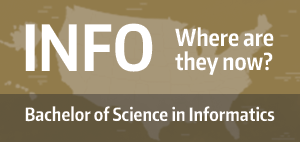 Informatics focus areas open a wide range of career opportunities, including jobs at technology companies building consumer and enterprise information systems, not-for-profits developing technology for services and development, critical jobs in government and civil service, and even careers in academic and industry research on information technology.
Our graduates' common job titles include software engineer, web developer, user experience designer, usability engineer, project manager, cybersecurity professional, and product manager, all at both public and private organizations. Many students also go on to graduate school, getting master's degrees and doctorates in data science, human-computer interaction, business and computer science. Our graduates are readily employed and well-compensated across many industries around the world.
To help you navigate your way through our curriculum to these opportunities, below are several examples of career pathways and the courses that can help you enter these careers. The Informatics degree opens many possibilities:
Note: These are suggested pathways, but a particular set of courses doesn't lock you into a career, nor does it guarantee one.
Software Developers
The Informatics focus area of Software Development is excellent preparation for a career as a software developer in consumer and enterprise information technology, preparing you to develop client and server side web and mobile applications, design databases, and architect web services.
Data Scientists
The Informatics focus area of Data Science prepares you for the eclectic and rapidly evolving profession of data science, which brings many of the ideas from scientific data analysis and large-scale data mining to businesses, to help them answer strategic questions with data. It combines fields such as information science, computer science, statistics, design and social science.
User Experience Designers and Researchers
The Informatics focus area of Human-Computer Interaction prepares students for careers as user experience designers, who envision user interfaces and customer experiences, as well as careers as user experience researchers, who often do foundational applied research to discover new product opportunities.
Product Managers
Product managers integrate perspectives on design, technology, marketing and sales to decide what to design and build to meet a market need. Most product managers first get several years of experience in a domain, or get advanced training like the UW's Technology Management MBA or Carnegie Mellon's Master's in Product Management. However, Informatics can be a great way of getting a holistic technical education that makes you competitive for these advanced degrees. Courses in the Human-Computer Interaction and Information Management focus areas are most relevant, as both give you perspectives on envisioning solutions to information problems.
Cybersecurity Professionals
Courses in the Information Assurance and Cybersecurity focus area are excellent preparation to become a cybersecurity professional, learning to create, deploy, use and manage systems that preserve individual and organizational privacy and security.
Health IT Professionals
Hospitals and health IT providers are in desperate need of people educated in information technology as well as biology, medicine and health. Experts in these areas design and develop software to support individual and population health, support research on disease, and create the infrastructure used by medicine to provide care worldwide. Courses in the Health & Well-Being focus area are excellent preparation for these careers.
Information Architects
Architects structure the underlying content and its presentation of web sites, apps, and web services, helping people find and use information. Courses in the Information Architecture focus area are the best preparation for these careers.
Researchers
All of the Informatics focus areas are great preparation for careers in research, as researchers study the entire scope of all of these topics. In addition to courses, search for research opportunities during the academic year and summer, talk to faculty about their research, and try to arrange a research Capstone. Pursuing a master's degree before a Ph.D. is not always necessary, as many master's degrees are preparation for industry, not academic research. Talk to faculty for advice on pathways into academia.