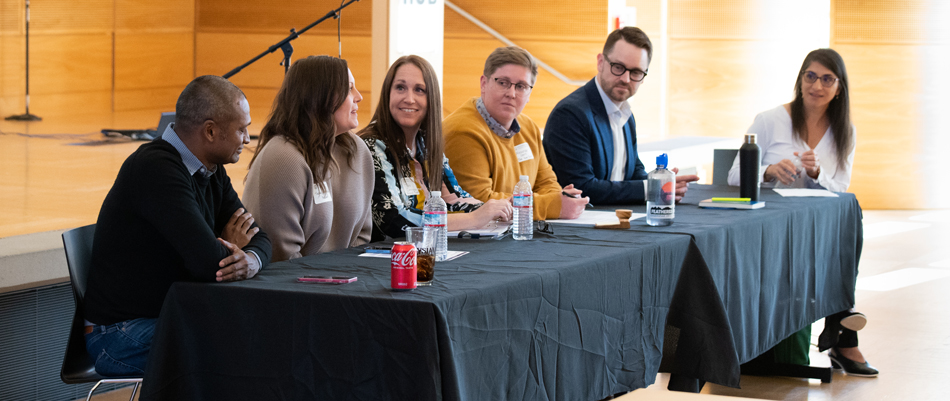 Impact Through Engagement
In the current business and organizational environment, information has become the single most important asset for any organization, and leveraging information technology to transform has become a strategic imperative. The UW iSchool is proud to be at the forefront of this movement, as we work closely with our iAffiliates partnership base to understand, influence and promote socially responsible information management and tech innovation.
The iAffiliates program is designed to engage a select group of strategic partners with iSchool faculty and students through impactful engagement activities. Accordingly, our iAffiliate partners meet with the iAffiliates director and staff annually to create and execute meaningful engagement plans. Each engagement plan is designed to meet our partners' goals, with detailed action steps for participating in our intellectual community, recruiting our students, and investment that furthers iSchool academic program and research activities.
Program Benefits for iAffiliates:
1. Customized annual engagement planning and execution.
2. Personalized concierge service for all planned engagement activities and events, including free on-campus parking, directions, personal escorts and other services needed to facilitate easy visits to campus.
3. Direct access to the Dean, faculty and students per your specifications.
4. Advisory board membership for MSIM, MLIS and Informatics programs and Dean's Founding Board.
5. Sponsorship of multiple Capstone projects and direct matching and execution support.
6. Priority matching for the iSchool Student Mentoring Program.
7. Assistance identifying and coordinating classroom and event speaking opportunities.
8. Event benefits package including concierge service, priority registration/placement and invitations to VIP receptions.
9. Matchmaking service for targeted faculty research and consulting partnerships.
10. Any other customized activities or services that help meet your engagement goals.
Leadership