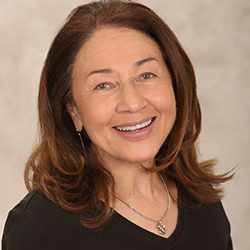 At the University, this is the time of year for fond farewells. In June, we graduate hundreds of students and welcome them to our growing alumni community. This year, we're also saying goodbye to one member of our faculty whose impact is difficult to overstate. 
Cheryl Metoyer joined the Information School full-time in 2003, in the early days after its conversion from a single library science program to a broad-based iSchool. The school's first Dean, Michael Eisenberg, recruited her based on her tireless work to improve Native American library and information services, with the goal of making the iSchool a hub for scholarship at the intersection of Native knowledge and information science. He told her, "If you come, the students will follow."
And follow they did. Cheryl, who is Eastern Band Cherokee and one of the country's first Native American information science scholars, created a community around Native students and alumni that truly feels like a family. She's been a mentor and advocate for dozens of students, including two — Assistant Professor Miranda Belarde-Lewis and Assistant Teaching Professor Sandy Littletree — who are now part of the iSchool faculty, and two — Iisaaksiichaa Ross Braine, '15, and Naomi Bishop, '10 — who have received iSchool Distinguished Alumni Awards. She has established a model for how the UW can be successful at creating a mentorship model that supports historically minoritized scholars.
As the school's Associate Dean for research, Cheryl founded the Indigenous Information Research Group, now known as iNative, which studies information and Native American communities with a focus on social justice. What she helped to build at the iSchool became a key component of its identity at a critical time. When the school briefly faced the threat of consolidation after the economic downturn of the late '00s, she and Harry Bruce helped build a groundswell of support from the state's tribes that made an enormous difference in keeping the iSchool as an independent college at the UW. 
Since going into semi-retirement as an emeritus faculty member a few years ago, Cheryl has stayed on to continue the work of iNative and mentor students and faculty in the iSchool's Native North American Indigenous Knowledge initiative. She has my gratitude for leaving us in a place where that work doesn't end with her departure; its presence at the iSchool will only grow.
Miranda and Sandy, along with Assistant Professor Clarita Lefthand-Begay, give our faculty an unparalleled combination of teaching and research at the intersection of information science and Native and Indigenous knowledge, and we'll soon be searching for a fourth member of the academy whose research in this area will complement theirs. Achieving a critical mass of faculty who conduct leading-edge research is exciting, but it's only part of the equation; we also need to provide more opportunities for students from Native communities. Of the 16 new Ph.D. students arriving this fall, four are Indigenous, including two Native Americans, adding to a growing cohort, particularly in our doctoral and Master of Library and Information Science programs.
As Cheryl has shown us, a supportive community is key to sustaining the success of our Indigenous Knowledge initiative, and financial support is a major piece of that puzzle. To that end, Joe and Jill ('87) McKinstry made a vital commitment by endowing a pair of fellowships. Their faculty fellowship provides funding that the recipient — Miranda is the first — can use to aid in research and bring speakers to the campus and community. Meanwhile, their Ph.D. fellowship provides broad-based financial support for a doctoral scholar. As members and descendants of tribal nations, Native scholars take on extra demands for their time and attention. These fellowships recognize that and create some much-needed breathing room for the recipients. I couldn't be more thrilled to see this commitment from two of the school's biggest supporters. 
Native knowledge systems are ingrained in our history. The first peoples established a culture of oral- and artifact-based information sharing, and it's important for us, as a school that builds and studies information systems, to understand those earliest systems. What we learn from Native knowledge systems of the past and present can help us as we look to make progress on the daunting challenges we all face, such as the climate crisis, threats to democracy, and equitable access to health care. 
As a school, we owe a debt to Cheryl for writing the first chapters of this story. I'm eager to see where it goes next.
Anind K. Dey
Dean and Professor
June 2021