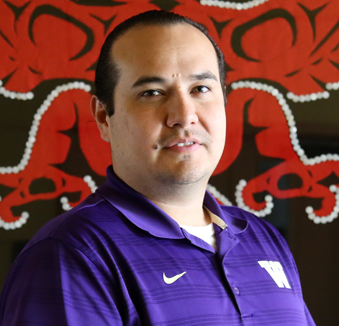 In 2019 Iisaaksiichaa Ross Braine was named the iSchool Distinguished Alumnus, in tribute to his work as the UW tribal liaison and director of wǝɫǝbʔaltxʷ (Intellectual House). Two years later, he's returning to the iSchool with new goals in mind.  
"I think it's time...to turn that next page and fulfill an obligation I made to my grandparents a while ago to get my Ph.D.," Braine says. 
Braine, a citizen of the warrior Apsaalooke (Crow) Nation, will join the Information School's doctoral program with the ambition of conducting research that supports American Indian, Alaska Native, and world indigenous communities and earning an executive position at a university where he can have a bigger impact on higher education. 
Ph.D. students partner with faculty to conduct cutting-edge research and share their findings. They influence the educational experience of thousands of undergraduate and graduate students each year as teachers and mentors. And they innovate as practitioners to push the boundaries of their fields.
Enabling his return to the classroom, Braine was recently named the inaugural recipient of the Joseph and Jill McKinstry Endowed Ph.D. Fellowship in Native North American Indigenous Knowledge. The fellowship provides broad-based financial support while Braine completes his doctorate. 
"I could never do this degree without this fellowship," says Braine. Its support will allow him to focus on his studies and be less stressed at home with his wife and two children.
Braine intends to focus his research on the emerging field of tribal data sovereignty under the guidance of faculty advisor Miranda Belarde-Lewis. He hopes to help tribal nations use their treaty rights to better protect and control their information and cultural knowledge.
Tribal data sovereignty has been top-of-mind for Braine for a number of years. In 2019, he shared concerns about how technology has weakened tribal nations' ability to control their images, data and information, "Some of our tribes do not want photos taken of their events or recording of their songs and stories. As sovereign nations, that information belongs to us. And a lot of times, we do not want to share that." 
For Braine, earning a Ph.D. is a natural next step in his ongoing work to support and empower tribal communities. "I'm hopeful that the research that I do helps my people," says Braine. "That's my main goal…I need to be good for my people."
This community-first approach has defined Braine's decisions around his Ph.D. as well as the steps he's taken to get this to this point. 
"When I go home, back to my tribe, I just hope what I do now reflects good upon them and on my family," says Braine. "I'm really pushing for that, as a person who represents only 1% of the population and then only a small amount of that population has a Ph.D. ... Let's get to work!"