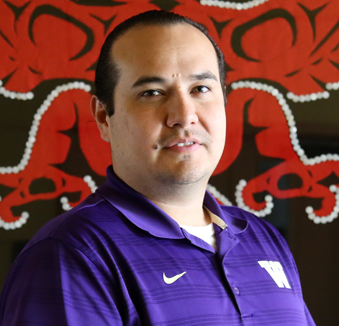 Iisaaksiichaa Ross Braine, '15, was making an impact at the University of Washington even before he earned his master's degree at the Information School. Since then, his stature and value to the university have only grown.
For his contributions and tireless work as the UW's tribal liaison and director of wǝɫǝbʔaltxʷ (Intellectual House), Braine is the iSchool's 2019 Distinguished Alumni Award winner. He completed his Master of Science in Information Management in 2015.
Braine has been the UW's tribal liaison since 2012, acting as an ambassador for UW President Ana Mari Cauce and other UW leaders as they engage with dozens of tribes in the state of Washington and hundreds across the country. A member of the Apsáalooke (Crow) Nation, he also teaches courses in the American Indian Studies department.
He not only directs wǝɫǝbʔaltxʷ, but he was instrumental in building the longhouse-style facility on the UW campus that supports Native American students. He began lobbying and fundraising for the building long before he came to the iSchool, then had his hand in virtually every aspect of its construction. He found his iSchool coursework in design and project management applied directly to his work creating wǝɫǝbʔaltxʷ.
"Every quarter had something that tied in to what I was doing here," he said. "The first quarter, we had design with David Hendry and that was one of my most favorite classes. After that first class, I was hooked.
"I was able to build off that and started to use things I learned about human resources with my own team. When I was hiring and mentoring and growing a team, I used a lot from that. You don't think about it as information management, but a human is a resource in information systems."
One of his iSchool assignments turned into a useful asset in his job as tribal liaison.
"I created a taxonomy in Mike Doane's class that I still use today," he said. "It's everything about tribes all across the state of Washington – their leadership, history, council size, enterprises, land base, everything. It would take going to five websites just to get half of that information."
A committee of past iSchool Distinguished Alumni Award winners chooses finalists for the award from nominations made by alumni, faculty and staff. The winner is then chosen by Dean Anind Dey.
Braine, who earned his bachelor's degree in forestry at the UW, started to have an influence at the iSchool even before he was an MSIM student. Harry Bruce and Cheryl Metoyer, then the dean and associate dean for research, respectively, brought him in as a stakeholder as they formulated the school's Native North American Indigenous Knowledge initiative. Through the initiative, the iSchool dedicated itself to studying and celebrating the intersection of information, technology and Native communities.
"Iisaaksiichaa is grounded in the Apsáalooke traditions of leadership and knowledge," Metoyer said. "He brings these gifts to the University of Washington, and particularly to the iSchool. Having learned with us how to make information work, Iisaaksiichaa offers that knowledge to tribal communities, educational institutions and governing bodies."
Metoyer and Bruce, along with iSchool Diversity Advisor Cynthia del Rosario, were the ones who convinced Braine to apply to the iSchool. Now, he returns the favor anytime he gets the chance.
"I recruit all I can," he said. "You should go to the iSchool. You can make it whatever you want it to be."