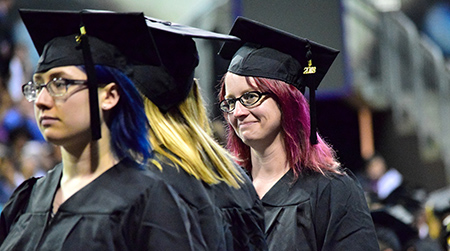 The UW Information School honored more than 480 graduating students from its undergraduate and graduate programs on Saturday, June 2, at its 2018 Convocation ceremony.
Graduates include 213 earning their bachelor's degree in Informatics; 130 earning their master's in Library and Information Science; 130 earning master's degrees in Information Management; and nine earning their Ph.D. degrees. Numbers are subject to change as the academic year comes to a close. About 350 of the graduating students took part in Convocation.
Ellenore Angelidis, Amazon's global director for Kindle content risk management, delivered the keynote address. Angelidis encouraged students to take risks and be unafraid to fail. Rather than letting failures have a negative effect, "I've rebranded it to 'learning,'" she said.
Students earning their doctorate degrees in information science this year include Kathleen Campana, Abigail Evans, Veronica Guajardo, Sandra Littletree, Katie O'Leary, Beth Patin, Philip Reed and Daisy Yoo.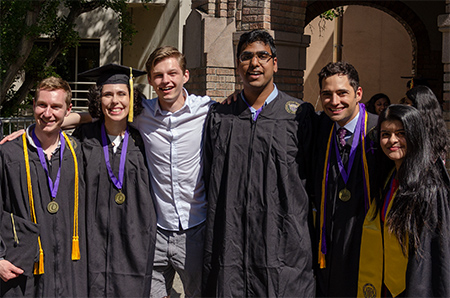 Check out our photo gallery and view a video of the ceremony on our Facebook page.
In addition to the speeches and celebration of graduates, faculty and students presented numerous awards:
Faculty awards for student excellence
The Ruth Worden Award for Student Excellence in Library and Information Science went to Rochelle Lundy. "This student very much embodies the intellectual curiosity and values needed to ensure that the future of libraries is indeed bright," the faculty said.
The Faculty Award for Student Excellence in Informatics was given to Rosemary Adams, whom faculty described as a "pillar of the Informatics community" who has served on several school committees and in student organizations.
The Faculty Award for Student Excellence in Information Management was presented to Lauren Ambrose, a mid-career student specializing in information architecture and business intelligence. Faculty hailed her "selfless dedication to improving the MSIM program."
Student awards
The 21st Century Awards (MLIS) were given to online student Jasmine Gutierrez and residential student Elizabeth Myers. The award, voted by classmates and presented by the Association for Library and Information Science Education, honors graduating students who best embody the future of the library and information science field.
The Archer Awards (MSIM) were presented to full-time student Vaibhavi Rangarajan and mid-career student Robert Hinshaw. The award honors graduating students with an exemplary commitment to the information management field.
The Eisenberg Award (Informatics) went to Chris Oh, who fellow students said is "passionate about the information technology field" and made his mark working with iSchool researchers.
Teaching awards
The Pedagogical Recognition of Faculty Award was presented to Assistant Professor Negin Dahya. The award recognizes outstanding contributions to teaching by a tenure-track faculty member. "She strongly advocates equity, inclusion and diversity and inspires her students to do the same," faculty said of Dahya.
The Teaching Excellence and Creative Honors Award went to Senior Lecturer Joel Ross. The award honors outstanding contributions to teaching by a non-tenure-track faculty member. Ross, faculty said, "encourages creativity, inspires learning and challenges himself as he challenges students."