When Jevin West and Carl Bergstrom quietly rolled out CallingBullshit.org in January, they hoped a few of their ideas would find their way into classrooms. At best, maybe the University of Washington would let them teach a class.
"We would have been happy if a couple of our colleagues and friends would have said, 'Cool idea, we should pass that along,' said West, an assistant professor at the Information School. "We would have never guessed that it would get this kind of a response."
They certainly got a reaction. The website went viral; their spring class filled up in one minute; dozens of local and national media outlets covered the story; the duo signed a book deal; and their curriculum spread to colleges and high schools across the country. Calling Bullshit became a force of nature, and West and Bergstrom were at the center of the storm.
"It's exciting to see this movement around data reasoning building on the class," West said. "It, for me, encapsulates what we do at an iSchool. It involves data processes, analytics, visualization, and design."
The provocative title undoubtedly helped raise Calling Bullshit's profile. It conveys people's frustration with a growing set of problems in the age of social media: the spread of misinformation and disinformation, the rise of "fake news," the manipulation of data to create misleading graphics, the misuse of science to draw conclusions that aren't supported by facts.
"They're fed with so much BS in all aspects of their lives," West said. "Every time in history, everyone says there's more bullshit than in prior times, but I think now you could make an argument there really is, and I think people are sick and tired of it."
West and Bergstrom, a professor in the UW Biology department, wanted to teach students how to think critically about the data that's presented as evidence in the social and natural sciences. They designed their curriculum to show students not only how to identify falsehoods, but how to effectively and constructively call attention to them.
An evolutionary biologist, Bergstrom said his interest stems from problems he sees in how scientists convey their findings to one another and to the public.
"I think it's important for scientists to communicate with each other through rigorous and generally accessible work rather than through kind of overhyped press releases," he said. "I also think it's ethically imperative that we communicate with the public about what we're doing accurately and honestly so people can understand what science is about, rather than presenting science in a misleading light that casts us as 'discovering heroes.'"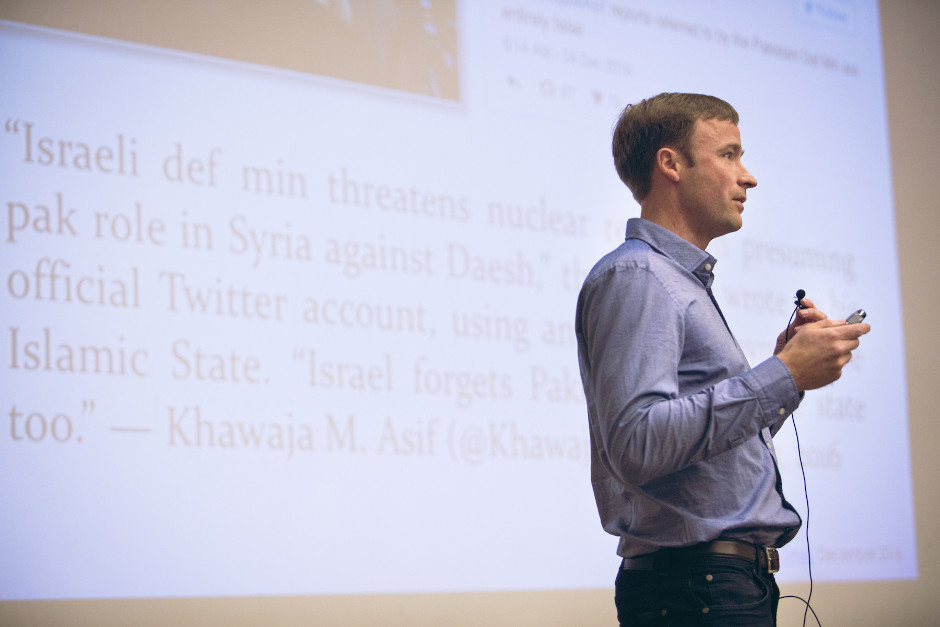 Instant reaction
The morning after they put up their website, West and Bergstrom knew they had struck a nerve. Their email inboxes were overflowing, their social media mentions were through the roof, and their website was attracting visitors from nearly every country in the world.
Media attention soon followed, first from websites such as Inc. and Boing Boing, then from local newspapers and television and radio stations. NPR ran a report on its national broadcast; The New Yorker, Lifehacker, Daily Kos and dozens of other outlets reported the story of the college professors who were taking a stand against BS.
All of the attention caught West and Bergstrom off-guard. Overnight, they became the "Calling Bullshit guys," fielding requests for speaking engagements all over the country.
Most promisingly for the duo, the media attention sparked educators at dozens of colleges and high schools to reach out as they developed their own versions of the course. At last count, some 60 colleges and universities had contacted West and Bergstrom, and they know of many high schools – both locally and across the country – that are using the materials from CallingBullshit.org in their classrooms. The professors secured a $50,000 grant from the Knight Foundation to help equip high school students, journalists and the general public to call BS.
"Probably the most exciting thing of all has been all the conversations with universities and high schools around the country," West said. "Three big areas that I'm starting to focus on are educators at high schools and colleges, the librarian community, and the journalism community. They're on the front lines of this battle against misinformation."
One of those in the trenches is Christina Serkowski, an English teacher at University Prep in Seattle. She began teaching a class this fall called "An Intentional Media Diet" that focuses on how people are interacting with media and digital technologies. She reached out to the UW professors over the summer as she developed her class and has adapted some of their curriculum for her high school students.
Serkowski, who also credits iSchool Assistant Professor Katie Davis and her book "The App Generation" for informing the class, said students sorely need to know how to navigate media and think critically about the information at their fingertips. With even middle schoolers carrying smartphones, "they are seeing it all," she said, and their most trusted sources often are their peers – or Snapchat.
"The people who are using these technologies need to understand the way they affect us as individuals and societies," she said. "We endlessly adopt the newest devices and platforms without careful consideration of the very real hazards as well as the latent potential each presents."
'Exactly what we were looking for'
At the McGehee School in New Orleans, history and government teacher Carolyn Thompson Tapp and chemistry teacher Catherine Cresson are co-instructing a monthlong unit for high school juniors that borrows much of the Calling Bullshit curriculum and even its somewhat profane name.
"We were searching for things that would help us address the whole idea of how you help kids to evaluate information," Thompson Tapp said. "It's a regular topic of conversation, how to deal with the changing information environment. We came across the Calling Bullshit curriculum and it was exactly what we were looking for."
Over the summer, the teachers watched all of the lectures from the spring course on the iSchool YouTube channel and studied the materials on the course website. They returned ready to train students to become more savvy information consumers.
After just a few weeks in the class, students had become detectives of sorts, questioning information, tracing it to its sources and weighing whether those sources were trustworthy, Cresson said.
"It's pretty awesome how it's really inspired them to tackle some really difficult sources and information," she said. "They feel much more empowered to deal with the information they are receiving on a daily basis."
Loved watching #mcggovt AP girls discussing the credibility of different sources of information @mcgeheeschool is committed to media lit pic.twitter.com/QKXQZdrQpB

— Carolyn Thompson (@ccsark) September 22, 2017
Here at home, West and Bergstrom followed last spring's 1-credit seminar with a 3-credit course this fall, and they plan to continue offering it once each year. They hope to develop a MOOC – a massive open online course – to reach a wider audience; and their book, which they are writing for a general audience, not just for academics, is due out in a year or so.
Calling Bullshit isn't just a curiosity. It has staying power.
"If it went away because we solved the problem, I'd be like, 'Great, we're done. Move on to the next thing,' " West said. "But it's going to be a problem for some time. There's just a lot of BS, and the more that we can teach the public how to think critically, the better off we all are."