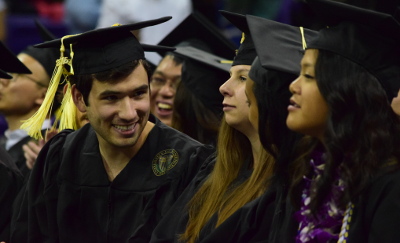 More than 300 graduating students took part in the University of Washington Information School's annual Convocation ceremony on Saturday, June 4, at Hec Edmundson Pavilion on the UW campus. It was the first time the event has been held at Hec Ed, a testament to the iSchool's growth in recent years.
Participants included two students who are finishing their doctoral degrees. Rachel Ivy Clarke and Paul Li are scheduled to defend their dissertations this week. The graduating class also includes up to 382 students in the iSchool's undergraduate Informatics program and graduate Master of Library and Information Science and Master of Science in Information Management programs.  
The keynote speaker was Shaun Kane, who earned his Ph.D. at the iSchool in 2011 before joining the faculty at the University of Colorado Boulder. Kane, who specializes in accessible user interfaces and mobile human-computer interaction, urged the graduating students to be inclusive in their professional careers and to "do work that connects with something that's personal to you, that empowers who you are."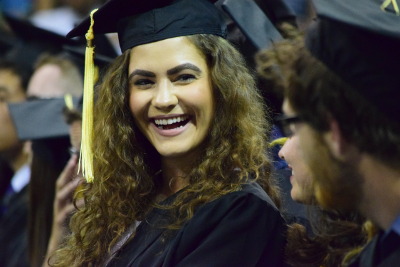 Students in each program were chosen for awards from faculty and peers. The faculty awards were the Ruth Worden Award for Student Excellence in Library and Information Science, which went to Erin Rozewicz; the Faculty Award for Student Excellence in Information Management, which went to Kameron So; and the Faculty Award for Student Excellence in Informatics, which went to Vivyan Woods.
The student-selected honors were the 21st Century Award, which went to MLIS student Reed Garber-Pearson; the Archer Award, to MSIM student Bk Sarthak Das; and the Eisenberg Award, to Informatics student Caleb Thorsteinson.
For more photos from Convocation, visit our Facebook page.