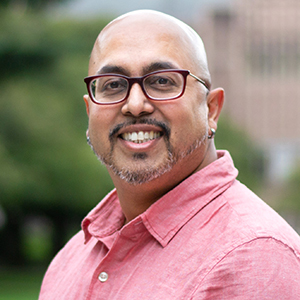 The call for nominations went out recently for the Information School's annual Distinguished Alumni Award. While I always enjoy honoring a standout alum, the award is just a small snapshot of the impact of our alumni. I know they are out there distinguishing themselves in countless ways — in a moment or across a career.
The iSchool's programs all provide not just technical skills and theoretical knowledge, but a grounding in ethics and equity. Our graduates become leaders in industry, nonprofit organizations and other institutions, and when we see them making an impact, it's extremely rewarding. As someone who has mentored many students, I know from personal experience that it validates your approach to teaching and research when a former student achieves a milestone in their career or is recognized for excellence.
Some of the Distinguished Alumni honorees from recent years illustrate the variety of ways alumni are innovating and effecting positive change. Iisaaksiichaa Ross Braine, MSIM '15, has made an impact that is as visible as wǝɫǝbʔaltxʷ, the Intellectual House on the UW campus. As the UW's tribal liaison and director of wǝɫǝbʔaltxʷ, he focuses on preparing American Indian and Alaska Native students for leadership roles in their tribal communities. Kabir Shahani, Informatics '04, has founded two successful data-driven startups and won accolades as a forward-thinking tech entrepreneur since graduating from the iSchool. Sharon Reeves, MLIS '69, went on to direct a top-notch news research department at the San Diego Union-Tribune, which became one of the first major U.S. newspapers with a searchable archive under her leadership. Shaun Kane, Ph.D. '11, worked as a student here on assistive technology that has been widely adopted on mobile touchscreens, making them more user-friendly for everyone, regardless of physical abilities. Since leaving the iSchool, he has devoted his career to studying accessible technology, now as a faculty member at the University of Colorado, Boulder.
As accomplished as these individuals are, I'm just as inspired by alumni who support our current students in big and small ways. Every time an alum gives a talk in a class, sponsors a Capstone project, reviews a portfolio, or mentors a student, they give current students a glimpse of what's possible in their own careers. These connections have never been more valuable than in this pandemic year, when students face the challenge of networking without congregating in person.
This past year, we have had many reminders that information and information science are central to the most challenging problems society faces. In the coming years, I want to see the iSchool community use the power of information to address threats to our democracy, combat the terrible effects of climate change, and improve people's health and wellness. When alumni engage with current students, they play an active role in executing that vision. They also learn from what we're doing in the classroom and take that knowledge back to their organizations, creating a virtuous cycle that gives both our present and future alumni the tools to become more effective change-makers. Our alumni are one of the iSchool's biggest assets and one of our biggest contributions to the world.
Anind K. Dey
Dean and Professor
Winter 2021
P.S.: To nominate an alum for this year's Distinguished Alumni Award, please fill out our nomination form.