Alumni Advisory Board
The Information School Alumni Advisory Board serves to foster relationships between the UW iSchool and its alumni.
Its purpose is to assist the iSchool in building and maintaining an alumni engagement program that supports and provides value to our alumni, while creating and sustaining strong relationships with and among our alumni, current students, faculty and the iSchool. 
The board is composed of iSchool alumni, who are locally, nationally and internationally committed to using their network, knowledge and influence to help foster a robust alumni community that will encompass all iSchool degree programs and graduation years. Board members serve renewable two-year terms.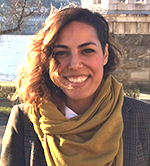 Norah Abokhodair
Senior Program Manager
Microsoft Learning Innovation Studio
Norah Abokhodair is a Senior Program Manager at the Microsoft Learning Innovation Studio. In her role, she leads multiple projects within the studio, including leading the user research efforts and strategy of the products developed in the studio. Abokhodair received her Ph.D. from the UW Information School in 2017 and holds an iSchool MSIM degree (2011). Her dissertation research focused on understanding cross-cultural values, like privacy, identity, and interpersonal relationships to inform the design of culturally sensitive and inclusive products, a topic she still advocates for in her current position. She also was among the pioneering researchers in reporting on the use of automation and bots to spread misinformation online with focus on the Arabic sphere. Abokhodair is passionate about the various ways she can bridge the gap between academia and industry, from bringing more awareness to academic research into product development to mentoring students on how to navigate their career journeys and land jobs at leading tech companies. Abokhodair arrived in Seattle, where she now resides, from Saudi Arabia in 2009 upon receiving the Fulbright Science and Technology Award.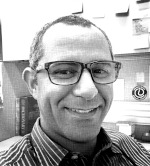 Adil Ait Hamd
Senior Program Manager, Digital Security and Risk Management
Microsoft
Adil Ait Hamd has experience across a range of information management disciplines including information assurance, Internet of Things, healthcare and education. Hamd currently serves as a senior program manager with the digital security and risk engineering team at Microsoft, where he runs digital security programs to help protect Microsoft's data assets. He has previously held positions at startups, non-profits, as well as for-profit organizations serving a wide range of customer segments.
Hamd's current focus is on implementing sound program management frameworks to help teams achieve organizational goals and focus skills on building the best user experiences possible while balancing market demands, security, and compliance.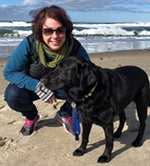 Greta Bergquist
Youth Services Consultant
State Library of Oregon
Greta Bergquist started as the youth services consultant at the State Library of Oregon in February 2018. She previously worked at Kitsap Regional Library. Before coming to librarianship, she focused on education, including teaching, training and curriculum development. Bergquist has previously worked with School's Out Washington, New Futures (now part of Southwest Youth and Family Services), Teach for America and Baltimore City Schools. She is especially interested in libraries working toward being welcoming spaces for all kids ages 0-18. She also makes excellent chocolate chip cookies.
Bergquist graduated with an undergraduate degree in English from Seattle Pacific University. She earned a Master of Arts in Teaching from Johns Hopkins in 2005, and a Master of Library and Information Science from the University of Washington in 2011.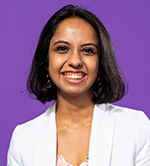 Simran Bhatia
Simran Bhatia started her career as a business intelligence analyst at Accolade in Seattle before moving to Apple. As a 2020 Informatics alumna, she applies what she learned in her data-intensive coursework to solve complex business intelligence problems. She has further experience and interest in the intersection of accessibility and virtual reality. Her various experiences as an Informatics research and teaching assistant, diversity inclusion advocate, and volunteer have led her to understand she is most fulfilled when using her skills to empower others.
Simran received her Bachelor of Science in Informatics from the UW Information School in 2020. She is also currently enrolled in a professional master's program at UC Berkeley to further her education in data science.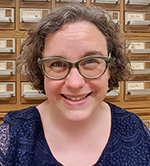 Violet Fox
Cataloging & Metadata Librarian
Northwestern University
Violet Fox is a Cataloging & Metadata Librarian at Northwestern University's Galter Health Sciences Library. Her passion is making the classification structures used in libraries more equitable, which was a primary driver of her work as the editor of the Sears List of Subject Headings and as an editor of the Dewey Decimal Classification. She is one of the administrators of the LIS Mental Health project, an effort to normalize discussion of mental health challenges in the LIS profession.
Fox received her MLIS degree from the University of Washington Information School in 2013.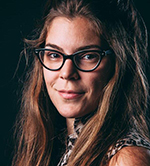 Sofie Gogic
Information Architect for Sales Enablement
Adobe Systems
Drawing from a background in archival digitization and cataloging, Gogic applies her love of systems and analytical thinking to usability testing, designing and socializing the organizational architecture used to help the nearly 9,000 members of Adobe's field navigate, use and understand engagement of high value sales and training assets. Working in an environment where available tools and services are constantly being evaluated and reprioritized, she develops analytical systems for understanding audience adoption and return on investment for the systems and assets supported by her team.
Gogic has been empowered by bringing the principles she learned as an MLIS graduate of the UW iSchool to a highly globalized and adapting collection of resources. She looks forward to continuing her info-based influence in the tech sphere by leveraging the intersection between experience design, information organization and content analysis to drive actionable results.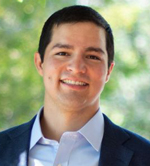 Danny Gonzalez
Full Stack Engineer
Costco
Danny Gonzalez is a full stack engineer on the Strategy, Planning, Architecture, and Engineering team at Costco. As part of the team, he provides the foundational strategies, frameworks, processes, solutions, tools, and skills required to transform Costco from a silo-based legacy organization into a modern, global service provider.
With over eight years of experience as a software engineer, Gonzales has a passion for creating innovative solutions that drive positive change. Prior to joining Costco, he worked on the sustainability engineering team at Microsoft where he designed and developed end-to-end features for Microsoft Cloud for Sustainability.
Gonzales holds a Bachelor of Science in Informatics from the University of Washington's Information School, which he earned in 2015. In addition to his work, he is actively involved in a variety of activities that reflect his values and interests. He is dedicated to making a positive impact in all aspects of life. He believes in creating a better world not just through his work but also by being an engaged and responsible member of his community.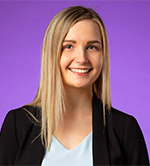 Katie Goulding
Privacy Program Manager
Meta
Katie Goulding is a Privacy Program Manager at Meta. She is responsible for driving process changes to maintain global regulatory compliance within the Incident Management domain. Prior to Meta, she worked as a consultant for Deloitte with a focus on Salesforce implementation.
Goulding received her bachelor of science in Informatics from the UW Information School in 2019. At the iSchool, she served as a teaching assistant and was actively involved with IUGA leadership, developing the first "Hack for Social Good" for local high school students to engage with the iSchool. She currently resides in Denver, taking advantage of all the sun and outdoor access.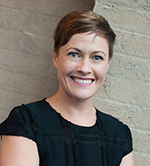 Nicole Gustine, J.D.
Assistant General Counsel
Washington State Bar Association
Nicole Gustine grew up in rural Southeastern Oregon and moved to Seattle to pursue her education at the University of Washington. A first-generation college graduate, she holds three UW degrees (BA '02, MLIS '05, JD '14) and is assistant general counsel at the Washington State Bar Association. She advises boards and committees on various topics related to the regulation of licensed attorneys. Her prior work at the Bar was as public records officer, a role that combined her experience with information organization and rule-based legal analysis. Gustine's volunteer work history includes providing pro bono legal services to clients who cannot afford representation (through the King County Bar Association) and serving on the UW Alumni Association's GOLD (Graduates of the Last Decade) Council.
Even though she spends 12 hours a day reading for work, she also likes reading for fun. When not reading or sleeping, you can find her cycling, running, or playing tennis with her eleven-year-old son. Because of her strong appreciation for her education, Gustine strives to connect with and give back to the UW community. By serving on the iSchool Alumni Advisory Board, she hopes to help promote the mission of the iSchool and advocate for its student and alumni members.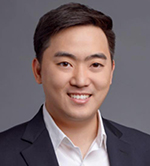 Andy Herman
Technical Program Manager
Google
Andy Herman is a technical program manager at Google. Formerly, Herman was responsible for managing, identifying and mitigating risks for the Mixed Reality Organization focusing on working with Hololens 2 devices for Microsoft.
Prior to his role with Microsoft, Herman worked as a consultant with West Monroe Partners' Security and Infrastructure team, assisting with due diligence process through security assessments.
As a student, he co-founded the ISACA student group and served as the Vice President of the Associate of Information Management Students (AIMS). Herman also served as the graduating class gonfalonier to represent the Graduate School during the commencement procession.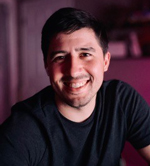 Nick Hernandez
Group Product Manager
Panorama Education
Nick Hernandez is an enthusiastic information problem solver with a career spanning direct service volunteerism, management consulting, and product management across sectors.
Working as a Group Product Manager with Panorama Education, Hernandez leads a product team that helps educators glean insights and take action to support students and educators in schools across all 50 states of the U.S., supporting thousands of communities and over 15 million students each year. Hernandez also supports iSchool students as a guest lecturer for IMT 580 for the full-time and mid-career programs.
Building on lessons from the iSchool, Hernandez believes the way we work is just as important as what we work to achieve. Leadership rooted in inquiry and coaching paired with the highest standards of integrity and teamwork, he works to bring the best of himself and those around him — better teams make better products.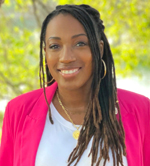 Marquisha Hicks
Supervisor IT Financial & Administrative Applications
UC Davis Health
Marquisha Hicks is an accomplished IT expert with extensive expertise in financial and administrative applications. Serving as the IT Financial and Administrative Applications Supervisor at UC Davis Health, Hicks heads a committed team that concentrates on optimizing processes, offering application assistance, and supplying solution services to Finance business clients. Her knowledge of ERP finance modules and other associated finance servicing systems has rendered her an invaluable contributor to the organization.
In her previous role, Hicks offered expert supervision, project management, and administrative guidance to both staff and vendor management concerning the Capitation Payment Management System (CAPMAN) for managed care, the Breast and Cervical Cancer Treatment Program (BCCTP), Health Insurance Premium Payments (HIPP), and Electronic Accounting Modular Interface (EAMI) for the California Department of Health Care Services (DHCS). Her responsibilities included ensuring compliance with the Health Insurance Portability and Accountability Act of 1996 (HIPAA), demonstrating her strong commitment to safeguarding sensitive health information and adhering to industry standards.
Hicks is not only eager to apply her expertise and skills to shape the future of IT solutions and services, ensuring they are efficient and user-friendly, but also excited to share her knowledge with current students and alumni. Her enthusiasm for empowering the next generation of IT professionals is a testament to her commitment to fostering a community of continuous learning and innovation.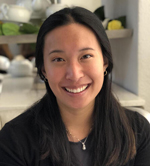 Brittney Hoy
Software Engineer
Spotify
Brittney Hoy is a software engineer at Spotify working on the Spotify for Artists billing and payment integrations platform. Previously, she worked at Axon Enterprise (known for Tasers and body cameras for law enforcement) and before that, she started her career at The Walt Disney Company.
During Hoy's time at the iSchool, she was actively involved with Women in Informatics and graduated with the custom track from Informatics in 2017. In her free time, Brittney enjoys drawing, spending time with her husband and dog, and staying active.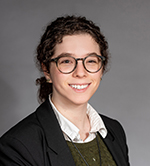 Beck Keller
Content Librarian
Echo Services Microsoft
Beck Keller currently works as a content librarian at the Microsoft Library for Echo Services.
Previously, she was a photographic collection processing assistant for the University of Washington Special Collections Library, where she was the 2016 Byron T. Broderick Libraries Student Employee Scholarship recipient, and an inaugural member of the Trinity College Library Research Associates program.
Keller holds a bachelor of arts degree in English literature and French from Trinity College and a Master of Library and Information Science degree from the University of Washington.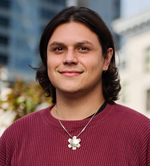 Ethan Kuhn
Ethan Kuhn is Haida, of the Skidegate Band of the Haida Nation. He is currently a product manager at Carina, serving historically marginalized home care and child care workers and consumers. In his time in the iSchool, he has worked as a design educator, product designer, research and teaching assistant, and mentor. He believes technology should be leveraged to create value for communities and people beyond profit, and his work reflects these values.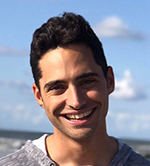 Benjamin Leeds
Application Software
Vast
Benjamin Leeds lives in Los Angeles, California where he leads Application Software at the New Space startup Launcher. Leveraging his expertise in full-stack engineering and product leadership he architected Launcher's Mission Operations Software currently used to operate the company's on orbit satellites and soon its rockets. Founded in 2017, Launcher is building a fleet of spacecraft to provide launch customers a ride anywhere in space at the lowest cost.
Prior to Launcher, Leeds co-founded an audio technology startup with a focus on information systems, product development, marketing, and fundraising. The startup, Modern Fidelity, designed, manufactured, and launched its first product – the ModFi 7 smart speaker.
Before joining Modern Fidelity full time, he graduated from the UW Magna Cum Laude with Departmental Honors in Informatics. While at the Information School, Benjamin focused on obtaining a holistic technology education by pursuing coursework in full-stack software engineering, information systems design, information ethics, and technical product/project management.
Prior to attending the University of Washington, Benjamin was Chief Information Officer of Codex Advisors. Codex was a boutique investment bank who guided clients through the merger and acquisitions process by providing a full service suite of expertise. While there, Benjamin was responsible for building the firm's cloud based information exchange and data storage platform that allowed the firm to compete with competitors many times its size.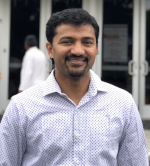 Ravi Modalavalasa
Director of Engineering
Microsoft
Ravi Modalavalasa is Director of Engineering, currently working at Microsoft Corporation, based in Redmond, Washington. Modalavalasa has over 25 years of experience in product development, software engineering, data science and analytics, program management, and customer and partner engagement.
Modalavalasa has a strong background in cloud services and solutions, digital advertising, online services, web and desktop products with a proven record for conceptualizing, building and launching world class software products and services. In the last 18+ years at Microsoft, Modalavalasa has conceptualized and shipped several state-of-the-art products in Azure, Bing Ads, Windows Live, Internet Explorer (IE8) and Microsoft CRM. Modalavalasa is currently responsible for software engineering and product management teams building software products and AI solutions for MCAPS.
Modalavalasa has been a founding member of multiple for-profit and non-profit organizations and actively involved in community services. Modalavalasa is also the founding member of Rolling Reeling Entertainments, which promotes talented local artists and performers by producing and directing web series and short films. Modalavalasa has been known for his leadership and people skills in a variety of organizations and has been instrumental in mentoring and coaching people to successfully meet their professional and personal goals.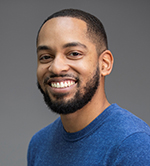 Martez Mott
Postdoctoral Researcher
Microsoft
Martez Mott is a Postdoctoral Researcher in the Ability group at Microsoft Research, where he conducts research in the areas of human-computer interaction and accessibility. Mott designs, develops and evaluates intelligent interaction techniques that improve the accessibility of computing devices for people with diverse motor and sensory abilities. His current research focuses on making virtual and augmented reality systems more accessible to people with limited mobility.
Mott received his Ph.D. in Information Science from the Information School at the University of Washington, where he was advised by Jacob O. Wobbrock. For his dissertation, Mott created and evaluated algorithms to improve the accuracy of touch input for people with upper-body motor impairments. Prior to attending the UW, Mott received his B.S. and M.S. in Computer Science from Bowling Green State University.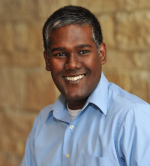 Ajay Pillay
Senior Engineering Leader
Atlassian
Ajay Pillay is a senior engineering organization leader at Atlassian with teams spanning the U.S., Australia and India. He brings over 12 years of experience in marketing tech, product and data platform strategy and development.
Pillay has a background in sales and marketing tech. He began his journey in management consulting with Deloitte Consulting and was responsible for leading technology strategy, capability planning and marketing tech implementation across high-tech, life-sciences and consumer companies such as Intel, VMWare, Novartis and Lululemon. He now leads platform teams within Atlassian with a focus on customer journey and user experience management across the go-to-market lifecycle.
In his free time, Pillay enjoys trying new cuisines and recipes, traveling to different cities with his wife and daughter, and geeking out about watches and hi-fi.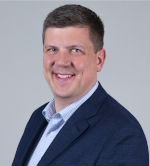 Ryan Prins
Principal Partner Development Manager
Amazon web Services
Ryan Prins is a Principal Partner Development Manager at Amazon Web Services (AWS). Within AWS, he is a member of the AWS Partner Organization Global Solutions Integrators (APO GSI) team. Within the APO GSI team, Ryan is responsible for driving partner sales revenue for a large GSI through various go-to-market (GTM) activities, engagement with partner & AWS field sales, joint proposal development, and establishing AWS as their preferred cloud platform. Prior to AWS, Ryan spent over 17 years working for Avanade, a large GSI focusing on the Microsoft ecosystem. During his time at Avanade, Prins held a variety of roles, most recently as a Client Account Lead for their largest client. Ryan lives in Seattle with his wife (who he met at the iSchool) and two kids.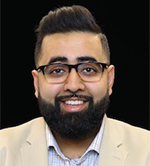 Kartik Rishi
Senior Product Manager - Technical
Amazon
Kartik Rishi is a senior product leader driving customer delight and innovation at Fortune 50 companies in the Seattle area. In his role at Amazon, he is responsible for key multi-year, next-generation technology standards to power retail store innovation and development cost reduction.
Previously, Rishi spent several years at The Boeing Company driving product development, operational excellence, and cultural transformation. Most recently, Rishi built an organization centered around the fundamental transformation of how software development is conducted at Boeing, to enable faster value delivery & market differentiation.
Prior to that, Rishi has been involved in the TechStars Startup Weekend community as a global facilitator, a curator for two local TEDx events, a founder of his own startup, and advisory committee member for Washington STEM.
Rishi received his bachelor of science in Informatics from the UW Information School in 2014.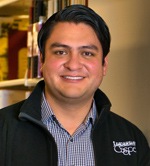 Conrrado Saldivar
Tech Services Manager
Natrona County Library
Conrrado Saldivar is the Tech Services Manager at the Natrona County Library in his hometown of Casper, WY. His position focuses on the traditional technical services processes of a public library and the library's newer technology services in its makerspace. Both roles allow for improving access to library services and improving the equity, diversity, and inclusion principles of the library. Prior to that, he was Outreach and Development Librarian at the Wyoming State Library. He currently serves as President of the Wyoming Library Association, Member-At-Large on ALA's ODLOS Advisory Committee, and Juror for the ALA Spectrum Scholarship.
Conrrado received his MLIS from the UW iSchool in 2021. During his time, he was selected as an ALA Spectrum Scholar and a Husky 100 honoree.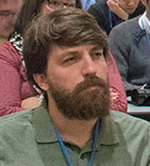 Louis Spinelli
Metadata Strategy Program Manager
Factor Firm, LLC
Louis Spinelli is an enthusiastic information professional focused on understanding what is needed for individuals, organizations, and societies to benefit from information and technology – an interest he developed observing technology usage across different cultures and environments while working in international project management. Bringing together concepts from research, information architecture, and design, he seeks to ensure experiences with information and technology are accessible, engaging, and impactful.
In his current role as an information architect and user researcher at Factor, Spinelli applies information science at an enterprise scale. On every project he strives to understand and communicate the needs of all stakeholders – both internal and external to an organization – ensuring that every decision is informed, intentional, and forward looking.
As a graduate of the Master of Science in Information Management program at the University of Washington Information School, Spinelli is excited for the opportunity to support the growing community of iSchool alumni.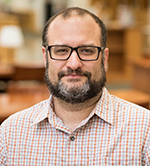 Ben Tucker
Data Steward
Washington Department of Licensing
Ben Tucker serves as a Data Steward for the State of Washington's Department of Licensing. He was previously employed as a librarian at the University of Puget Sound, and a Digital Ingestion Specialist at Amazon.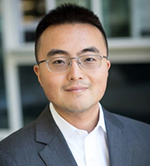 Zeyu Zhang
Technical Account Manager
Google
Zeyu Zhang is a Technical Account Manager at Google Cloud. He brings 10+ years of experience in tech project management, client service, solution design, and startup growth. In his role, he works closely with enterprise clients to help them set up a robust cloud foundation and operate effectively and efficiently using Google Cloud services and technologies.
Prior to Google, he spent 6 years at Deloitte Consulting and 4 years at 2 different startup companies. At Deloitte Consulting, he worked as a Senior Consultant in the technology consulting division. While there, he delivered several large-scale data warehousing & analytic projects for several Fortune 500 clients. He also served on Deloitte's National Business Technology Advisory Board to develop and enhance Deloitte's national analyst program. He left Deloitte in 2018 to explore the startup world. He first worked as an Engagement Manager at an AI startup named Soroco, where he managed the automation portfolio for a large e-commerce client. He later joined a car data startup VinAudit.com, where he led the engineering and marketing initiatives for its new product launch and growth.
Outside of work, Zeyu likes reading, traveling, touring museums and art galleries, live performances, and riding Peloton.