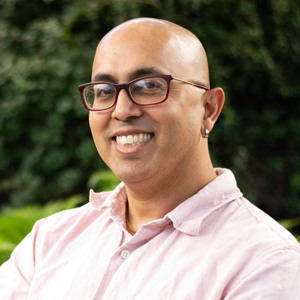 Generative AI such as ChatGPT has recently burst onto the scene, and like most advancements in technology, it caters to a homogeneous population — white, male, able-bodied and English-speaking. When technology reflects only part of the spectrum of lived experiences, it puts underrepresented people at a huge disadvantage. It's a cycle that will keep repeating until diversity is baked into every stage of design and development.
Diverse thought benefits everyone. For our faculty, it leads to more impactful research and more engaging classroom discussions. For students, it's critical for a quality learning experience. For employers, it ensures the products they create will serve a broader population. Effective technology doesn't simply pay lip service to the existence of underrepresented groups; it's built by a diversity of people who can understand the needs of different people and anticipate potential harms.
The U.S. Supreme Court ruling that barred the use of race as a factor in college admissions presents a challenge to all of us who value diversity. Our peers in higher education are grappling with the consequences and seeking ways to preserve diverse cohorts, but in many states they face a challenging political climate and hostile governing boards. Conservative-led states have also seen the loss of abortion rights, restrictions on gender-affirming care, and escalating efforts to ban books and close libraries. All of these factors are bound to affect students' feelings about where to attend college. 
We are fortunate that Washington remains an open state ideologically, and the University of Washington will continue to attract students with great diversity of backgrounds, thoughts and experiences. We do so while being mindful of the restrictions set by state Initiative 200, which prevents us from taking race into account in admissions and hiring decisions. At the iSchool, we have increased the racial diversity of our programs by focusing on the lived experience of prospective students and their commitment to the values we call IDEAS: Inclusion, Diversity, Equity, Access and Sovereignty. We look for evidence of this in applicant essays, and we recruit first-generation students and those from military families and lower socioeconomic backgrounds to ensure we bring a variety of perspectives into our classrooms.
IDEAS isn't just about who we bring into the school; it's embedded throughout our curriculum, hiring practices and research. Dedication to IDEAS shows in Hala Annabi's research in employment for neurodiverse people; Cindy Aden, Miranda Belarde-Lewis, Sandy Littletree and Carole Palmer's work on Indigenous ways of knowing; and Jacob Wobbrock's groundbreaking research in accessible technology, just to name a few. I'm particularly excited to welcome Nassim Parvin as our new associate dean for IDEAS. Her commitment to gender equity and social justice is deeply rooted in her childhood in Iran, where she watched her parents burn their books for fear of being arrested. Nassim will take a fresh look at how we incorporate IDEAS in our curriculum and processes. 
While we've had many successes, this is no time for complacency. Our school has long been a leader in the iSchool movement, and now our advocacy for IDEAS is another way we can set an example. Our shared values are what make this such a vibrant intellectual community.
Anind K. Dey
Dean and Professor
Autumn 2023