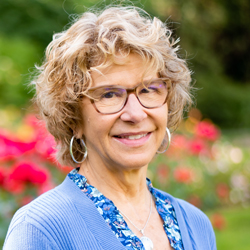 Cindy Aden, who wrapped up her term as the Distinguished Practitioner in Residence at the iSchool in June, is staying on as a teaching professor and taking over as chair of the Master of Library in Information Science program.
Aden has a long, varied history in libraries. She graduated from the iSchool's MLIS program in 1987 and has served in the Library of Congress and at academic libraries. She has also worked in public libraries and for private companies, including Amazon and Corbis. Before taking on the role of Distinguished Practitioner in Residence, Aden was the Washington State Librarian.
She started her distinguished practitioner role at the iSchool in August 2020. That role is intended to bring a professional with a depth of practical experience to add to the academic work at the iSchool. In addition to teaching a course in management and one in community engagement, Aden served as a facilitator and liaison for students and faculty. Thanks to her long career in the field, she was able to help make connections that could help students in their studies and in their future careers.
During her tenure, Aden conducted research on tribal libraries with iSchool Assistant Professor Sandy Littletree. She has also worked with research scientists at TASCHA (the Technology and Social Change Group) on a National Science Foundation-funded project to help communities recognize misleading information through a co-design process involving rural libraries.
Aden will continue teaching the community engagement and management courses. She's also looking forward to a pilot course she's working on with Alex Wade, an MLIS alum and member of the MLIS advisory committee who works for Digital Science, a company that creates technology to support researchers. The course will be an alternative to the culminating Capstone.
Aden started her role as chair of the MLIS program in September after Professor Michelle H. Martin finished her term. The chair is responsible for the experience of iSchool faculty. They help determine what courses are offered and serve as a representative of the school to the larger university.
"I'm very excited to have this role," Aden said. "I'm very passionate about the field and the thing that librarians can do. I'm excited to have a chance to help shape the program and to support the instructors in the very complex iSchool."