In her more than two decades away from academia, Washington State Librarian Cindy Aden has worked with libraries large and small, urban and rural, public and private — including gigs at Amazon and Corbis. Her varied roles have included business analyst, director, tech-savvy innovator, researcher, metadata manager, networker and national influencer.
"I have served libraries from outside the traditional framework and seen them from many different vantage points," says the multifaceted iSchool '87 alumna, who has also worked as a journalist at community newspapers.
"Newspapers and libraries are two sides of the same coin," she says. "You're trying to help people understand something better and contribute in a positive way to how the community runs."
In August, she returns to academia to take over the role of Distinguished Practitioner in Residence at the iSchool. She brings with her a wealth of real-world knowledge and national ties. iSchool Dean Anind Dey says Aden's public standing will help her be impactful on the larger library field: "She understands the needs of the library as an institution, but also the needs for what the library represents and what it could be."
UW colleagues are eager to see how Aden — former president of the Washington Library Association — approaches her new role. "With her rare and exciting professional profile, Cindy will be able to make broad and significant contributions to our curriculum, teaching, and a range of initiatives at the iSchool," says Professor Carole Palmer, associate dean for research at the school. "She has first-hand understanding of the areas in which libraries are excelling, as well as the many challenges and local realities that constrain their work."
The Distinguished Practitioner in Residence position, funded by a 10-year $1.4 million grant from the Bill & Melinda Gates Foundation, is designed to bring practical knowledge to scholarly pursuits at the school. The two-year appointment involves teaching iSchool courses, helping to shape curriculum in the Master of Library and Information Science program and conducting research related to the future of libraries, a key iSchool initiative. "This position is unique in the world," says Dey.
The grant funds up to five professors of practice — Aden will be the third. The first, Susan Hildreth, now a library consultant, encouraged Aden to keep the position on her short list. "Susan talked about how incredibly fun the role was, but warned it was also really difficult," says Aden. "She told me: 'This is the hardest job I've ever had.'"
Rolf Hapel, current Distinguished Practitioner in Residence, sees Aden as a smart fit for the position. "She has demonstrated deep insight into substantial issues and technically complicated matters related to the library profession," says the library director from Denmark. "She also has impressive skills in navigating complex political realities."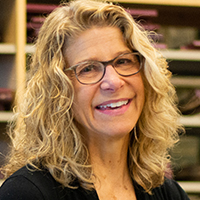 "In a field like this, where people do leave the halls of academia and go out and work, there is a strong need for grounding in the true realities of the profession."
Aden says she is "over the moon" that she was selected. "It's such a great opportunity to focus on things I love and bring my experience to bear," says the state librarian, who has long served as an advisor to iSchool MLIS students. "I love to teach, love the University of Washington, and am so excited at the direction the iSchool is taking, with incredible researchers at the new Center for an Informed Public and TASCHA (the Technology and Social Change Group)."
Aden started out her library career with a bang, securing an internship at the Library of Congress. Her next positions were with UW libraries: She was a reference librarian at the Suzzallo Library before moving to the UW School of Law library. She moved on to an associate directorship at Kitsap Regional Library, one of the first libraries in the country to offer free email addresses to all library cardholders.
Aden went corporate in 1998, taking a job as Amazon's first professional librarian, charged with making data searches more user-friendly. "We analyzed people's searches every night to see what they were looking for and see if the search failed or succeeded."
At Corbis, the digital image company, she supervised metadata, taxonomy and localization teams. At OCLC, the world's largest library cooperative, leaders recruited her to join the business development team. "My boss taught me how to think more like a businessperson about opportunities we would have," she says. "That has helped me in my way of talking about libraries ever since."
As she prepares to leave her prestigious state post, she is thinking hard on which issues she'll continue to explore and develop at the iSchool. Top topics for her have included open data, equitable broadband access and bringing new technology, including virtual reality, to library programs.
One hot issue she'd like to address is e-books. Many publishers complain that library lending cannibalizes sales of e-books. Some have severely restricted library access to them. "It has been suggested on the part of authors, publishers and booksellers that the e-books to library model is broken and harming the whole ecosystem. Is that really true? And how do we adjust that?" asks Aden.
She also wants to help small, rural libraries. She has visited many of them as Washington State Librarian. "Oftentimes in very small libraries the person who leads them does not have an MLIS degree. Maybe the iSchool can do continuing education or a certification program to bring those people into the fold, give them the benefit of a broader perspective and the skills and training that would help them."
Aden says she is excited to help educate would-be librarians at the iSchool. "In a field like this, where people do leave the halls of academia and go out and work, there is a strong need for grounding in the true realities of the profession."   
She wants her students to understand that libraries can no longer exist in a silo — that they must be active players in their communities. "They should see themselves in the larger ecosystem and not be afraid to reimagine how they might fit into the community and who their partners might be, including private sector partners," she says.
She expects to learn as much from her students as she teaches them. "They probably have a better idea than anyone of what the library of the future could be and how it will meet people's needs."