A pair of alumni who are making their mark in academic librarianship are the recipients of this year's iSchool Alumni Impact Awards.
Distinguished Alumni Award recipient Michael Fosmire is a professor and head of Information Studies at Purdue University in West Lafayette, Indiana. He earned his Master of Library and Information Science degree at the University of Washington in 1998, just before the Graduate School of Library and Information Science became the Information School.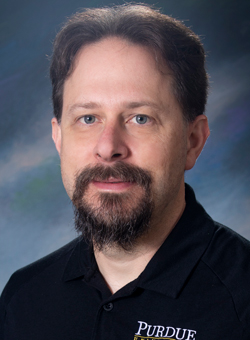 Fosmire came to the UW for graduate school to study physics, then pivoted and applied to earn his MLIS. He admired the UW physics library and wanted to create one like it. "It was the perfect place to sit down and think deep thoughts," he said. 
After a short stay at the State University of New York, Oswego, he was offered his dream job overseeing the physics and earth sciences libraries at Purdue. "I was administering two libraries and I kind of got my career goal done in year two," he said.
He later became the head science and engineering librarian, managing six libraries. Purdue reorganized in 2020, changing the libraries' name to Libraries & School of Information Studies. The change reflected the libraries' growing role in instruction, and Fosmire became its inaugural academic department head.
"It's almost like half an iSchool and half a library," he said. "It's really transformed what we do and how we think about ourselves, really thinking about it as a hybrid organization of traditional library services, but also academic librarianship."
Given annually, the iSchool Distinguished Alumni Award recognizes alumni who have made significant and exceptional contributions to the information field and their communities. The Graduate of the Last Decade (GOLD) Award celebrates the accomplishments of recent graduates.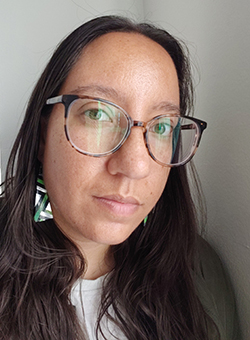 GOLD Award recipient Nicola Andrews, MLIS '17, is the open education librarian at the University of San Francisco. Along with day-to-day library duties such as answering reference questions, Andrews serves as the library's liaison for sociology, anthropology and critical diversity studies. She manages the open education program for the university, including serving as campus liaison for a $1.5 million grant from the U.S. Department of Education for an open textbooks pilot program. She is also part of a team that delivers information literacy instruction and conducts student tours. The broad range of tasks is one thing she likes about her job, she said.
"One day I might be assisting a faculty member with a grant or a copyright question, and then later that day I might be helping a sociology student figure out how best to answer their research question, and then I'll turn around and work on a conference proposal with Indigenous librarians whose work I really respect," she said. "So there's a lot of variety and different ways to engage critical information skills."
Andrews also conducts research, including a current project on Indigenous information literacy with Jessie Loyer, a librarian at Mount Royal University; and iSchool Assistant Professor Sandy Littletree, whom she met as an online MLIS student. Andrews, who is originally from Tāmaki Makaurau, Aotearoa (Auckland, New Zealand), is an enrolled member of the Ngāti Pāoa iwi (tribe). 
As an iSchool student, she was a fellow in the Association of Research Libraries' Kaleidoscope Program, which prepares graduate students from underrepresented minority groups for careers in research. She also was an American Library Association Spectrum Scholar, and after graduating was selected for the ALA Emerging Leaders program. Her experiences have inspired her to give back through mentorship.
"I often reflect on the amount of support I had at the iSchool, particularly the guidance I received from Helene Williams and Cynthia del Rosario," she said. "That has really informed my sense of responsibility when it comes to paying back that help or helping other early-career professionals get situated in the profession."
Andrews called her GOLD Award "a little bit of a win for all the librarians." 
"I'm a first-generation high school graduate, and it actually took me two attempts to get into the iSchool, so I really do not take this for granted," she said. "It's my hope that this also highlights the importance of doing nuanced work in Indigenous knowledge."