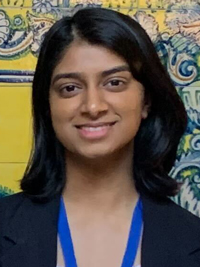 Informatics alum Ria Antony presented research at this year's iConference in Barcelona after completing their undergraduate degree from the University of Washington this past quarter. Antony was one of the youngest presenters at the iConference, an international gathering of scholars, researchers and practitioners in the information field representing iSchools from around the world.  
Antony presented a paper titled "Understanding the Influence of Music on People's Mental Health Through Dynamic Music Engagement Model." Among the co-authors of the paper were Informatics student Yujia Si, Ph.D. student Anh Lee and iSchool Professor Jin Ha Lee. Antony also presented a poster titled "Toxic by Design: Exploring the Relationship of Game Affordances and Negative Behavior," which won the Best Poster Award. 
Antony's participation in the iConference came about through their collaborative research with Jin Ha Lee on the musical group BTS and their involvement with the iSchool Inclusion Institute (i3), where they researched toxicity in video games. I3 is an undergraduate research and leadership development program designed to provide underrepresented populations with exposure to careers in information science. 
"The iConference was such a great learning experience and it was really inspiring to connect with other researchers and gain exposure to networking and the buzz of academia," said Antony. Their trip was funded in part by the iSchool, which offers limited financial support to defray the costs for students participating in professional conferences.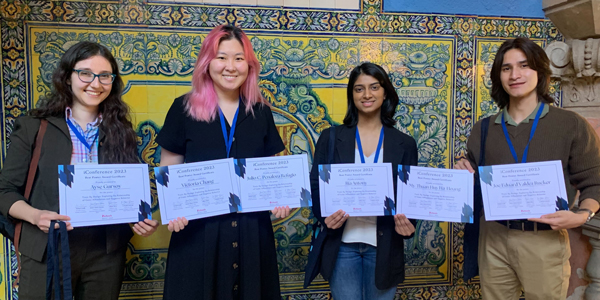 Hosted by the iSchools at Universitat Oberta de Catalunya, Monash University, and University of Illinois at Urbana-Champaign, and presented by the iSchools organization, the iConference was held online March 13-17 and onsite March 27-29. 
Also representing the UW iSchool at the iConference were Ph.D. student Charles Bugre and research scientist Stacey Wedlake, who presented a short paper titled "The potential of digital literacy to curb problematic information: an integrative literature review." Ph.D. student Yubing Tian presented a full research paper titled "Evaluating Tools for Data Management Plans: A Comparative Study of the DART Rubric and the Belmont Scorecard." The paper is co-authored by Megan Finn, an associate professor at the iSchool. 
Additionally, Lee presented a workshop with Principal Research Scientist Chris Coward titled "Misinformation Escape Room: A Gamified Approach to Building (Mis)information Literacy." And Associate Dean for Academics Matt Saxton and Lecturer Nam-ho Park presented a panel titled "Capstone Program Strategies and Opportunities: Students Capstones as a Bridge to the Community Beyond iSchool Walls."