The University of Washington School of Law has a rich history that stretches back to 1899, and much of that history is buried in boxes at the Gallagher Law Library in William H. Gates Hall. An iSchool student is working to organize it for the 21st century.
Kristin Glover, who is earning a Master of Library and Information Science degree with a specialization in Law Librarianship at the Information School, is tasked with prioritizing documents for the law library's digital archive, setting up a process for digitization, and starting to digitize items, all with the goal of making the information a more readily available resource.
The assignment is part of Glover's fellowship at the law school's Gallagher Law Library, which serves as the experiential component of the MLIS Law Librarianship program. It's a tall order, but one that she was excited to take on when she joined the accelerated, 10-month residential program in the fall.
"It's such a good opportunity to pull together a bunch of different aspects of librarianship, both the classical archiving and categorizing, but also very current and forward-looking digitizing things," Glover said.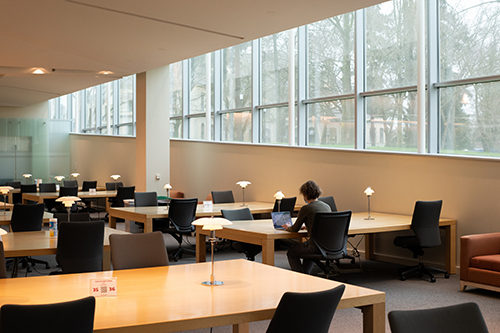 Glover worked for several years at the University of Virginia law school's library before taking a year to pursue her MLIS, the degree required for most law librarianship positions. Like Glover, all students in the MLIS Law Librarianship program arrive with a Juris Doctor degree. Adding an MLIS prepares students for careers in a variety of library settings, including law firms, law schools and government, and in related fields such as legal technology.
The digitization project is testing Glover and expanding her skillset. In addition to determining how to organize the law school's historical documents, she is mapping out a workflow and building a metadata schema. She has even researched scanners to find one that met the law library's operational needs within its budget.
"I have done a lot of the classic law librarianship research and teaching, but I was interested in having a chance to explore special collections and archiving as a potential direction for my career," Glover said. "It was great that they had this kind of project on tap."
Associate Teaching Professor Carla Wale, director of the MLIS Law Librarianship program and interim associate dean for the Gallagher Law Library and Information Systems, had the project in mind for Glover from the first time they met, when Glover was considering applying. Wale wanted to make better use of the law library's institutional repository, and she thought a significant amount of law school history would be well-suited for it. She needed someone who would take a thorough, systematic approach.
"The thing that impresses me most about Kristin is her work ethic and her executive functioning skills," Wale said. "She's very detail-oriented. She goes above and beyond in all of her work when she's given a project."
Glover's project is an example of the direction Wale is taking the program, which is the oldest and most prestigious of its kind in the country. It has long had an internship program at the Gallagher Law Library, but now each student has a chance to manage a specific project, with fellow law librarianship students serving in support roles. The fellowships give students project management experience and a chance to develop skills that complement the foundational knowledge they gain in their coursework.
Like the changes to the internship program, changes to the curriculum expected this year will make iSchool law librarianship graduates more versatile and equip them for a variety of roles, Wale said. Courses focused on management and leadership, teaching, user design, web development and data science will be among the core requirements in the program, which typically has a cohort of five students each year.
Wale wants to prepare graduates for a wide array of job opportunities in the profession. In addition to traditional roles in law libraries in academic, private and government settings, law librarians are increasingly in demand in the legal tech industry and in public libraries.
"This program is designed to teach law librarians how to think critically and use technology to solve information problems and help users," she said. "These are the skills they need to know now, and even if it's not right now, these are skills they will need to know in the future."
After her year in the Law Librarianship Program, Glover will hand off her project to future students who will update workflows as needed and finish digitizing the archive. She said living on the West Coast had been on her bucket list, and so far it's been everything she hoped it would be.
"The program is great," she said. "The iSchool has been so welcoming and all the professors have open doors, virtually and in person."