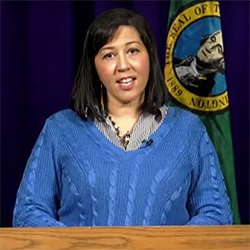 Family, friends and pets of the iSchool community gathered around their computers, phones and TVs to celebrate the class of 2021 at the iSchool's online Convocation ceremony on June 5.
The ceremony included opening remarks by Dean Anind K. Dey, followed by keynote speaker, Rena Priest, the Washington State Poet Laureate.  
Several faculty members shared congratulatory messages with the graduation class. They included Cindy Aden, Katie Davis, Mike Doane, Matthew Saxton, Joseph Janes, Sandy Littletree, Carole Palmer, Nam-ho Park, Chirag Shah, Jaime Snyder and Jevin West.
"Whether you've been a Ph.D. student who has been at the school for six or more years, or an INFO student completing the major in two years or less, you're crossing the finish line in unusual circumstances," Davis said. "No one is quite certain what our world is going to look or feel like after the pandemic, but one thing is certain: you'll always be an iSchool graduate and part of the iSchool community. That means no matter what you go on to do, you'll be part of the community that's working to make our democracy, our health and planet better through impactful research and teaching."
Student Awards
21st Century Award (Master of Library and Information Science, Residential): Taylor Healy-Brooks
21st Century Award (Master of Library and Information Science, Online): Jamie Ramos
Archer Award (Master of Science in Information Management, Mid-Career): Aki Shibuya
Archer Award (Master of Science in Information Management, Early-Career Accelerated): Annika Zhang
Archer Award (Master of Science in Information Management, Early-Career): Japneet Kaur Boyal
Eisenberg Award (Bachelor of Science in Informatics): Kiran Pradhan
Faculty Awards
Ruth Worden Award for Student Excellence in Library and Information Science: Jamie Ramos
Faculty Award for Student Excellence in Information Management (Master of Science in Information Management, Mid-Career): Eddie Tuohy
Faculty Award for Student Excellence in Information Management (Master of Science in Information Management, Early-Career Accelerated): James Alexander
Faculty Award for Student Excellence in Information Management (Master of Science in Information Management, Early-Career): Sakshi Agrawal
Faculty Award for Student Excellence in Informatics: Harkiran Kaur Saluja
Faculty Award for Student Excellence in Informatics: Locksley Kolakowski
Faculty Award for Student Excellence in Informatics: Andrey Butenko