Beverly Cleary, a 1939 iSchool alum and the beloved author of more than 30 children's books including "Ramona the Brave" and "The Mouse and the Motorcycle," has died at age 104, publisher HarperCollins announced.
Cleary was a graduate of what was then the School of Librarianship, which later evolved into the Information School. In 2008, Cleary was named the University of Washington's Alumna Summa Laude Dignata, the UW's highest honor for alumni.
At the iSchool, she established the Beverly Cleary Endowed Professorship in Children & Youth Services, a chair now held by Michelle H. Martin. Martin is the second person to serve in the role after Eliza Dresang, a champion of children's literature and digital resources who died in 2014.
"We will miss Mrs. Cleary, but as long as kids keep Ramona, Beezus, Henry, Ralph and her other beloved characters alive through reading, and as long as kids read because of Cleary's likable, flawed characters in whom they can see reflections of their own lives, she will always be with us," Martin wrote in tribute.
iSchool Dean Emeritus Harry Bruce recalled visiting Cleary at her home in Carmel, California, where she showed him scrapbooks full of clippings from her life as an author.
"I was in awe of her," Bruce said. "In conversation, she used her wicked, self-deprecatory humor to put me at ease, and we talked about her time at the UW library school, and the joy she experienced reading letters from boys and girls all over the world. I am deeply saddened by her passing, but she leaves behind a stunning legacy."
Cleary was born Beverly Bunn on April 12, 1916, in McMinville, Oregon, and her family spent a few years in rural Yamhill before moving to Portland, where she attended grade school. Statues of Henry Huggins, Ribsy and Ramona can be found in the Beverly Cleary Sculpture Garden for Children, which is part of Portland's Grant Park in the Hollywood-Fernwood neighborhood where she grew up. The grade school she attended was renamed in her honor in 2008.
After graduating from the UW, Cleary worked as a children's librarian and struggled to find enough books that would appeal to young readers. She soon decided to write books with characters to whom children could relate. Her first book, "Henry Huggins," was a response to a letter from a child saying, "Where are the books about the kids like us?" The protagonist is a boy who gets into a series of adventures with his dog, Ribsy, his friend Beezus and her sister Ramona.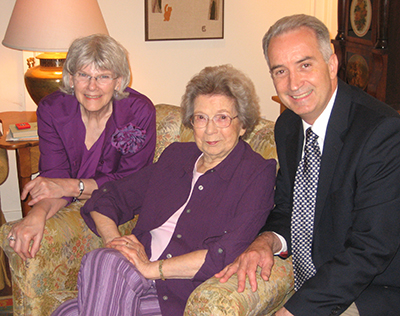 At a time when children's books were often instructional but not necessarily page-turners, Cleary gave children a reason to read for pleasure.
"As a child, I disliked books in which children learned to be 'better' children," Cleary told UW Magazine in 2008.
"Henry Huggins" was a critical and popular hit that spawned a series of follow-up books featuring the same set of characters. Ramona's name first appeared in a title in 1955's "Beezus and Ramona," the first of eight books in the Ramona Quimby series, spanning four decades. In the 2008 magazine profile, Cleary said Ramona's character gave her an outlet for the mischievous side of her personality. Cleary explained that she was always a quiet, respectful child, "but I had Ramona-like thoughts!"
Her numerous awards and honors include the Laura Ingalls Wilder Award in 1975, the Newbery Medal in 1984, the National Medal of Arts in 2003, and a Library of Congress Living Legend award in 2000. Publisher HarperCollins recognizes her birthday as National Drop Everything and Read Day.
No services are planned. Gifts in Mrs. Cleary's memory can be made to the fund supporting the endowed professorship named in her honor. 
Pictured at top: Beverly Cleary in 2008 (courtesy of UW Magazine).