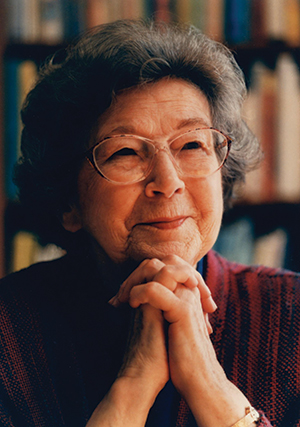 When librarian Beverly Cleary began to write for children, she did so because a little boy visiting her library came up to her one day and asked her (with attitude!), "Where are the books about kids like us?" Cleary, a girl from Yamhill, Oregon, had grown up on British children's books about  children with nannies who didn't reflect her own reality. Maybe the boy in the library didn't have the "perfect" family he saw on TV; maybe he got into trouble at school sometimes; maybe he fought with his sister.  But Cleary remembered that boy and started writing books about Henry Huggins and his dog Ribsy and eventually about Henry's neighbor, Ramona Quimby, who turned out to be a bigger hit than Henry. 
Like most American children, I grew up reading Beverly Cleary's books. Hence, when the University of Washington contacted me in South Carolina and invited me to apply for the Beverly Cleary Professorship in their Information School (iSchool), I already knew the value of an endowed position that carried that name. What I didn't know was that meeting Mrs. Cleary would be a perk of the position. 
Two days after I started my job as the Beverly Cleary Professor for Children and Youth Services in the fall of 2016, three of us from the iSchool flew to Carmel-by-the-Sea, dined with her son Malcolm the night before our visit and, the next morning, made our way to the assisted living facility where Mrs. Cleary lived.  What struck me most was her humility and that despite being a centenarian, Mrs. Cleary had strong opinions about things and conveyed her feelings with clarity and conviction.  While she could surely have had fancy furniture befitting a famous author, Mrs. Cleary greeted us from her well-loved, well-worn, comfy yellow chair in which she wrote many of her stories. Harry Bruce, who was then my Dean, asked her, "How does it feel to be 100," she said, "I just am 100; I didn't do anything to be 100," (although those of us who grew up on her books feel she has done a great deal with that century).
Mrs. Cleary intimated that all of the attention around her 100th was just, as Ramona would say, "a big, noisy fuss."  And when asked whether she participated in writing groups when she was actively writing, or if she asked other writers to read early drafts of her work to offer feedback, she gave us a flat-out "No." She didn't revise much and when she realized that she was a better writer than many of her peers, she stopped sharing to avoid making them jealous. She had little patience for that kind of envy. 
When we called her from the iSchool in 2018 to wish her a happy 102nd birthday and mentioned how popular her books still are, she noted, "I just wanted to write some books that kids would want to read." We assured her that this strategy worked then and is still working now.
As someone who benefits every day from Mrs. Cleary's legacy as a forward-thinking, child-centered, library-loving writer, I am both proud of and grateful for the privilege of holding this position that centers children, their literature and the libraries that serve them. In the few years I have held this position, I have presented research in dozens of venues in the U.S. and abroad, have taught students about the value of child-centered learning in library programming, and have cultivated community partnerships with those who serve children most in need of literacy enrichment. I can't think of a better way to carry on Mrs. Cleary's legacy than this.
We will miss Mrs. Cleary, but as long as kids keep Ramona, Beezus, Henry, Ralph and her other beloved characters alive through reading, and as long as kids read because of Cleary's likable, flawed characters in whom they can see reflections of their own lives, she will always be with us.
Michelle H. Martin is the iSchool's Beverly Cleary Endowed Professor for Children and Youth Services.