Author and illustrator Brian Selznick turned the Information School's 2020 Spencer G. Shaw Endowed Lecture into an engaging conversation, even though he couldn't speak to people face-to-face.
Selznick spoke over video on Oct. 29, devoting much of the time to some of the 51 questions submitted from audience members who were curious about how he got into writing and drawing, who influenced his work and what it was like watching Martin Scorsese adapt his book into a major motion picture.
The event, typically held at the HUB on the UW campus, went online in response to the COVID-19 pandemic and was held in the afternoon Pacific time to accommodate viewers from across the country. The lecture attracted more than 1,000 viewers when it streamed on YouTube and hundreds more while it remained in the channel in subsequent days.
For influences, he cited books such as Thirteen and The Dead Bird by Remy Charlip that made reading an exciting, interactive experience. He would later meet Charlip and convince him to model for George Melies in The Invention of Hugo Cabret.
He also talked about his early interest in theater and how he learned about children's books by working in a children's bookstore. A project he worked on in college eventually inspired his first book, The Houdini Box.
After illustrating nonfiction picture books such as Amelia & Eleanor Go for a Ride by Pam Munoz Ryan and The Dinosaurs of Waterhouse Hawkins by Barbara Kerley, Selznick said he was unsure about his next move. He leaned on the advice of famed children's book author Maurice Sendak, who told him, "You have to make the book you most want to make."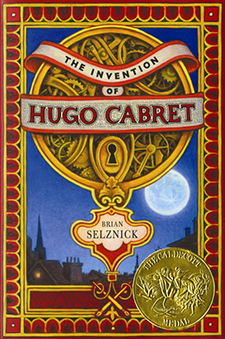 The result was his best-known book, The Invention of Hugo Cabret, which later inspired Scorsese's "Hugo." Selznick described watching the Oscar-winning director walk around the set with his book in hand, using it as a reference for the film.
"Throughout the film, you can see how closely they stuck with the drawings that I did," Selznick said. "Scene by scene, page by page, there were elements that Scorsese took directly and used for storyboards.
"Being able to walk through this and have this experience was a really magnificent and rare treat, and I still think of it sort of like a dream," he said.
He discussed his follow-up works such as Wonderstruck and The Marvels and described his creative process and how he begins with writing before moving on to illustrating. Selznick's other work includes a series of covers created for the 20th anniversary of the Harry Potter series and a 158-page beginning reader called Baby Monkey, Private Eye.
"It was a truly moving encounter," said Michelle Martin, the Beverly Cleary Professor for Children & Youth Services at the iSchool. "He's an amazing artist and a really nice human being."
The Spencer G. Shaw Endowed Lecture Series spotlights award-winning authors and illustrators. It honors beloved UW Information School Professor Emeritus Spencer Shaw, who was an internationally known librarian, storyteller and teacher.
In the past, the lecture has featured famed authors and illustrators including Sendak, Tom Feelings, Ashley Bryan, Margaret Mahy, Gary Soto, Laurence Yep, Theodore Taylor, Susan Cooper, Katherine Paterson, Milton Meltzer, Jerry Pinkney and 2019 lecturer Jason Reynolds.