Spencer G. Shaw Endowed Lecture Series
Each year, the University of Washington Information School hosts a lecture established in Spencer Shaw's honor. This lecture takes place every October and features a leading figure in children's literature, who will speak to library students, teachers, librarians, alumni, community members, and more.
Famed authors and illustrators such as Tom Feelings, Maurice Sendak, Ashley Bryan, Margaret Mahy, Gary Soto, Laurence Yep, Theodore Taylor, Susan Cooper, Katherine Paterson, Milton Meltzer, Jerry Pinkney and Jason Reynolds have participated. 
This lecture series is endowed to honor Spencer Shaw in perpetuity to continue to attract the best authors and illustrators in the field to lecture at the University of Washington.
2021 Lecturer
Yuyi Morales
Yuyi Morales is the 2004 winner of the Pura Belpré Medal for illustration for her book Just a Minute: A Trickster Tale and Counting Book as well as the 2008 winner for Los Gatos Black on Halloween (written by Marissa Montes), given to a Latino illustrator whose work best portrays, affirms and celebrates the Latino cultural experience in an outstanding work of literature for children and youth. Her book Harvesting Hope: The Story of Cesar Chavez (written by Kathell Krull) was the recipient of the Christopher Award and the Jane Addams Award and was deemed one of the best books of 2003 by Child magazine, the San Francisco Chronicle and School Library Journal. Her newest books include Dreamers and Bright Star. A recording will be available for one week after the event. Registrants will be sent a link to access it.
About Spencer G. Shaw (1916-2010)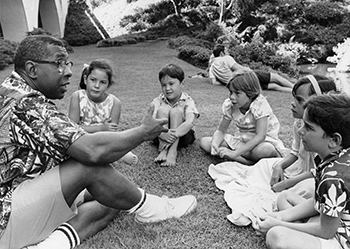 Spencer Shaw picked his profession by the time he reached high school. Books and reading were important parts of his family life, and so was the Northwest Branch of the Hartford, Connecticut, Public Library.
"I was impressed with the work of the librarians and the services they rendered to the public," he remembered. "Librarian Desier Moulton made it a welcomed place for the whole neighborhood. On Saturday mornings we gathered for the weekly story hours, where we were introduced to rich sources of folk literature from around the world. That's what I admired."
Shaw carried on that tradition during a nearly seven-decade career as a public librarian, educator and world-renowned expert on storytelling and library service to children. The American Library Association called him an "authentic and forthright spokesperson for children and youth librarians, contributing enormously in motivating and guiding the nation's youth."
Read more about Shaw in this 2005 profile.
Previous Spencer Shaw Lecturers
Brian Selznick
Oct. 29, 2020 
"The road to 'Hugo'"

Jason Reynolds
Oct. 31, 2019 
"These Three Words"

Sharon Draper
Oct. 2, 2018
"Blending Story, Symphony and Spirit"

Margarita Engle
Oct. 19, 2017 
"Prose and Poetry"

M.T. Anderson
Nov. 9, 2016 
"The Past is Another Country: They Do Things Differently There"

Kadir Nelson
Oct. 22, 2015 
"The Art of Storytelling"

Grace Lin
Nov. 6, 2014 
"Path of a Multicultural Author and Illustrator"

Jack Gantos
Nov. 7, 2013 
"It's All Personal"

Christopher Paul Curtis
Oct. 25, 2012 
"How to Construct an Author"

Pam Muños Ryan
Oct. 27, 2011 
"Why I Read and Why I Write: The Cloud with a Silver Lining"

Jane Yolen
Oct. 16, 2010 
"On the Slant"

Patricia C. McKissack
Feb. 25, 2010 
"On the Front Porch of My Mind: Stories and Where the Stories Came From"

Gerald McDermott
Nov. 19, 2008 
"Heroes & Tricksters: A Mythic Journey"

Walter Dean Myers
Oct. 24, 2007 
"Books & Boys: Making It Work!"

Richard Peck
Nov. 15, 2006 
"Voices in an Empty Room: Five Apologies for the Narrative"

Spencer Shaw
Nov. 16, 2005 
"Taking the Road Less Traveled"

Jerry Pinkney
Nov. 18, 2004 
"A Sense of Place: Narratives Real and Imaginary"

Katherine Paterson
Nov. 19, 2003 
"The Left-Behind Child"

Gary Soto
Oct. 3, 2002 
"The Effects of Knut Hamsun on a Fresno Boy"

Ashley Bryan
Oct. 20, 2000 
"A Tender Bridge: Black American Poetry, Spirituals and African Folktales"

Tom Feelings
Oct. 12, 1998 
"Illustration is My Form, the Black Experience My Story and My Content"

Theodore Taylor
1993-94 
Author of Timothy of the Cay

Laurence Yep
Oct. 29, 1991 
"My Father's Watch"

Susan Cooper
Nov. 2, 1990 
"In Defense of Books"

Milton Meltzer
Nov. 3, 1989 
"From Biography to Autobiography"

Maurice Sendak
Oct. 28, 1988 
"The Creative Process"

Margaret Mahy
1986