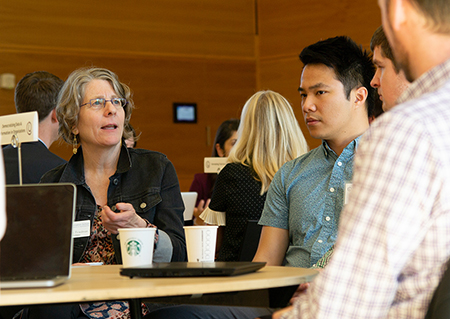 The theme of data, information and tech accessibility brought Information School students and faculty together with local tech leaders for iAffiliates Day 2019 on Wednesday, April 24, at the HUB on the University of Washington Campus.
"Everyone should be empowered to use data, information and technology to contribute to solutions – that's our assertion," Sean McGann, iSchool principal lecturer and iAffiliates director, said in his opening remarks. "But the fact is, not everybody has that access, so how can we solve that problem?"
McGann challenged the several dozen people in attendance to think about ways to further social good by eradicating the barriers to data, information and technology. Participants then broke into discussions using a "World Café" format, in which attendees periodically switch tables to talk with new "table hosts" about different themes. The topics and table hosts included:
At the conclusion of the event, the table hosts reported out some of the points raised in their discussions.
The iSchool's iAffiliates program is designed to connect strategic partners with faculty and students. The school tailors engagement plans to partners' goals and provides ways for them to participate in the school's intellectual community, recruit students and take part in other activities. Partners make a monetary investment that furthers iSchool teaching and research.
For more photos from iAffiliates Day, visit our Facebook page.