Graduation loomed and Cameron Doane needed a job.
He was finishing up the Informatics program in 2017 at the University of Washington's interdisciplinary Information School.
Then he took a class on developing Android phone apps from Lecturer Ted Neward, who works at Smartsheet, a Bellevue-based software company.  At the end of the course, Neward mentioned that Smartsheet had available internships.
"I said, 'Well, how about a full-time job?' He said, 'We've got those, too,'" Doane recalled.
Connection made. A few weeks later, Doane landed a job with the rapidly growing Smartsheet, which builds a leading work management platform that's used by more than 75,000 companies, including Cisco Systems, Hewlett-Packard and Hilton Hotels.
Doane (at left in photo) is part of a core group of iSchool students who are helping fuel the success of Smartsheet. The software-as-a-service business has grown from 240 employees three years ago to more than 900 this year. The company started trading publicly earlier this year with a touted debut on the New York Stock Exchange.
Part of the company's success has come from its relationship with the UW and, specifically, with the iSchool, said Andy Lientz, Smartsheet's senior vice president of engineering. iSchool students seem to have a "deep understanding of the need to engage the end user of the software," Lientz said.
"It's not just about the technology," Lientz (at right in photo) said. "It's about the end user's experience with the technology. And the iSchool thinks about that."
In an area with tech giants Microsoft and Amazon, the iSchool also engages well with relatively smaller companies such as Smartsheet that are needed for a robust tech scene, Lientz said. Smartsheet is an iAffiliates partner with the iSchool, and this year Smartsheet's CEO, Mark Mader, was appointed to the school's Founding Board.
The iSchool teaches students coding, data management, user experience and more. Alumni of the school who work at Smartsheet say they've felt well-prepared for their jobs. One of them is Wei-Jen Chiang, a 2017 graduate who works as a software development engineer for some of Smartsheet's largest clients.
Chiang (second from left in photo) explained that almost all of his iSchool classes required a team project. That's helped him now, as his work at Smartsheet requires daily collaboration.
"It was great to get that experience in college rather than get to work and face a culture shock," said Chiang, who started at Smartsheet in 2016 as an intern.
Ena Markovic (second from right in photo), another Informatics graduate, also joined Smartsheet as an intern in 2016. She had a job offer from the company in February 2017 before she even graduated. She loves working for the company.
"As long as I'm coding I'll be happy, but I think the co-workers and the environment make it really special," said Markovic, adding that she's impressed with the product and how it's advanced.
One of the benefits of the iSchool is that it presents students with problems and then allows them to sort out how best to solve them, said Markovic, who works as a software development engineer on Smartsheet's core app. That's how she became familiar with React, a JavaScript program for building user interfaces.
"In school, we were free to choose whatever technologies we wanted to use and just kind of go with it," she said. "One of them I learned early on was React."
When Smartsheet started using React earlier this year, Markovic was able to mentor some of her co-workers in how to use the program.
"I don't think I would have learned React if it wasn't for the freedom that we got in our classes and the support I had with my personal projects," Markovic said.
Doane graduated in spring 2017 and started at Smartsheet in August. He's a software development engineer working on the core features of the app. When he first began at the iSchool, he disliked the idea of so many classes with team projects. He said he quickly embraced the idea and now it's paying dividends at his job.
"At first, I was like, 'I don't like working with other people, I just want to do my own thing and build stuff,' Doane said.
He discovered that it was more rewarding and often more effective working with a team. And it's something that he knew would be part of his future at any workplace. "Ultimately it's about working with other people," Doane said.
He also felt the iSchool did a fantastic job of posing problems to students and challenging them to find their own solutions.
"You're making something new that, sure you might be able to get pieces of answers from other people, but ultimately the whole solution you need to come up with on your own or with your team," Doane said.
That's translated well to the workplace. He also appreciated the iSchool's emphasis on being able to sell an idea. Smartsheet had a weeklong hackathon recently where programmers developed ideas to improve the company's core product. An executive team reviewed each idea.
"I had to stand in front of my computer and pitch to them why this idea was cool and why it should be inside Smartsheet, and now it's going to be," Doane said.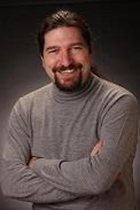 And that's one of the things that the iSchool does well, explained Neward, the iSchool instructor who works at Smartsheet. It's not just about making innovative technology, it's also about doing "something you have to quantify, justify, describe, pitch, sell to a certain degree."
"That's something that iSchool at least pays homage to," he said. "They're not churning out a bunch of sales and marketing folks, but they at least make clear that kind of stuff is important."
Neward, who has been teaching a quarterly class at the iSchool for four years, made his own connection to Smartsheet through the iSchool.
He had met a Smartsheet recruiter at a campus event a couple of years ago and then a couple of months later found out a former student was interning at the company.
"I said, 'Oh Smartsheet, I know those guys. Tell Sasha — the recruiter — hi,'" Neward said.
The student not only did that, but he talked up his former teacher. The recruiter mentioned Neward's name to a company executive. They invited him in to talk about a job. Now, Neward works as a director of engineering and director of developer relations at Smartsheet.
Neward praises the iSchool as being among the best that he's seen at readying students for the workplace. He likened it to a computer science department if you "take away the algorithms and put in entrepreneurship."
He's also impressed with the iSchool's Capstone projects where students develop a project of their own imagining and work for months on the idea in teams. He's replicated that in his classroom, to a smaller degree, with a three-week, end-of-course project.
Students are judged in front of their peers in the classroom on their projects, some of which he believes would interest venture capitalists.
"These kids are ridiculously bright," Neward said. "When we do the three-week project, there are always one or two projects that astound me. 
"The fact they're putting together something that would be interesting to someone with VC money if they were sitting in the room — whoa, that's fascinating. That's interesting."