The iSchool's 2016 Capstone event was the largest yet, featuring 150 projects from more than 300 graduating students. Projects were judged for awards in several categories, including social impact, commercial potential, research, service, innovation/design, and diversity. Additionally, graduating students in each program awarded a Best in Class prize to their peers. (Winners are pictured.)
Held annually, Capstone showcases the breadth of skills and expertise students develop in the B.S. in Informatics (INFO), M.S. in Information Management (MSIM) and the Master of Library and Information Science (MLIS) programs. Students create posters to demonstrate how they use technology, analysis and problem solving as tools to solve information problems for organizations and communities.
Capstone project collaborators include organizations from the public, private and nonprofit sectors, and each project represents a concrete example of what it means to design and build novel applications of technology that meet the needs of people.
Award winners received cash prizes from the iSchool and sponsoring organizations at the event, held May 26 in the Husky Union North and South Ballrooms and Lyceum. This year's award sponsors included Starbucks, CoMotion, ExtraHop, Google, Accenture, Slalom, and Winigent.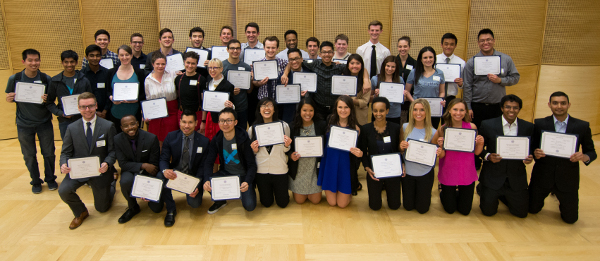 Award Judges
Social Impact Panel: Gerri Martin-Flickinger, EVP & Chief Technology Officer, Starbucks; Will Saunders, Senior Program Manager, State of Washington OCIO; and Jason Schumacher Program Manager, Tableau Software.
Commercial Potential Panel: Mike Clarke, Head of Product Design & Development, CoMotion; Bob Boiko, Senior Lecturer, UW iSchool; Tim Enger, Business Manager, Microsoft Ventures.
Research Panel: Dr. Carole Palmer, Associate Dean for Research & Professor, UW iSchool; Dr. David Hendry, Associate Professor, UW iSchool; Dr. Negin Dahya, Assistant Professor, UW iSchool.
Service Panel: Loren Kaneshige, Managing Director, Accenture Interactive; Gary Wasdin, Library Director, King County Library System; Chris Coward, Principal Research Scientist and Director, iSchool Technology & Social Change Group.
Innovation/Design Panel: Dr. Jason Yip, Assistant Professor, UW iSchool; Stephen Roger, Director, Slalom Consulting; Cody Bishop, Data Analyst, Cisco.
Diversity Panel: Dr. Hala Annabi, Associate Professor, UW iSchool; Kris Kutchera, Former SVP of Information Technology, Alaska Airlines; Dr. Kalyani Velagapudi, President, Winigent.
A Tagboard of the social media activity surrounding Capstone captured the evening's excitement.
Social Impact Award
First place: SPSInteractive: Seeing Schools Differently
Informatics: Alex Gingras, Michael Yslas, Jonothan Fuego, Jacob Leighty
In today's society, we make most of our decisions by comparing all of the options side by side.  When it comes to public schools, though, this is virtually impossible.  As it stands, there is no convenient, simple way for the average person to compare every Seattle public school side by side.  SPSInteractive, which is sponsored by Microsoft's Civic Technology and Engagement department, aims to fill this void by providing a suite of interactive visualizations which make it easy to compare all of the schools in Seattle.  We include test scores information, graduation rates, demographics, and many other metrics which are necessary to examine when studying a school.  Not only will this help parents decide which school is the best fit for their child, but it will also help policy makers form a better picture of the Seattle Public School System, and make the best possible decisions for the next generation of students.
Runner-up: aWear
Informatics: Antony Zhong, Vincent Jonany, Jessie Peterson, Morgan Evans
There are currently no effective methods of monitoring the health of your loved ones in a real-time, automated, and efficient way. aWear provides a solution in the form of a companion application to a user's wearable technology (such as Microsoft Band 2) that allows family members to monitor and receive alerts of their loved one's health information when they cannot be by their side. In doing so, we have increased interconnection between elders and their loved ones, expanded the usage of wearable technology to a new demographic, and helped raise awareness for heart-related diseases. Ultimately, we hope our app can save the lives of your loved ones by making everyone more aware.
Commercial Potential Award
First place: FlyMate
Informatics: Rheanna Mistry, Vivian Woods, Joanna Koseff, Emilee Smalley
When traveling by airplane, it is a known rule that you should get to the airport at least two hours before your flight because you don't know what conditions are like within an airport. It can be difficult for travelers to navigate throughout the airport with unpredictable baggage and security lines. This can cause travelers to miss their flights, lose money, and waste time.  Our project aims to solve this information problem by creating a streamlined, user-friendly application which informs users of airport conditions before their arrival at the airport.  FlyMate will provide travelers with the information needed to get to the airport on time, know how long it will take to get through baggage and security lines, and find the quickest route to their gate.  This will result in travelers being able to navigate more easily and efficiently within an airport, as well as reducing the stress of travel.
Runner-up: Proposing Research: Organizational Dashboard (PROD)
Crystal Welliver (MLIS)
PROD is an online dashboard prototype designed to help UW School of Nursing (SoN) pre- and post-doctoral students prepare research proposals. Students who are new to the proposal development and submission process tend to underestimate the amount of work necessary to pull together a successful proposal that is also compliant with SoN, UW, and sponsor policies. PROD provides students with an organizational tool that allows them to alert staff of their intention to submit, create and maintain a timeline and checklist, and provide real-time updates to faculty mentors and administrative staff about their progress with each proposal component.  PROD offers advice in a variety of compliance areas including: human subjects, laboratory use, vertebrate animals, international work, budget, etc. This tool is designed with consideration for the information needs and behaviors of nursing students, allowing them to work at their own pace while keeping all stakeholders apprised of their progress.
Research Award
First place: Internet censorship in Thailand: User reactions, potential vulnerabilities, and necessary responses
Genevieve Gebhart (MLIS)
Thailand's Internet censorship regime poses dire threats not only to users' access to information, but also to their ability to safely create and disseminate content. In addition to high-risk users like journalists and dissidents, regular users are increasingly victims of the military government's capricious enforcement of Internet regulations.  Through bilingual data from 229 online surveys and 12 in-depth interviews, I find that users face unresolved information problems related to incorrect assessment of the actors and mechanisms behind blocked content, risky censorship circumvention tools from unreliable sources, and peer informants and government monitoring on social media. These results highlight users' main points of vulnerability, and point to technical responses needed to protect them. Beyond recommendations to the academic computer security community and easy-to-understand guidelines for Thai Internet users, this project informs the development of safer, more secure strategies to resist Internet censorship and surveillance in any setting.
Runner-up: Trellis: Supporting the Growth of Depressed College-Aged Students and their Support Network
Informatics: Kristen Wei, Eden Ghirmai, Tamanh Nguyen, Christina Polyukh
Depression is one of the leading mental health diagnostics affecting college-aged students today. But with a societal stigma surrounding mental health and barriers to therapy, it is difficult for students to receive the support that they need to better manage their depressive state. Trellis is a mobile application that supports students by encouraging thoughtful, caring conversations and education about depression. To understand the needs of depressed college-aged students, an anonymous survey was posted on Facebook and Reddit, yielding 639 responses. Using ATLAS.ti, a qualitative analysis was conducted to thoroughly vet the answers received. It was discovered that students with depression long for a caring, non-judgmental support group and better education about mental health, as the stigma makes it difficult to seek help. Trellis is designed to connect those who want to get support with those who want to give support.
Service Award
First place: Food in Motion
Informatics: Kenny Raymond, Drew Khaw, Megh Vakharia
Operation Sack Lunch (OSL) is one of the largest food rescue organizations in Seattle. It rescues food throughout the greater Seattle area with refrigerated trucks, seven days a week. However, this process involves lots of tedious paperwork. Every food donation is categorized and documented, which becomes a huge time cost for the organization and donors. With our Food in Motion application, donations are entered electronically and pickups are tracked in real time by OSL management. Our application features three aspects for each of three parties in our audience: donors, OSL drivers, and OSL managers. Donors can request pickups, input their donations in advance, and communicate with their drivers. Drivers can view their pickup schedule and navigate to pickup sites. With our application, the process of collecting donated food becomes more streamlined and efficient so OSL has more time to collect donations from other donors.
Runner-up: Youth Library: NAVOS Mental Health Solutions
MLIS: Anne Lu, Muriel Wheatley, Alexandra Cauley, Camila Jenkin
NAVOS Mental Health Solutions, a nonprofit established in 1966, is one of the largest providers of mental health services in the King County area. In September 2015, NAVOS opened a newly remodeled facility: the NAVOS Behavioral Healthcare Center for Children, Youth & Families. This center focuses on vulnerable children and youth, providing a broad level of care at both the inpatient and outpatient level. Our project is focused on building a library for the inpatient youth of NAVOS. Working with over 1,400 previously donated books, we cataloged, labeled, and organized the collection so that users can better access the library's resources. Additionally, we worked to create a welcoming and engaging library environment, including recommended reads lists, a tabletop game area, and a space for youth to display their art. We designed the library to be more functional and participatory so that residents have a space to call their own.
Diversity Award
First place: Exposure: A 3D Interactive Narrative for Creating Empathy for People Experiencing Homelessness
​​Informatics: Perry Meas, Memie Huang, David Han, Luc Johnson
Seattle's young homeless population has long been underrepresented — their stories are largely absent from public consciousness. In the University District, young people often face discrimination, stereotypes, and violence from University of Washington students rooted in misperceptions. Using Unity, Exposure has created a 3D interactive narrative to challenge preconceived notions of homeless youth by allowing an audience of UW students to step into the shoes of a fictional young person experiencing homelessness. The audience will interact with a cast of characters and vignettes based upon stories curated through community-grounded research. By exposing our student audience to this community, we hope to encourage them to confront prevailing misperceptions of young people, develop empathy for them, and engage with movements addressing causes of homelessness. Just as film and literature can communicate lived experiences and motivate social change, the use of an interactive medium will be a novel approach to represent a community long neglected.
Runner-up: Soul of Seattle
MSIM: Matthew Jackson, Domonique Meeks, Freddy Mora
Seattle is undergoing a state of great change, both in its demographics and economic prosperity. Soul of Seattle is a documentary project that studies and investigates how underrepresented entrepreneurs of color within Seattle's Central District area are responding to these changes, both economically and culturally. In interviewing entrepreneurs and community leaders within the Central District, Soul of Seattle has documented themes of history, culture, entrepreneurship, and technology through the lenses of personal stories and experiences. We have examined technological innovation and how community members have been using it to improve their businesses and relationships within their community. We hope that Soul of Seattle will serve as a call to action for would-be entrepreneurs looking to establish themselves in the Central District, and serve as a source of inspiration for people everywhere, regardless of their background, to seek out and cultivate their own stories within their own back yards.
Innovation/Design Award
First place: Echo
Informatics: Conrad Zimney, Dillon Byron, Robert Brooks, Bryan Gula
Echo is an interactive sound visualization tool, designed to help students learn about sound design and audio engineering. Currently, students do not have the resources that they need in order to learn about audio engineering and acoustic environments. Most modern sound visualization tools are proprietary and require industry knowledge to discern meaning from them. Echo aims to help teachers keep their students interested and engaged in learning about sound design concepts by implementing a unique approach to sound visualization. We discovered that virtual reality is the ultimate medium for immersion in an acoustic environment, and will promote the highest level of understanding in all of our users. Our goal is to lower the barrier of entry into the professional sound design and audio engineering industry. This will effectively enrich the knowledge pool in the industry, therefore leading to greater insight and discovery for acoustic designers of all experience levels.
Runner-up: FoodBridge - Excess Food Redistribution System
MSIM: Sandeep Bhat, Vignesh Sivakumar
Over 100 billion pounds of food goes to waste in America every year. Restaurants and caterers compost or dispose food that can be served to people through food banks. Safety is a major factor, since prepared food has a short shelf life and needs to reach food banks with minimum delay. FoodBridge is an easy-to-use mobile application that aims to connect sources of excess food to food banks by sharing information about the type and quantity of food in real time. The redistribution of food occurs locally and is prioritized based on proximity. The application is made available to organizations that are partnered with Food Lifeline and certified by it to handle perishable food. This ensures that stringent safety standards are maintained during the entire redistribution process. Our aim is to build a sustainable community that encourages, engages and simplifies food redistribution.
Best in Class Awards
MLIS: Building Community: The Social Justice and Libraries Open Conference
Marisa Petrich, Allison Reibel, Reed Garber-Pearson
The first annual Social Justice and Libraries Open Conference was created to support library workers and students in theorizing, strategizing, and operationalizing ways for libraries to empower people and ideas. In response to the growing community of online social justice and critical community, this conference supports local efforts to build community around issues of inclusion, activism and information access. More than 100 attendees from the Pacific Northwest region, California, and British Columbia came together for a day-long event that included keynote speeches by educator Wayne Au and artist/community activist C. Davida Ingram. Discussion sessions on audience-generated topics included serving homeless and LGBTQ patrons, supporting community activism through libraries, and diversity in the LIS field. Using feedback from participants, we have collectively created a framework for future social justice conferences to take place, creating spaces for local community to form around equity and justice in libraries.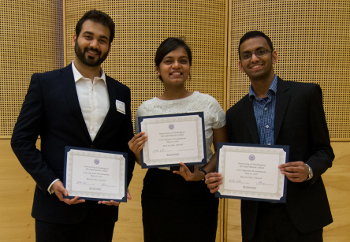 MSIM: We, The People: Empowerment Through Design
Yogesh Sharma, Jyotsna Saxena, Suryaprakash Vijayaraghavan, Divya Kothari (independent researcher)
The Indian Judicial System has an unfavorable public image. Layers of organizational, procedural and administrative intricacies pose challenges for citizens, around discoverability and consumability of legal information. Out of over 75 judicial websites that currently exist, more than 90 percent are outdated, poorly designed, and lack a consistent structure, further impacting the trustworthiness of the system. 67 percent of citizens are more likely to trust their government if it is accessible online (Deloitte, e-Governance 2015). However, citizens require more than an online presence; they need a judicial system to be a beacon of trust, efficiency and consistency. Our team has used Design Science Research methodology to transform traditional approaches toward designing judicial portals. Using National Consumer Disputes Redressal Commission of India as a case-in-point, we have redesigned their website by changing the underlying information architecture, redefining content strategy and employing an empathic design pattern. Our contribution to the cause of better jurisprudence is a knowledge artifact – an academic paper outlining a scalable and repeatable process that can be used to develop or redesign any judicial portal. Through this project, we will equip governments with a framework for bridging information gaps in digital governance and improve public perception through value-driven, citizen-centered design.

Informatics: KNAQ
Austin Woehrle, Shijir Tsogo, Shrinivas Ramanath, Michael Dang
Studies have shown that recent college graduates are not as prepared as they could be and should be when entering the workforce; 4 out of 5 students graduate college without a job. Students often encounter difficulties attempting to balance work, school, and social schedules, leaving them unqualified to start their careers after college graduation. Our application will connect students to employers, as well as other students, so that they can find short-term, flexible work. KNAQ makes finding career-relevant work easy, thus enabling students to build an employer-verified portfolio, create professional connections, get some experience, earn some cash, and be better prepared for post-graduate life!