Native American Read-In: Featured Guests
Native authors, artists and storytellers participating in the 2022 Native American Read-In:
Tony Duncan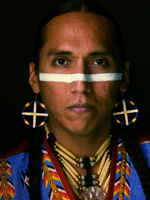 Tony Duncan (Apache, Arikara and Hidatsa) has performed for audiences worldwide including performances at the Kennedy Center for the Performing Arts, The Smithsonian Museum, The Billboard Music Awards, The Tonight Show, and The White House. Duncan has great achievements in both music and dance. As a hoop dancer Tony Duncan is among the best in the world, winning the title of "World Champion Hoop Dancer," an amazing 6 times and is currently the 2021/22 World Hoop Dance Champion. He is the featured dancer on Nelly Furtado's music video, "Big Hoops."
As a flute player, he is currently signed to the largest Native American music label Canyon Records. Duncan received the award for Artist of the Year at the Native American Music Awards. Duncan has toured with acclaimed Native American artists such as R. Carlos Nakai and Joanne Shenandoah, as well as across Europe and Asia with international pop star, Nelly Furtado. He's enchanted over 100,000 people in Paris, London, Tokyo, Manila, Switzerland and the Island of Malta with his hoop dancing and flute playing. 
Tony Duncan was the recipient of the prestigious Dance/USA Fellowship, and this past year has collaborated with Marvel, Vogue Magazine and Facebook.
Violet Duncan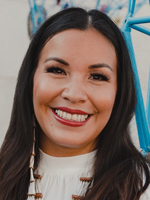 Violet Duncan is Plains Cree and Taino from Kehewin Cree Nation. Touring nationally and internationally since 1991, she has performed for audiences across the United States, Canada and Europe through work as a Native American dancer, hoop dancer, choreographer, storyteller and author.
Violet is a former "Miss Indian World", representing all Indigenous people of North America. In 2019 Violet collaborated with the Mesa Arts Center on the Public Art installation: Water = Life. This project was created to discover, explore and celebrate the history and future of water in the Valley. Since 2014, Violet has worked as the Artistic Director for the children's space at the Heard Museum Guild Indian Market.
After becoming a mother of 4 and seeing the need for Native representation in literature, she took it upon herself to author three award winning children's books, I am Native, When We Dance and Lets Hoop Dance! Her newest book I am Native, released 2020, shares a glimpse into the wonderful world of multigenerational Native family. This book showcases beautiful imagery of family members passing down traditions in both traditional and modern ways. She has recently joined the family of Random House with two new children's books coming out 2022/23.
Violet is currently the Indigenous Cultural Advisor at the Tempe Center for the Arts, where she aims to create space for a permanent program of Indigenous performance and practice. Find out more about Violet at www.violetduncan.com. 
Roger Fernandes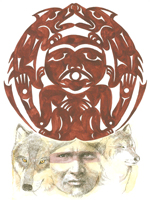 Roger Fernandes is a Native American artist, storyteller, and educator whose work focuses on the Coast Salish tribal cultures of western Washington. He is an enrolled member of the Lower Elwha S'Klallam Tribe and has a B.A. in Native American Studies from The Evergreen State College and a master's degree in Whole Systems Design from Antioch University.
His work as an artist includes traditional Coast Salish art and designs and he has created public art pieces for a wide range of western Washington entities. He also works as a graphic designer, illustrating books, posters, and prints.
He has been a practicing traditional storyteller for over 30 years and uses the myths and legends of various tribal cultures to explore the powerful teachings, meanings, and philosophies found within each story.
As an educator he uses all of the above pedagogies to share effective teaching methods based on the ancient practices of tribal cultures.
Michaela Goade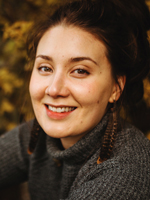 Michaela Goade is a Caldecott Medalist and #1 New York Times Bestselling illustrator of We Are Water Protectors. Other books include the New York Times Bestselling I Sang You Down from the Stars, and Shanyaak'utlaax: Salmon Boy, winner of the 2018 American Indian Youth Literature Award for Best Picture Book. Her next book, Berry Song, is her first self-written work and is set to publish June 14, 2022.
 
Michaela's work focuses on Indigenous children's literature. She is honored to work with Indigenous authors and tribal organizations in the creation of powerful and much-needed books. An enrolled member of the Central Council of Tlingit & Haida Indian Tribes of Alaska, Michaela's Tlingit name is Sheit.een and she is of the Kiks.ádi Clan (Raven/Frog) from Sheet'ká.a
 
Michaela was raised in the rainforest and on the beaches of Southeast Alaska, traditional Lingít Aaní (Tlingit land/world). Today she lives in Sheet'ká (Sitka), Alaska, a magical island on the edge of a wide, wild sea.
Kinsale Hueston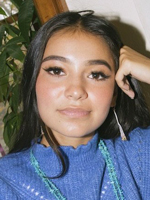 Kinsale Hueston is a 2017-2018 National Student Poet, writer, critically acclaimed narrator, and a senior at Yale University. An enrolled member of the Navajo Nation, Kinsale's work centers on personal histories and Diné stories. She began her career at the age of 15 as a theater artist in Los Angeles, with roles in Urban Rez by Larissa FastHorse (Sicangu Lakota) and Fairly Traceable by Mary Kathryn Nagle (Cherokee). She has since appeared in Running Shadow (The American Film Institute, 2018), ACKIA (Lenape Arts Center, 2018), numerous staged readings for the Yale Indigenous Performing Arts Program, narrated Race to the Sun by Rebecca Roanhorse (Rick Riordan Presents, 2019), and narrated Elatsoe by Darcie Little Badger (Levine Querido, 2020). 
Kinsale is the recipient of the Yale Young Native Storytellers Award for Spoken Word/Storytelling, the J. Edgar Meeker Prize (May 2019, Yale University), and three National Scholastic Gold Medals for poetry and dramatic script. In February 2019, she was named one of "34 People Changing How We See the World" by Time Magazine in its Optimists Issue curated by filmmaker Ava DuVernay. Her poetry has been exhibited at LACMA, NYU Gallatin, Carnegie Hall, The Main Museum, Grand Performances LA, and more.
In late Spring of 2018, she self-published a collection of poetry, Where I'm From: Poems from Sherman Indian School. In November of 2019, she launched Changing Wxman Collective, a publishing platform and digital space for BIPOC women. Her Collective has been featured by Refinery29, Youth to the People, and more. Kinsale was a 2020 Cultural Capital Fellow for the First Peoples Fund. She currently does spoken word performance with WORD at Yale, poetry and wellness workshops through Changing Wxman Collective, and is on the Yale Slam Team.
Cheryl Metoyer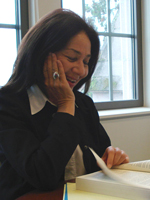 Dr. Cheryl Metoyer is an associate professor emeritus at the University of Washington iSchool. She is the Director of iNative, a research group at the iSchool led by Native American and Alaska Native scholars, information professionals, and students that examines the information challenges faced by Native communities. Dr. Metoyer also serves as an adjunct associate professor emeritus in American Indian Studies at the University of Washington. Before joining UW, Dr. Metoyer held the position of Chief Academic Affairs Officer for the Mashantucket Pequot Tribal Nation. She taught at UCLA's Graduate School of Library and Information Studies and held the Rupert Costo Chair in American Indian history at UC, Riverside from 1993 to 1997. Additionally, Dr. Metoyer was selected as the American Indian Delegate to the White House Conference on Libraries and Information Services.
Throughout her many years of work, Dr. Metoyer has assisted tribes (the Mashantucket Pequot, Cahuilla, San Manuel, Yakama, Navajo, Seneca, Mohawk and the Lakota nations) by helping develop their libraries, archives, and museums. Dr. Metoyer is the recipient of numerous awards for her scholarship on indigenous systems of knowledge and information behavior in Native American and Alaska Native communities. Dr. Metoyer was awarded the Legacy Award from the American Indian Library Association in 2018 and the Rockefeller Fellowship in the Humanities in 2006. 
Dr. Metoyer has published works in major research journals including College & Research Library, American Indian Culture and Research Journal, and Library and Information Science Research. Her book, Gatekeepers in Ethnolinguistic Communities, has been honored by the Association of College and Research Libraries. 
Joe Seymour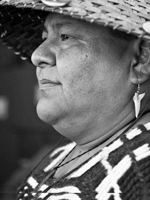 Joe's ancestral name, wahalatsu?, was given to him by his family in 2003. "wahalatsu? was the name of my great grandfather William Bagley."
Joe started his artistic career by carving his first paddle for the 2003 Tribal Journey to Tulalip.  Also in 2003, he carved his first bentwood box. After the Tulalip journey, he then learned how to stretch and make drums. He has been a participant in the PIKO 2007 Gathering of Indigenous Visual Artists in Waimea,  HI; the Te Tihi 4th Gathering of Indigenous Visual Artists in Rotorua, New Zealand in 2010;  Tears of Duk'Whibahl Indigenous Artists Gathering in Olympia, WA in 2017; and Puhoro:  Puhoro o mua, Puhoro ki tua!, the 9th Indigenous Artists Gathering in 2019.
"In my career, I've worked with glass, photography, Salish wool weaving, prints, wood, steel and  rawhide drums. I've been very fortunate to have a community of artists that I'm able to work  with and that are very supportive of my career. If it were not for their caring and sharing of  ideas, I would not be the artist that I am today," he says. "I hope that as I continue in my artistic career, I can pass on the teachings and nurturing spirit  that have been shown to me."
Cynthia Leitich Smith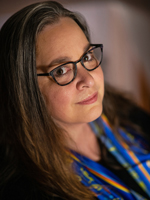 Cynthia Leitich Smith is a New York Times bestselling and award-winning children's-YA author, writing teacher, and the author-curator of the Native-centered Heartdrum imprint at HarperCollins Children's Books. She is also the 2021 NSK Neustadt Laureate.
Her debut picture book, Jingle Dancer, illustrated by Cornelius Van Wright and Ying-Hwa Hu, is widely considered a modern classic. She was named Writer of the Year by Wordcraft Circle of Native Writers and Storytellers for Rain Is Not My Indian Name and won the American Indian Youth Literature Award for Young Adult Books for Hearts Unbroken, which also was named to YALSA's Amelia Bloomer list and received the Foreword Reviews Silver Medal in Young Adult Fiction. In addition, Cynthia is the New York Times and Publishers Weekly bestselling YA author of the Tantalize series and Feral trilogy.
Forthcoming, Cynthia looks forward to the release of her middle grade anthology Ancestor Approved: Intertribal Stories For Kids, her novel Sisters of the Neversea, and The Blue Stars middle grade graphic novel series, co-authored by Kekla Magoon and illustrated by Molly Murakami.
Cynthia lives in Austin, Texas and is a citizen of the Muscogee Creek Nation. The Austin chapter of SCBWI has instituted the Cynthia Leitich Smith Mentor Award in her honor. She also serves on the faculty of the Vermont College of Fine Arts MFA program in Writing for Children and Young Adults, where she is the inaugural Katherine Paterson Endowed Chair. In addition, Cynthia coordinates and leads the annual We Need Diverse Books Native Writing Intensive.
Cynthia holds a bachelor's degree in journalism from the University of Kansas and a J.D. from The University of Michigan Law School in Ann Arbor. She studied law abroad at Paris-Sorbonne University. Learn more at www.cynthialeitichsmith.com  and her Cynsations blog at www.cynthialeitichsmith.blogspot.com.
Traci Sorell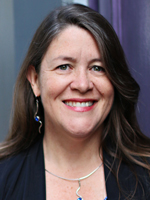 Traci Sorell writes award-winning fiction and nonfiction for young people. She is a two-time Sibert Medal and Orbis Pictus honoree for her nonfiction work. Her first five books have received awards from the American Indian Library Association. 
In 2022, Traci shares two new titles. Her fiction picture book, Powwow Day (Charlesbridge), illustrated by Madelyn Goodnight, shines a spotlight on illness and the healing power of family and community. Both Publishers Weekly and Kirkus gave the book starred reviews. In the fall, Traci will have her first chapter book biography released. She hopes her biography of Wilma Mankiller, the late Cherokee Nation Principal Chief, will reveal to young readers that not all leaders come from advantaged backgrounds and those challenges help them serve others. Part of the She Persisted series (Philomel), Wilma Mankiller will be published on October 4. 
We Are Still Here! Native American Truths Everyone Should Know (Charlesbridge, 2021), illustrated by Frané Lessac, is Traci's latest nonfiction picture book. The book provides an overview of US history and policies concerning Native Nations from the late 1800s to the 
present. It received a 2022 Sibert Honor while both the hardcover and audiobook (Live Oak Media, 2021) received an American Indian Youth Literature Award (AIYLA) – Picture Book Honor. 
Her other nonfiction picture book released in 2021 has also been well received. Classified: The Secret Career of Mary Golda Ross, Cherokee Aerospace Engineer (Millbrook), illustrated by Natasha Donovan, won a 2022 AIYLA Picture Book Honor and a 2022 Orbis Pictus Honor. The story centers on the trailblazing life and career of the first Native woman engineer in the United States. 
Traci's middle grade historical fiction novel, Indian No More (Tu Books, 2019), with Charlene Willing McManis, explores the impact of federal termination and relocation policies on an Umpqua family in the 1950s. It won the 2020 AIYLA for Middle School Book and starred reviews from School Library Journal and Booklist. 
Her lyrical story in verse, At the Mountain's Base (Kokila, 2019), illustrated by Weshoyot Alvitre, celebrates the bonds of family and the bravery of history-making women pilots, including Millie Rexroat (Oglala Lakota). The book received a 2020 AIYLA Picture Book Honor. The audiobook (Listening Library, 2020), narrated by actor Kimberly Norris Guerrero, was named a 2022 ALA Notable Children's Recording. 
Traci's debut nonfiction picture book We Are Grateful: Otsaliheliga (Charlesbridge, 2018), illustrated by Frané Lessac, won a 2020 AIYLA Picture Book Honor, a 2019 Sibert Honor, a 2019 Boston Globe-Horn Book Picture Book Honor and a 2019 Orbis Pictus Honor. The audiobook (Live Oak Media, 2019) also received a 2020 Odyssey Honor Award. 
A former federal Indigenous law attorney and policy advocate, Traci is a Cherokee Nation citizen and lives with her family on her tribe's reservation in northeastern Oklahoma. For more about Traci and her other works, visit www.tracisorell.com.