FearLess, Tech More Innovation Challenge
Are equity and social justice important to you? Do you love data? Designing solutions? Working with your peers? Helping your community?
The FearLess Tech More challenge is a one-week online beginner-friendly hackathon for middle and high school students (ages 13-18) from all backgrounds and identities to gain experience in technology. No technology experience is required! Engagement comes in the form of a series of tasks that provide a fun, comprehensive experience with tech and introduce students to the field of Informatics (INFO). The intent is to plant the seed in middle and high school students to explore Informatics and apply for Freshman Direct Admission to the major.
The earlier you can learn and get connected, the stronger your college application can be. We strive to diversify our program and field because information professionals are those who will make decisions about what future policy, admissions, hiring, funding and products will look like.
This Innovation Challenge does not require prior technical experience and will be an opportunity for students to start their journey into the tech field. The event is designed as an accessible, beginner-friendly event to welcome anyone and everyone to come as they are and see themselves in INFO and tech.
"Nothing in life is to be feared, it is only to be understood. Now is the time to understand more, so that we may fear less."
― Madame Marie Curie
> See Past Student Final FearLess Tech More Projects
> Current UW students: Become a mentor
> Attend an information session
Registration is closed. However, please register to be added to the wait list. Many thanks for your interest in FearLess!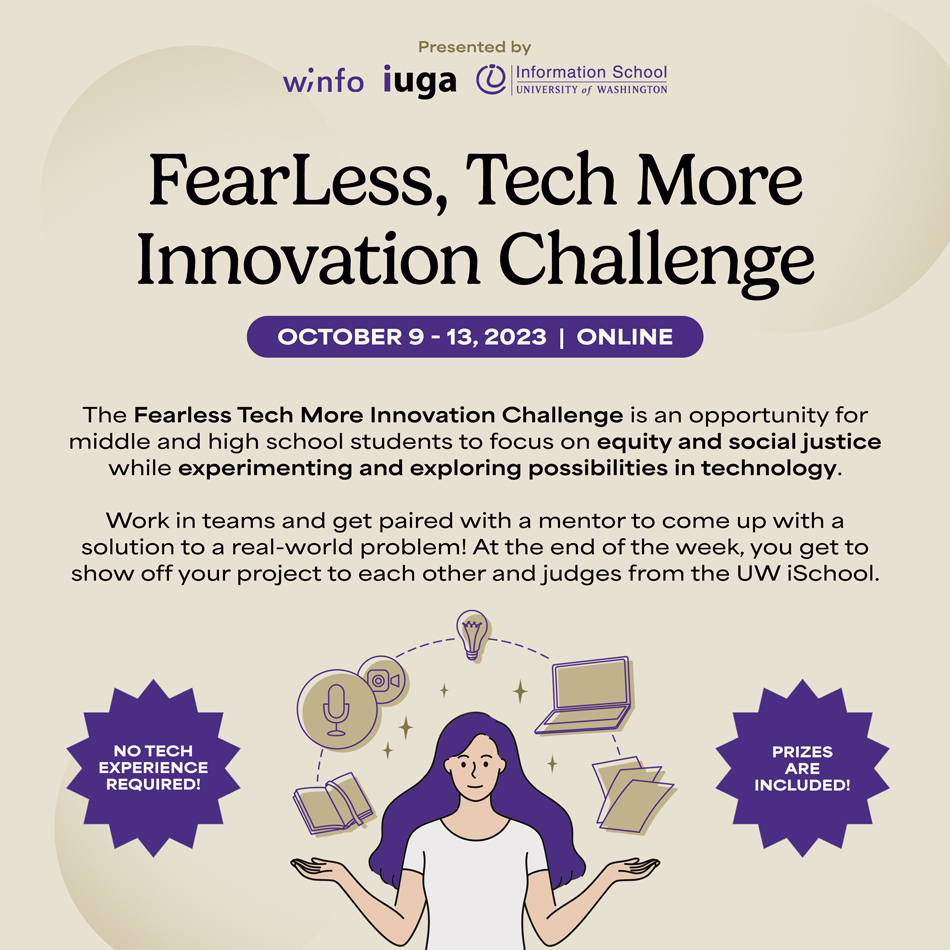 How the Innovation Challenge Will Work
In this weeklong online event, students will have the opportunity to work on developing a design solution to a prompt at their own pace. We have a suggested time schedule listed below in the Schedule section, however students do not have to rigorously follow it. Each day of the innovation challenge, videos made by our amazing iSchool professors and students will be released to address and introduce the day's topic. Videos will serve as a learning guide on how to approach each step of the design process and correlate to user experience design curriculum current Informatics students engage with. Students are encouraged to watch those videos to assist in their progress of developing a prototype design solution to their selected prompt.
Each team will be assigned a current Informatics student as their mentor. This mentor serves as a supporter, troubleshooter, and resource for the team. Mentors have dedicated time every week to support the teams and some are also available to assist their teams via individual appointments and extra support sessions.
Teams will receive a selection of prompts on the first day of the challenge. Students are encouraged to be as creative as they can to solve the problem. Teams also have a deadline for submitting their final design. Aside from these set dates, students can work on the challenge anytime throughout the week.
Schedule
Date: Oct. 9-13, 2023
Location: Online/ Virtual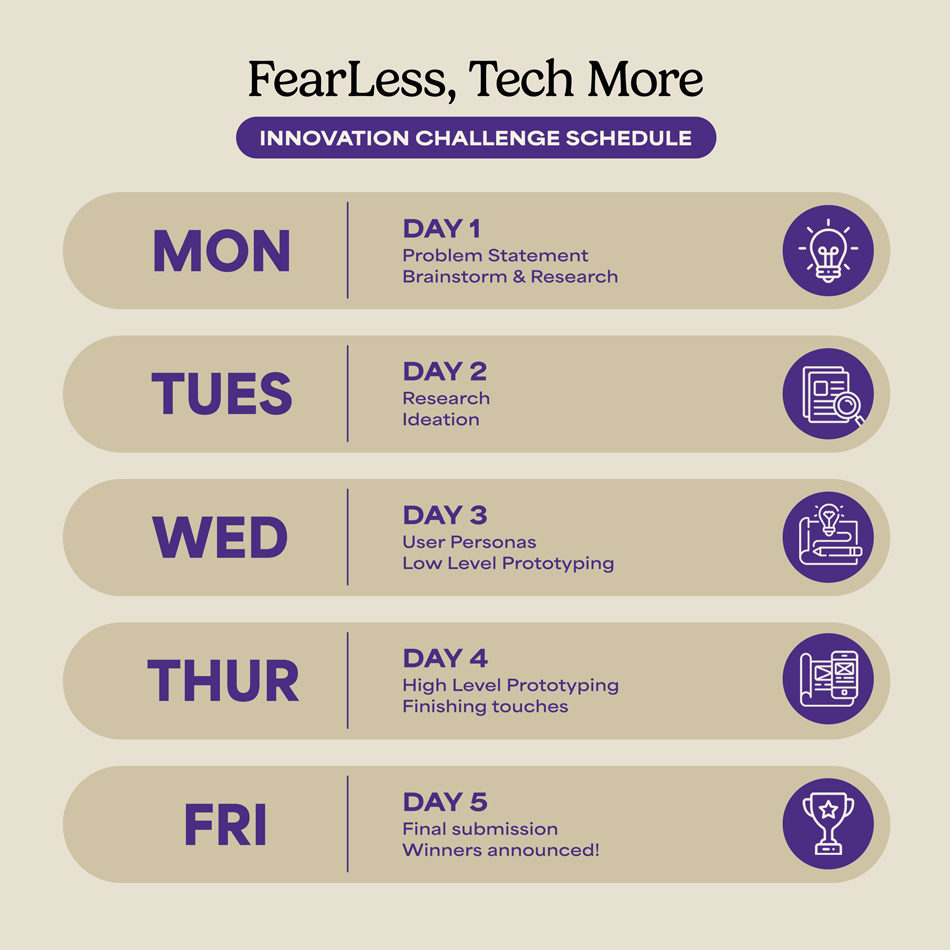 Attend an information session
To learn more about what to expect for the FearLess, Tech More Innovation Challenge, including logistics, opportunities available for participants, and getting questions answered, attend our virtual information session on Sept. 20, 2023, from 5:30-6:30 p.m.