Ph.D. candidate profile: Mingrui Ray Zhang
Mingrui Ray Zhang is a Ph.D. candidate at the iSchool
When you meet someone who doesn't know about your research, how do you describe it?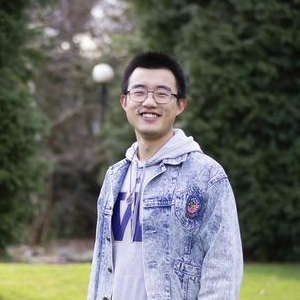 I do text entry research and invent interactions so we can communicate more efficiently with the devices we use.
Who is the faculty member working closest with you? What are you learning from them?
I work closely with Jacob O. Wobbrock, who is my advisor. I am learning how to be an independent researcher and learning how to find simple, effective and elegant solutions to solve complex research questions. Jake is a rigorous researcher and cares about every aspect of a project, which affected me a lot. I also gained self-esteem from him.
Why are you interested in this subject?
Communication is an essential part of everyone's life — we think, talk and record in text. Making intelligent text entry systems will allow us to express ourselves more efficiently, and also promote equal participation for people with disabilities.
What impact do you hope to make in the information field through your research/dissertation?
I want to invent the next-generation text entry systems beyond the traditional desktop environment. It should understand users' intention and require no physical keyboards. It should also be mobile enough for other environments such as AR/VR.
What surprised you the most when digging into your research?
HCI research in text entry tends to only care about interactions. While they propose keyboards with novel layouts or input modalities, they rarely touch on the core problem: how to communicate effectively. The main solution lies in understanding the user's intention on a semantic level: What do users mean? I try to address this problem in my research... which is still a long way to go!
What are your career goals once you graduate?
A researcher in the industry! That has never changed since day 1 of my Ph.D. I would love to build things to make people's lives more convenient, and I enjoy seeing my efforts in real products.
Visit Mingrui's website and LinkedIn profile.