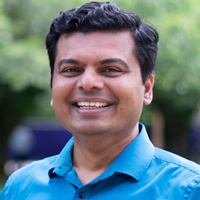 Information School Professor Chirag Shah is the recipient of this year's ASIS&T SIG USE Outstanding Contributions to Information Behavior Research Award, which recognizes one scholar each year for their body of work in the field.
Shah's work in intelligent information access systems focuses on task-oriented search, proactive recommendations and conversational systems. His current research centers around AI-driven information access systems that provide personalized recommendations, seeking to make such systems transparent, fair and free of biases.
Shah has published nearly 200 peer-reviewed articles and authored seven books, including textbooks on data science and machine learning. In addition to his appointment with the UW iSchool, he is an adjunct professor with the Allen School of Computer Science & Engineering and the Department of Human Centered Design & Engineering. He is the founding director of the InfoSeeking Lab and founding co-director of the Center for Responsibility in AI Systems & Experiences. 
"It's a true honor to receive this recognition," Shah said. "I find it very humbling to be in such great company of the past winners of this prestigious award. My path to this point would not be possible without the guidance and support of countless mentors, collaborators and students. I'm deeply indebted to all those individuals who are still shaping my scholarly journey."
ASIS&T SIG USE — the Association for Information Science & Technology's Special Interest Group on Information Needs, Seeking and Use — is a community for researchers whose work concerns people's behavioral and cognitive activities and their affective states as they interact with information. Its members conduct research on the ways people seek, retrieve and share information.
Given annually since 2005, the award recognizes one person each year who has made an outstanding contribution to information behavior research during their career. A jury of two past SIG USE chairs and one previous award winner chooses the recipient. Past honorees include iSchool Professor Karen Fisher, who was recognized in 2016.